Mill Pond Mercantile will close its doors
After nearly 25 years in business, the popular New London home decor and gift shop, Mill Pond Mercantile, is closing. Don't blame it on COVID. The owners — longtime friends who are 67 years old — said it's time to retire. They thought they had a buyer for the business, but that fell through recently so they're launching a liquidation sale Saturday. The doors will close when the goods are gone.
NEW LONDON — With Christmas in the air — and on the shelves and on the walls — shoppers at the Mill Pond Mercantile in New London have plenty of holiday merchandise to look at.
But they better look quick.
The popular home decor, clothing and gift shop is closing.
Owners Ginny Knapp and Anita Stulen, longtime friends who have owned and operated the "wildly" successful business for nearly 25 years in downtown New London, announced this week they are retiring.
RELATED: New London
A merchandise liquidation sale begins today (Saturday, Dec. 3) with a 20% discount on purchases.
The store will close when the merchandise and store fixtures are gone, which they speculate could happen by mid-January.
COVID is not to blame for the business closing its doors.
Although the nine-week shutdown mandated this year because of the Coronavirus pandemic was challenging, the women emphatically said it was not a factor in their decision to close the store. They said the business is thriving, thanks to loyal customers and dedicated employees.
"We are not struggling. Our customers have been so good to come back after the shutdown," said Stulen.
Knapp and Stulen, who are both 67, said it's simply time for them to stop working 50 hours a week and to instead spend more time with friends, church and their adult children and grandchildren who are scattered across the country.
"We're excited about retirement," said Stulen. "We're excited to be more free and to see the kids and grandkids."
Knapp said if they waited another five years to retire they would "miss out" on a big chunk of their grandkids' lives.
The excitement of retirement is tempered with the knowledge that there's a "bittersweet" side of the story, said Stulen.
"We have so many friendships here with the store," she said, including generations of shoppers, sales representatives and fellow business owners who are part of New London's unique art and boutique community.
"We're closing the door on that," said Stulen. "We'll miss the people."
They admitted they have a stash of tissues on hand, ready to wipe away the tears they know they will shed when they talk to sad and disappointed customers.
Mill Pond Mercantile has been a destination shop instrumental in bringing shoppers to New London, said Roger Imdieke, a Kandiyohi County commissioner whose family-owned business, Three Sisters, is part of a group known as the New London Business Network .
"We call them the matriarchs of the New London business community," Imdieke said of Knapp and Stulen. "They're going to be missed on Main Street. No question about it."
Despite the closure of Mill Pond Mercantile and the challenges COVID has presented to most businesses, Imdieke said he's confident New London will "come back on the other side" with a continued strong retail presence.
Taking steps to close their business is unchartered territory for the two women — much like starting a business was for them 25 years ago.
In the mid-1990s, Knapp and Stulen were busy moms making crafts in their basements that they sold at an arts and crafts cooperative in New London called the Mill Pond Mercantile. When the co-op folded, Knapp and Stulen took it over and turned it into a commercial business.
Over the years they expanded from a 900-square-foot shop to their current 5,000-square-foot store they had built in 2003.
"We learned along the way," Knapp said.
The decision to start the business was undertaken after spending time praying with their families, they said.
They turned to prayer again when weighing options for retiring.
Knapp and Stulen said they launched their retirement plan two years ago when they began searching for a buyer for the business.
They thought they had a deal in hand this year and assured shoppers that a change in ownership would not change their shopping experience.
"We were hoping and praying that a buyer would pick up where we left off," said Knapp. "So to those people who we told we are not closing, it was because at the time, we thought the business would be going forward."
When the sale fell through, Knapp and Stulen said they had a heart-to-heart talk with their 10 employees and decided to proceed with their retirement plan, whether there was a buyer or not.
They have not given up hope that someone could still come forward to buy the Mill Pond Mercantile, but said if that doesn't happen, they hope someone will purchase their building and start a new business.
Knapp said because of the way the building was designed and wired for the internet and phone, it could house several independent businesses. Because New London has a history of supporting small business, she said they're confident a new business will thrive in their building.
"New London has been a gem," Stulen said.
Knowing that word of the store closure and discounted sales could bring crowds to the store, Knapp and Stulen said they will work to maintain COVID guidelines for masks, store capacity and social distancing and will offer special shopping times for individuals with health issues. They encourage people who are sick to stay home and have someone else do their shopping for them.
Knapp and Stulen said offering discounts now on sales will help their customers make their Christmas dollars stretch a little further this year. They also encourage people to use their Mill Pond Mercantile gift cards.
For more information call 320-354-5557 or visit their website: www.millpondmercantile.com
1
/
8:
A patron shops at Mill Pond Mercantile Thursday afternoon in downtown New London. Erica Dischino / West Central Tribune
2
/
8:
Owners Ginny Knapp, left, and Anita Stulen, of Mill Pond Mercantile share a laugh outside of their shop Thursday afternoon in downtown New London. The owners and longtime friends announced this week that they plan to retire. Erica Dischino / West Central Tribune
3
/
8:
Holiday decorations fill Mill Pond Mercantile in downtown New London. Erica Dischino / West Central Tribune
4
/
8:
A patron shops at Mill Pond Mercantile Thursday afternoon in downtown New London. Erica Dischino / West Central Tribune
5
/
8:
Co-owner Anita Stulen of Mill Pond Mercantile prepares a gift purchased from a customer at her shop Thursday afternoon in downtown New London. Erica Dischino / West Central Tribune
6
/
8:
Holiday decorations fill Mill Pond Mercantile in downtown New London. Erica Dischino / West Central Tribune
7
/
8:
Linda Swenson looks at ornaments for her family members at Mill Pond Mercantile Thursday afternoon in downtown New London. Erica Dischino / West Central Tribune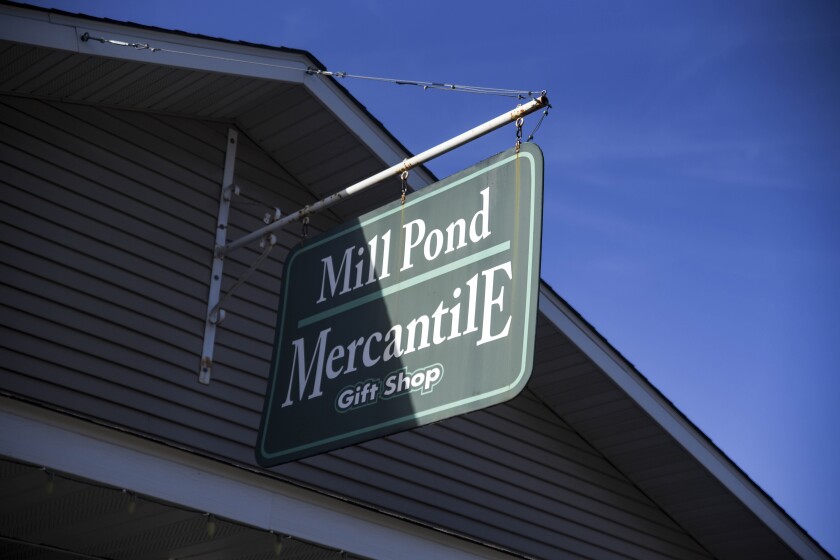 8
/
8:
After nearly 25 years in business Mill Pond Mercantile is closing. Erica Dischino / West Central Tribune