Music master Anne Waltner comes home to partner in parents' farm
Anne Waltner, Parker, South Dakota, left a full-time career as a concert pianist and educator to join her parents' farming operation. Along the way she married, had triplet daughters and survived cancer. Of her journey and life, she says: "Can you think of anybody luckier than me?"
PARKER, S.D. — After 20 years away from the farm, Anne Waltner, in her late 30s, returned from her life as a concert pianist in the Eastern U.S. to take over the family corn and soybean operation from her parents, Keith and Sharon Waltner in South Dakota.
Few farmers can image the multi-tasking going on here:

From 2010 to 2015, Anne returned from her academic world to rent soybean and corn acres from her parents. In 2016 she became a full partner in a 1,600-acre corn and soybean farm with her parents.
In October 2015, she married Rolf Olson, a non-farming college music professor and trumpet player, 16 years her senior.
On May 18, 2017, she gave birth to triplet daughters — Alice, Margreta "Greta," and Lydia.
On Feb. 1, 2019, she was diagnosed with cancer (chronic lymphocytic leukemia), and is doing fine under treatment. She completed treatments in January 2022, when her blood work showed things are normal.
And yes, she still is a concert pianist.
Born in January 1978, Anne came of age on in the tumultuous 1980s. Aware of the financial stresses of the time, she did not dream of going farming. In seventh grade, she shifted public school to the Freeman (South Dakota) Academy, a Mennonite high school with 43 total students. Most of her classmates were farm kids.
"We all went to school, smelling like hogs." Anne recalled. "In my sophomore demonstration speech I brought in two little pigs and castrated them." Everyone in the class was "completely bored," because they all knew about that.
Anne loved animals and crops but saw the whipsaw of ag finance in the farm credit crisis years of high interest and land deflation. She thrived in a community, centered around the rural Salem Mennonite Church.
The community has an oddly cosmopolitan vibe.
Roughly half of the population in the area is Mennonites. Mennonites, like other Anabaptist denominations — Hutterites, Amish, Church of the Brethren, are pacifists and typically register as conscientious objectors. Many adults in the church — like her parents — served stints in overseas in relief and development work, in lieu of military service.
"There are a lot of over-educated musical farmers in this area," she said. "I didn't know, growing up, just how rarefied that air was."
At age 4, Anne took piano lessons from the president of Freeman Junior College, associated with the academy. She went to Sioux Falls for violin lessons. She played in youth orchestras, alongside students that often were from large, public high schools. She graduated in a class of 11 in 1996.
She went on to Goshen (Indiana) College (her mother's alma mater). She graduated in 2000 in biology and piano performance. She spent three years teaching music at an international school in India, then returned to the U.S. for a master's in solo piano performance at the Chicago College of Performing Arts. She went on to Cleveland Institute of Music, obtaining her Doctorate of Musical Arts in "collaborative piano performance" in May 2010.
Anne's parents Keith and Sharon graduated from Freeman Academy — he in 1963 and she in 1966. Keith went on to the Freeman Junior College. They married in 1969. He went on to a Mennonite college in Kansas, and then earned a master's degree in Greeley, Colorado. He taught school in Indiana, while Sharon took nurse's training at a Mennonite college Goshen, Indiana.
In lieu of military service, Keith and Sharon worked in Indonesia from 1970 to 1973.
They came home to rent his parents' farmland and to farm with Sharon's parents and brother. Keith and Sharon had Tim in 1974, and they moved onto their current farmstead in 1975. Anne was born in 1978, and her sister, "Mary" (later, Mariell) in 1980.
In 1983, they built a "super-insulated house and finished it from farm cash flow over seven years, even as they built new livestock facilities. By 1984, the Waltners were named a Master Pork Producers.
They farrowed up to 160 sows. The kids helped move pigs and with chores — giving shots, docking tails. Every week or so they'd take 35 head of finished hogs to market at the Morrell's plant in Sioux Falls.
"That was an event," Anne recalled, with joy. "We got to go to Sioux Falls, and sometimes we got to eat at Bonanza!"
Anne remembered the scary side of the times, too. The emotional stress.
Notably, May 17, 1984, Jennis Hofer, a farmer in the neighborhood, shot and killed two neighbors Andrew Wipf, Sr., and his son, Andrew Wipf, Jr., ostensibly for draining water on his land. Hofer was sentenced to life in prison.
With the strong family help, Waltners were able to keep their farm debt down. In the 1990s, they were able to purchase more farmland. The children — livestock helpers — went off to college and other careers; Tim became a neurosurgeon in Kansas City, Missouri; Anne pursued her music; and Mariell "Mary" studied to music and obtained a career as a life coach.
Without the family labor, the Waltners quit hogs in 1998. They quit feeding cattle in 2010.
In 2010, Keith, then 65, started looking toward retiring on his crop farm.
"We were getting older and the kids weren't here, and at the moment it looked like no one was really coming to take over," Keith said.
Keith and Sharon offered to rent 127 of their acres of their farm Anne. She could take the soybean rotation, and she have full management and financial responsibility. They introduced her to their own loan officer at Farm Credit Services of America in Sioux Falls.
Anne remembered skipping her own doctoral graduation to come home and plant soybeans. In part, it was to whittle away at tens of thousands in debts she acquired in her doctoral program.
The 2010 crop year turned out to be a doozy for farm income. "I couldn't believe the money we were making," she said.
After planting, Anne returned to Cleveland to put on recitals. She applied for 56 jobs and landed one at West Virginia State University, near Charleston. Two years later, she shifted to Eastern Mennonite University in Harrisonburg, Virginia, where she taught three years.
Back at the farm, in 2012 her drought-stunted soybeans averaged 13 bushels per acre. "Crop insurance saved our bacon," she said.
In 2014 she added another 104 acres of corn, for a total of about 230 acres. In May 2015, she skipped the last two days of finals at EMU and flew home to help plant.
On the personal side, she was 37, living in her parents' basement. Her former sixth grade music teacher suggested she meet Rolf Olson, director of bands at the University of South Dakota at Vermillion. Despite their age difference, the two hit it off. They married in the courthouse October 2015.
Anne had not been desperate to become a mother. But she had frozen eggs in case she would ever want children. Modern medicine brought them triplet girls.
Keith always knew that if any of his kids would return to the farm, it would probably be Anne
"She was very good — intuitive, good with machinery, good with livestock," he said.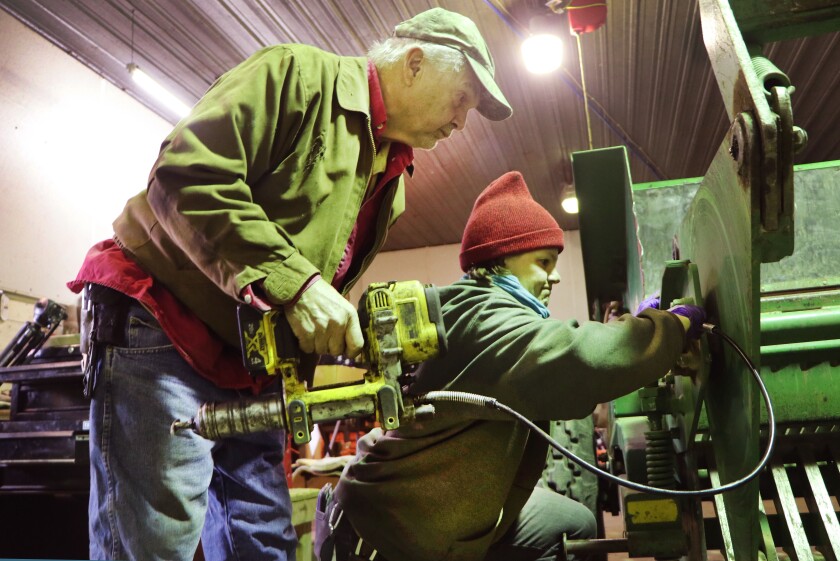 Sharon had been a good role model as a woman farmer — caring for the hogs, doing tillage, cutting silage, unloading. Anne describes Keith as something of a "feminist" in sharing responsibilities. Sharon is a multitasker.
Besides the farm work, Sharon had her degree in nursing and accumulated a master's in counseling. She still works at Avera Education Systems and with the Mennonite community, setting up workshops on conflict mediation, and works in the church.
As Anne's home got busier with triplets and then cancer, Keith and Sharon stepped up.
In 2021, Keith and Sharon bought a home in Freeman, and Anne, Rolf and the girls moved into the home Anne's parents had enjoyed for decades. (Olson had become director of bands at Northern State University in Aberdeen, but retired this spring to come to the farm and help manage the kids and home.)
Collaboration is a key word in the Olson/Waltner homes.
Keith and Anne work in the shop or field. Sharon handles much of the kid duty, getting the girls in to child care at Freeman and getting them back to the farm. Sharon embraces the tasks with a practicality.
"We are working to hopefully get her established," Sharon said. "Maybe that's what keeps us young, but at the end of the day, we can be tired. It has changed our plans and altered our focus."
Anne is growing more comfortable with the farming duties. She embraces the technology of farming, but admits all of the trouble-shooting and problem-solving can be daunting.
"How to fix, how to manipulate things, physically. How to jerry rig, and offer myself the best physical advantage when I'm trying to work on things," she said. Dad still picks up the phone when she calls.
She acknowledges that not everyone accepts a woman as a farmer.
She takes it in stride.
"Some of these seed guys wanted to talk to Dad and not me," she said. She remembered one situation: "No matter how many times my dad said, 'She's the farmer, you'll have to talk to her,'" they couldn't understand that she is more than Keith's "helper."
More amusing, some people look past her and approach her husband Rolf about farming purchases.
"He can't speak that language," she said, noting that his gifts are elsewhere. He retired from full-time teaching at Northern State University in Aberdeen, and now is back at the farmstead, managing the kitchen and the home.
Anne looks ahead with gratitude and hope.
Happily, the cancer has backed off. She tolerated the immunotherapy infusions in Sioux Falls, but likely will take pills daily for the rest of her life. In January 2022, her numbers were all in a normal range. She is grateful for "good science" and the power of hearing prayer. "I know this is how it gets done," she said.
And Anne remains a professional pianist. It's not convenient for farming, but Keith encourages her to take "gigs." She was named principal keyboard artist for the South Dakota Symphony Orchestra, where Rolf is in the trumpet section. She serves on the board of her beloved Freeman Academy.
"I have never worked this hard," Anne said. "I love what I do. I get to work with all of my favorite people. Who gets to do that?" And then she adds: "Can you think of anybody luckier than me?"