Spicer Castle demolished Monday to make way for condos
The historic Spicer Castle was demolished Monday near Green Lake in Spicer.
SPICER — Crews on Monday demolished the historic Spicer Castle, which is located on about five acres of property on Green Lake near Spicer.
The landmark restaurant and inn, which was built in 1895, officially ended its hospitality operations in June 2018. The property went up for sale and was purchased by Diane Buzzeo and D.L. Longo, according to Kandiyohi County property tax records.
Buzzeo told the West Central Tribune on Monday that the hope is to develop "no-maintenance luxury condominiums" on the property.
According to West Central Tribune archives, previous owner Mary Latham was the fourth generation of the John M. Spicer family to own the classic lake home he built. Spicer also helped found the town that bears his name.
1
/
12:
Crews demolished the historic Spicer Castle on Monday which is located on about five acres of property on Green Lake near Spicer. Erica Dischino / West Central Tribune
2
/
12:
A "welcome" sign remains outside of the demolished Spicer Castle Monday on Green Lake near Spicer. Erica Dischino / West Central Tribune
3
/
12:
Some remains of the Spicer Castle are still standing after crews demolished the historic landmark on Monday which is located on about five acres of land on Green Lake near Spicer. Erica Dischino / West Central Tribune
4
/
12:
A view Monday from Green Lake of the demolition of the Spicer Castle building. Photo courtesy of Michael Buboltz
5
/
12:
A view Monday from Green Lake of the demolition of the Spicer Castle building. Photo courtesy of Michael Buboltz
6
/
12:
A view Monday from Green Lake of the demolition of the Spicer Castle building. Photo courtesy of Michael Buboltz
7
/
12:
A view Monday from Green Lake of the demolition of the Spicer Castle building. Photo courtesy of Michael Buboltz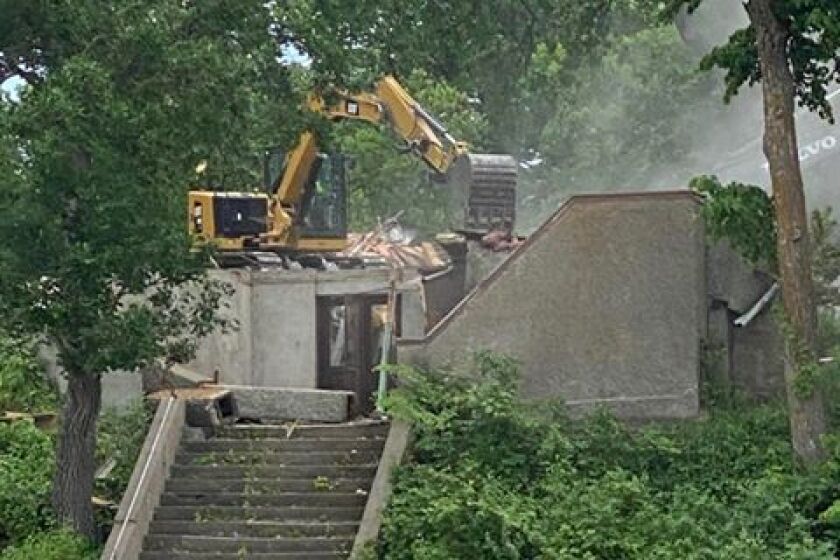 8
/
12:
A view Monday from Green Lake of the demolition of the Spicer Castle building. Photo courtesy of Michael Buboltz
9
/
12:
A view Monday from Green Lake of the demolition of the Spicer Castle building. Photo courtesy of Michael Buboltz
10
/
12:
A view Monday from Green Lake of the demolition of the Spicer Castle building. Photo courtesy of Michael Buboltz
11
/
12:
A view Monday from Green Lake of the demolition of the Spicer Castle building. Photo courtesy of Michael Buboltz
12
/
12:
A view Monday from Green Lake of the demolition of the Spicer Castle building. Photo courtesy of Michael Buboltz