Willmar Planning and Development looking at bringing a hotel to downtown, perhaps connected to Rice Memorial Hospital
Willmar Planning and Development Director David Ramstad received informal direction Monday from the Community Development Committee to continue working a proposal to bring a hotel development to downtown Willmar. The idea is to have the hotel near Carris Health — Rice Memorial Hospital, perhaps even connected, to provide patients, families and even staff a place to stay.
We are part of The Trust Project.
Editor's Note: This story has been updated to correctly report the action taken by the Willmar City Council's Community Development Committee. Informal approval was given to staff to continue talking with hospital officials about a hotel.
WILLMAR — The Willmar Planning and Development Departmen t continues to add to its vision for downtown Willmar as part of the Renaissance Zone economic development program.
In addition to bringing in more business and housing and helping property owners rehabilitate their properties, there is also an idea to try and entice a hotel to call downtown home.
"We feel it would be a great amenity for the downtown area, especially as we begin developing some of these projects in our pipeline," said Dave Ramstad, Willmar Planning and Development director, during Monday's meeting of the Willmar City Council 's Community Development Committee.
Ramstad was looking for committee agreement to continue fleshing out the hotel idea, including creating a request for proposals that could one day be sent to various hotel chains.
"We wanted to make sure we received committee approval to go outside the committee to vet this thing," Ramstad said.
A motion to officially recommend Ramstad move the hotel plan forward to Carris Health died due to a lack of a second. However, the committee did give Ramstad unofficial direction to keep talking with Carris Health about the idea, as some on the committee felt staff did not need any official action to continue talks, said City Administrator Brian Gramentz and Ramstad in interviews with the West Central Tribune on Monday.
Ramstad will return to the committee and full City Council for final approval on the proposal before it is sent out.
"This is still an open book, on what we can add, take out and edit," Ramstad said.
Ramstad's vision isn't for just a normal hotel for regular travelers to Willmar. Instead, he would like to see the hotel be geared toward and constructed near Carris Health — Rice Memorial Hospital . It would offer patients, families and staff a comfortable place to stay when needed.
"It would be a specialty hotel, accessible to gurneys, doors wide enough for wheelchairs," Ramstad said. Sites being focused on for such an enterprise are all adjacent to the hospital, making it possible to connect the two facilities through a tunnel or skyway.
The hotel would be open to all members of the public, not just those using the medical facilities.
Ramstad wants to work with Carris Health on the hotel proposal and has had preliminary discussions with CEO Mike Schramm .
If Carris Health decides not to be part of the idea, Ramstad said the city could always change direction.
The hotel development would be a private enterprise, the city only providing the Renaissance Zone incentives , such as free building permits and utility hookups.
"I like to create the fertile ground, to bring the developers in," Ramstad said.
While there isn't a set timeline for the project, staff would like to see it completed before the five-year Renaissance Zone pilot program expires.
"This is at the very ground floor," of the planning stages, Ramstad said.
1
/
3:
The city of Willmar Planning and Development department is proposing to bring a hotel adjacent to the Carris Health - Rice Memorial Hospital in downtown Willmar to provide patients, families and staff a place to stay. Erica Dischino / West Central Tribune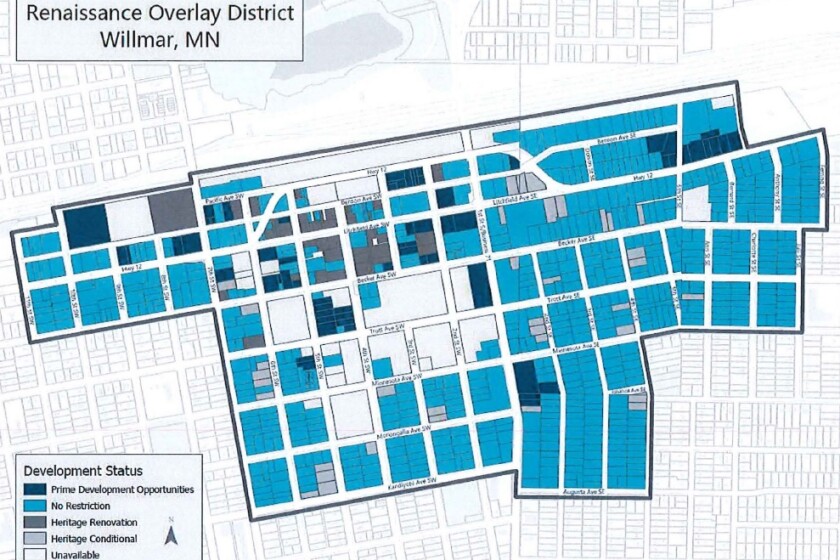 2
/
3:
The Willmar Renaissance Zone covers all of downtown along with several sections of residential and commercial areas along U.S. Highway 12 and First Street South. Map provided by the city of Willmar
3
/
3:
A March 2020 file photo of a Carris Health — Rice Memorial Hospital sign that points toward the Emergency Room entrance. The city of Willmar Planning and Development department has a vision to bring a hotel adjacent to the downtown hospital. Erica Dischino / West Central Tribune file photo