Celebrating the joy at Calvary church in Willmar
The noise of a donkey and goats blended with the sounds of Christmas carols being sung in the parking lot as kids dressed as shepherds jostled in a makeshift stable beside Mary and Joseph during a drive-through live Nativity scene Sunday night at Calvary Lutheran Church in Willmar.
WILLMAR – The jarring bray of a donkey, baby goats jumping from one straw bale to the next – just for fun – and a content cow chewing her cud were supporting actors in a live Nativity scene Sunday evening in the parking lot at the Calvary Lutheran Church in Willmar.
Under a large glowing star attached to a "stable," a mom and dad played the roles of Mary and Joseph while surrounded by their cute little kids dressed as shepherds, angels and wisemen. They all gathered around the manger holding a baby Jesus doll, and smiled and waved to a steady stream of people who drove slowly by the tableau in their vehicles.
The three-hour drive-by Nativity scene was called, appropriately enough, the "Journey to Bethlehem."
On the other side of the church people parked their cars and sang Christmas carols and hymns along with song leaders who were on an outside stage. The music came through the car radios to make it easier for people to hear and sing along in the safety of their own vehicles.
This is Christmas COVID-style.
This year, more than ever, people needed an opportunity to gather together to hear the story of Jesus' birth and to experience the joy of Christmas, said Pastor Naomi Mahler.
"We, as Christians, believe the birth of Jesus is God coming to us in human form, in all the messiness of the world," she said. "And this is a messy year."
Because of restrictions on indoor gatherings, many churches canceled their typical advent and Christmas events, like Sunday School Christmas programs. Some churches modified activities and worship services to include online or outdoor services, including showing holiday movies on the brick exterior of large church walls – drive-in movie style.
The absence of tradition, spiritual connection and just being together in the same worship space – especially at Christmas time – has been hard on churches and church members looking for meaningful activities that were "family-friendly and safe" during Christmas, said Mahler.
"We still wanted to communicate that story and that joy," said Mahler. "We want to be together and express the joy of the season and focus on what is most important in this hard time."
Calvary had never done a Nativity scene before, let alone a drive-by one.
But Mahler said once the idea started percolating, staff and volunteers worked quickly to create a manger scene, complete with a painted backdrop of old Bethlehem.
At first they were going to have kids dress up as animals, but then someone had a friend with sheep, someone knew a farmer with cows, and then a donkey and the playful goats showed up and pretty soon they had "animals coming out of our ears," she said.
A beautiful evening, with mild temperatures, brought out scores of people, who were eager to see the animals, the kids, their pastors and a glimpse of a normal Christmas.
Tucked along the edges was the message that COVID was not going to win. "We're not going to let it beat us," said Mahler.
Donations of nearly $1,600 were collected during the event for God's Global Barnyard, a program of the Evangelical Lutheran Church in America that purchases livestock for people living in poverty. A matching grant will double the impact, according to Mahler.
1
/
8:
The Mathews family, dressed as a live nativity scene, waves to drivers as they pass by Sunday night at Calvary Lutheran Church in Willmar. Erica Dischino / West Central Tribune
2
/
8:
A drive-through live nativity scene was held Sunday night at Calvary Lutheran Church in Willmar. Erica Dischino / West Central Tribune
3
/
8:
Pastor Naomi Mahler greets drivers as they enter the drive-through live nativity scene Sunday night at Calvary Lutheran Church in Willmar. Erica Dischino / West Central Tribune
4
/
8:
Drivers view farm animals through their car window during a drive-through live nativity event Sunday night at Calvary Lutheran Church in Willmar. Erica Dischino / West Central Tribune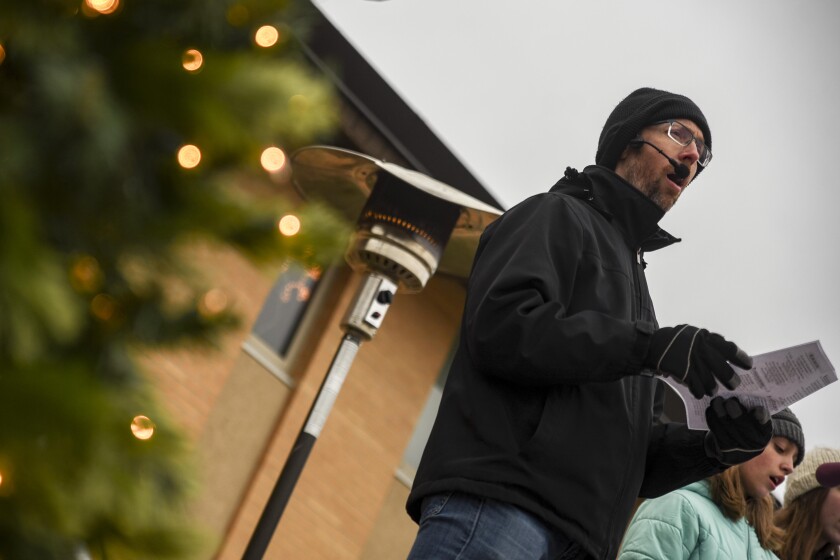 5
/
8:
Pastor David Severtson sings on stage with fellow carolers during a drive-through live nativity scene Sunday night at Calvary Lutheran Church in Willmar. Drivers had the opportunity to park their car and sing along while listening in through the car radio. Erica Dischino / West Central Tribune
6
/
8:
Carolers sing during a drive-through live nativity scene Sunday night at Calvary Lutheran Church in Willmar. Drivers had the opportunity to park their car and sing along while listening in through the car radio. Erica Dischino / West Central Tribune
7
/
8:
Wendy Nelsen, left, with her husband Guy Nelsen sing Christmas carols in their car during a drive-through live nativity scene Sunday night at Calvary Lutheran Church in Willmar. Drivers had the opportunity to park their car and sing along with carolers while listening in through the car radio. Erica Dischino / West Central Tribune
8
/
8:
A drive-through live nativity scene was held Sunday night at Calvary Lutheran Church in Willmar. Erica Dischino / West Central Tribune