Celebrate the Light opens Thanksgiving Day at 5 p.m.
The light display will be open from 5 to 10 p.m. nightly in Willmar through January 1.
We are part of The Trust Project.
WILLMAR — The Celebrate the Light of the World display will open for the season at 5 p.m. Thanksgiving Day.
The drive-thru Christmas light display at Robbins Island Regional Park in Willmar is a fundraiser for local non-profits in the Willmar area.
It will be open from 5 to 10 p.m. nightly through Jan. 1.
The display features many tall (40- to 60-foot) tree structures most "dancing" to music, a large red-green-blue light show and many traditional Christmas lights spread throughout the 55-acre park.
The lights are set up around the looping Robbins Island road, allowing people to enjoy it from the comfort of their vehicles with the music available through the car radio.
This years non-profits benefiting from the freewill donations include The Salvation Army of Willmar, Habitat for Humanity of West Central Minnesota, Kandiyohi County Food Shelf and The Link in New London.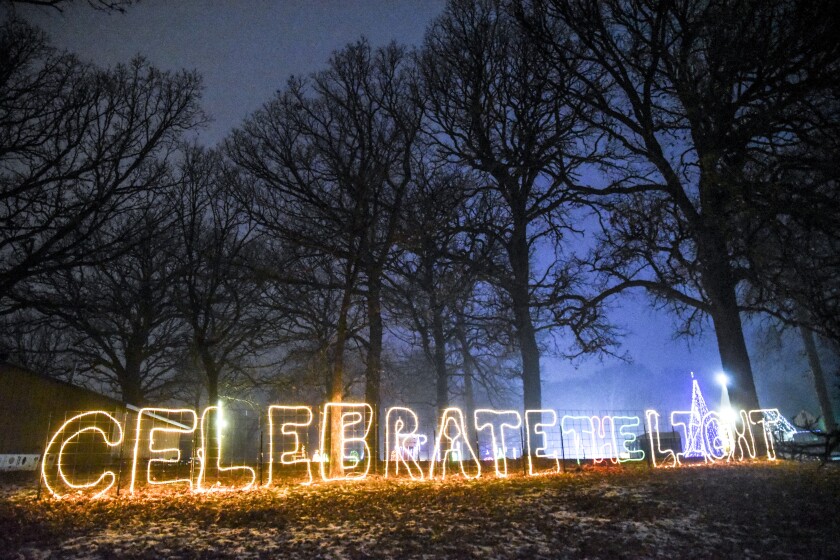 1
/
2:
The 2019 Celebrate the Light of the World display will be lit at Robbins Island Regional Park Thanksgiving evening and be lit every evening through the New Year's holiday. Erica Dischino/Tribune file photo
2
/
2:
Robbins Island Regional Park was full of cars on the opening night of the 2018 Celebrate the Light of the World show in Willmar. This year's display opens Thursday and runs through the holidays. Erica Dischino/Tribune file photo