Dear Friend: Connecting the generations through letters in Willmar and surrounding communities
Seniors from the Willmar Community Center and area nursing and assisted living homes have been writing letters to students of all ages and young adults through a pen pal program started earlier this year. The letters have been a way to connect people during the continuing isolation of the pandemic. Nearly 200 people are participating in the program, more than the organizers ever dreamed.
WILLMAR — The trip to the mailbox has become a little bit more exciting for dozens. For the past three months they have been taking part in the Community Pen Pals program started at the Willmar Community Center and there is always a chance there is a letter waiting for them from their new friend.
"It is nice to get something in the mail besides bills," said Diana Frey, who is participating in the program.
The program was created in an effort to help alleviate the boredom, loneliness and anxiety the months-long pandemic is still piling up on people.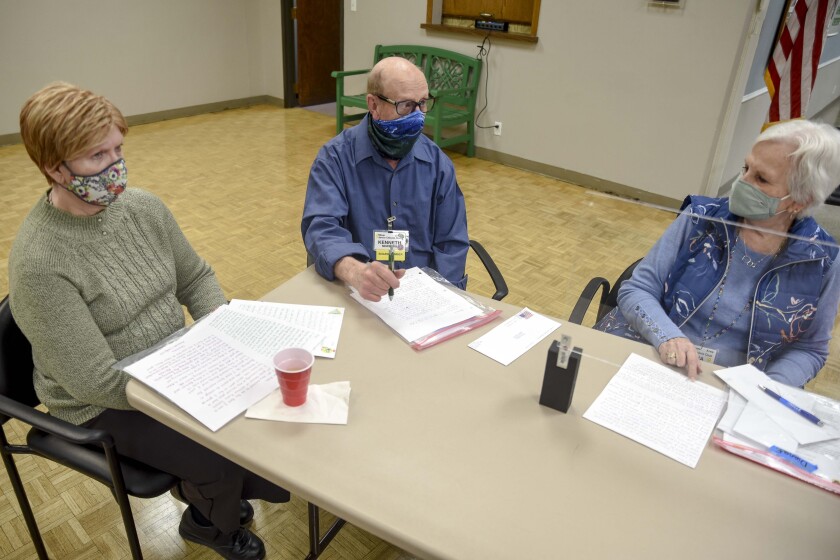 "It was an idea I had, when we were all shut down; a way to provide some connections within our community," said Britta Diem, Willmar Community Center director. "It was a great idea to connect them with one another, by writing letters, which is something we don't typically do in our lives anymore."
Working with Amber Silva from Carris Health the duo created dozens of letter-writing packets — full of pre-stamped envelopes, address labels, stationery and even writing prompts to help with the letter creating process — and connected the seniors with their younger counterparts.
The seniors have come from the Willmar Senior Club at the community center along with residents from Bethesda, Copperleaf and Glen Oaks.
The students range from fourth-graders to college age and come from schools such as Willmar, New London-Spicer, Kerkhoven-Murdock-Sunburg, Paynesville and Litchfield. There are also young adults who heard of the program and wanted a pen pal too. All totaled nearly 200 people are taking part.
"Mind blown," Britta said about the number of people who wanted to have and be a pen pal. "It really skyrocketed, which is great to see."
Sponsoring the program through financial or in-kind donations and grants have been Willmar Area Vision 2040, Carris Health, PrintMaster, Walt's, the University of Minnesota Southwest Regional Sustainable Development Partnerships, Interfaith Group of Willmar and the West Central Tribune.
"The sponsors were right away on board," Silva said.
For those seniors who are participating, the program has been a fun diversion from what has become the normal pandemic grind.
"It gave you something new to do," said Ardis Newberg.
Diem said for some of the letter writing duos, she tried to connect people together with similar interests. Frey, who has 50 years of experience as a nurse, is writing letters to a 22-year-old registered nurse.
"It is good to know we can correspond with younger people and know they enjoy hearing from us old folks," Frey said. "I personally feel I am going to learn from her and she is going to learn things from me."
Kenneth Newberg's pen pal is a young college gentleman with whom he shares a love of running.
"He is on the track team and I run 5k runs. We have something in common there," said Kenneth Newberg. "It is very interesting and I am very glad we got to do that."
The letters have also brought up unexpected connections. Ardis Newberg found out her pen pal is related to Ardis' cousin.
"My last letter was all about my relatives. I am writing a lot of history back and forth to her," Ardis Newberg said. "We have a lot in common."
Another writer was introduced to her upstairs neighbor when her pen pal letter was misdelivered. They found out the younger pen pal was related to the neighbor's old roommate.
Diem has received similar positive feedback from the younger writers. She shared a few of their comments with the West Central Tribune.
"I thought it was super fun to write to my pen pals because they were good at explaining to me and they've been answering all my questions," said one fourth-grader from KMS. "It was enjoyable to write to them, because they actually liked some of the same things that I was so surprised about. I would like to continue writing to them. I have been having so much fun."
"It was something different and it was a chance for me to gain advice, wisdom and a few smiles along the way," said a college student attending the University of Minnesota in Morris. "Even being many years apart, we have found similarities in our lives. It has also been very interesting to me to see how the world has changed since she was my age."
Now that the program has entered its third month with no sign of slowing down, the hope is it might keep going throughout the year.
"I think it might last the whole year. I am optimistic here," Silva said. "Hearing about all these connections that are happening is exactly what Britta and I envisioned. It is so awesome to hear it is going well."
The senior writers concur that they want the program to continue.
"It gives you a sense of purpose. You are not thinking about yourself, you are thinking about this other person," Frey said.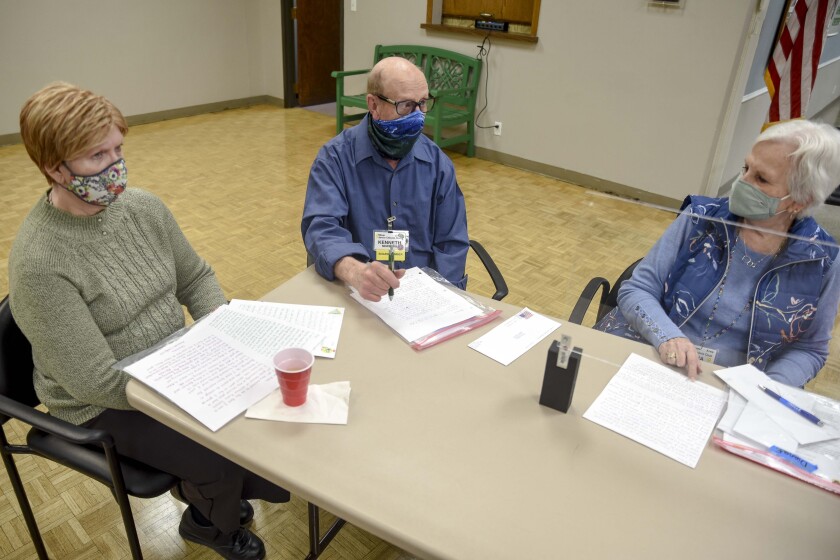 1
/
6:
Ardis Newberg, left, and her husband Kenneth Newberg as well as Diana Frey speak about their pen pals and what they write about in their letters Wednesday afternoon at the Willmar Community Center in Willmar. Erica Dischino / West Central Tribune
2
/
6:
Community Center Manager Britta Diem shows what is in the pen pal program packets Wednesday afternoon at the Willmar Community Center in Willmar. Erica Dischino / West Central Tribune
3
/
6:
Letters written to Kenneth Newberg from the pen pal program rest on a table at the Willmar Community Center. Erica Dischino / West Central Tribune
4
/
6:
Donna Evenson speaks about the pen pal program Wednesday afternoon at the Willmar Community Center in Willmar. Erica Dischino / West Central Tribune
5
/
6:
Kenneth Newberg organizes his letter packet Wednesday afternoon that he uses for the pen pal program held at the Willmar Community Center in Willmar. The packet includes envelopes, stamps and other letter writing necessities. Erica Dischino / West Central Tribune
6
/
6:
Ardis Newberg speaks about the pen pal program Wednesday afternoon at the Willmar Community Center in Willmar. Erica Dischino / West Central Tribune