Keeping kids healthy at the YMCA in Willmar
The Kandiyohi County YMCA held a Healthy Kids Day event Thursday April 29, 2021 outside of the YMCA in Willmar.
WILLMAR — Children and their families had the opportunity to learn about fostering a holistically healthy lifestyle Thursday evening at the Kandiyohi County YMCA in Willmar. The YMCA held the Healthy Kids Day event to help community members engage in new ways to look at their health through food, physical activity, academic engagement, emotional wellbeing and more. The event featured an obstacle course, informational booths from local businesses and organizations, healthy snacks and many other fun activities.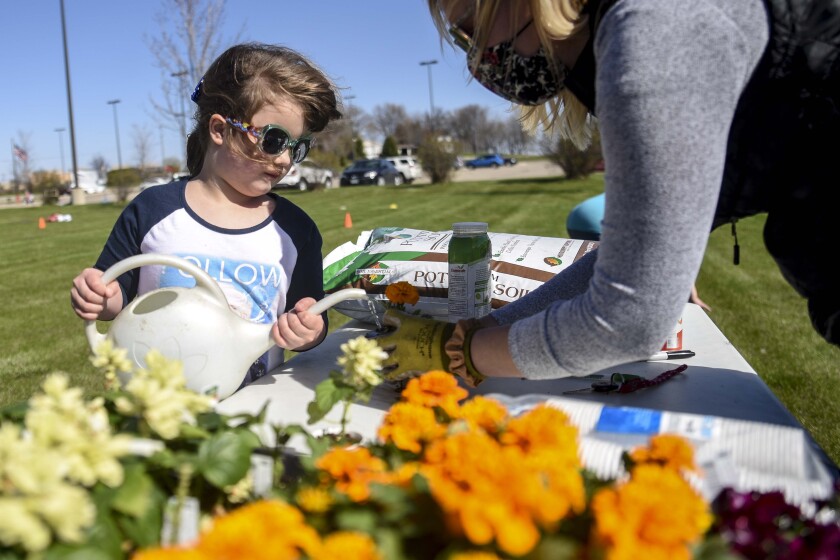 1
/
6:
Mackenzie Grimm, 7, waters a flower she just repotted with the help of Lora Miller of Stacy's Nursery Thursday, April 29, 2021, outside of the Kandiyohi County YMCA in Willmar during the Healthy Kids Day event. The YMCA held the event to help children and their families engage in new ways to look at their health through food, physical activity, academic engagement, emotional wellbeing and more. Erica Dischino / West Central Tribune
2
/
6:
Zumba was one of the many activities held during the Healthy Kids Day event Thursday, April 29, 2021, outside of the Kandiyohi County YMCA in Willmar. Erica Dischino / West Central Tribune
3
/
6:
Lucettee Stomer, 6, blows bubbles during the Health Kids Day event Thursday, April 29, 2021, outside of the Kandiyohi County YMCA in Willmar. Erica Dischino / West Central Tribune
4
/
6:
Children move through the obstacle course during the Healthy Kids Day event Thursday, April 29, 2021, outside of the Kandiyohi County YMCA in Willmar. Erica Dischino / West Central Tribune
5
/
6:
Alex Wolter of the Kandiyohi County YMCA gives Bentley Cooley, 9, a banana during the Healthy Kids Day event Thursday, April 29, 2021, outside of the Kandiyohi County YMCA in Willmar. Erica Dischino / West Central Tribune
6
/
6:
Lucettee Stomer, 6, left, runs through the obstacle course with the help of Mat Snider of the Kandiyohi County YMCA during the Health Kids Day event Thursday, April 29, 2021, outside of the Kandiyohi County YMCA in Willmar. Erica Dischino / West Central Tribune