Memorial service Sunday for New London Mayor and artist Bill Gossman
New London Mayor Bill Gossman, who died last week, will be remembered during an outdoor memorial service at 6 p.m. Sunday at the New London-Spicer High School. An empty, white canoe will be anchored in the Mill Pond as a focal point for community grief.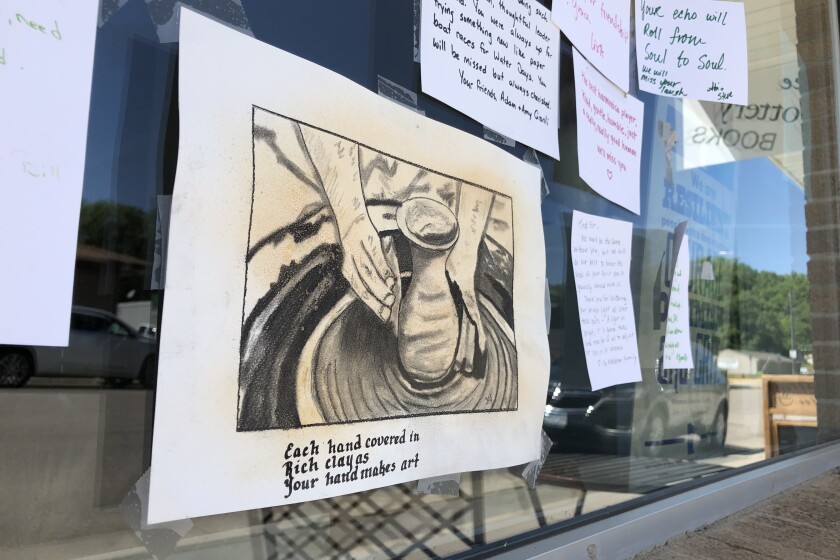 NEW LONDON — Notes sharing memories, words of condolence and uplifting messages of hope are taped to the window of the Gossman Pottery store in downtown New London in honor of store owner, potter, musician and the town's mayor, Bill Gossman.
On Sunday there will be more memories and messages shared during a community memorial service for Gossman, 67, who died last week. He had been diagnosed in late December with a rare form of cancer.
Well-known and well-loved for his kind spirit, generosity with his time, his talents as a potter and musician and for community leadership, Gossman will be remembered and honored Sunday, which has been declared "Bill Gossman Day" by the city where he had served as mayor since 2009.
A proclamation approved Wednesday by the New London City Council refers to Gossman as "fair, open-minded, kind, gentle, community-minded and a true example of how people should treat each other" and says, in part, "Whereas, life is a blessing for an individual and for a community which benefits from the knowledge, creativity, and experiences this individual brings to all" … "the city of New London recognizes with respect and admiration the contributions of Bill Gossman to our community … "
As part of the day, community members from 1 to 5:30 p.m. Sunday are invited to go to the stage located near the Fire Hall to pay their respects. The area will be a "quiet space" for people to reflect, said Steve Maher, director of the Harvey Anderson & Johnson Funeral Home in New London.
The stage was built in 2018 as part of an ArtPlace grant. This week the City Council voted to name it the Bill Gossman Memorial Stage and will have a plaque installed on the stage with the new name.
At 5:30 the New London Fire Department will lead a vehicle procession from the stage to the New London-Spicer High School, where the outdoor service will begin at 6 p.m. Because of the COVID-19 pandemic, attendees are asked to consider staying in their vehicles or maintain social distancing guidelines.
The service, which will include a variety of speakers and music from the Green Lake Bluegrass Band that Gossman played in for more than two decades, will be broadcast on 101.9 on car radios and also live-streamed .
Gossman, an adventurer and world traveler, spent a great deal of time on the water including a stint as a canoe and fishing guide in northern Minnesota.
His empty canoe — painted white — will be anchored in the Mill Pond on Sunday.
It's hoped the canoe will provide a "shared focus for people to direct their energy and grief," according to a family member.
In lieu of flowers, memorials are requested to be made to the Land Stewardship Project, Carris Health — Rice Hospice or the Southwest Minnesota Arts Council.