'Taste of Downtown' brings the community together in Willmar Fests' BLock Party 2021
The Willmar Fests board set up the two-hour tasty tour during the Willmar Fests Block Party and featured nine of downtown Willmar's small businesses and restaurants.
WILLMAR —The festival that started as a way to showcase Willmar's love for coffee while highlighting the people and businesses that make this community what it is, Willmar Fests was finally able to celebrate its 75th anniversary in its 76th year.
As the pandemic finally loosened its grip on Willmar and the rest of Minnesota, the Willmar Fests Board sought to highlight those businesses that make Willmar great — its small businesses.
That's when Willmar Fests Board member Sarah Swedburg remembered hearing about an event that Willmar had put on previously, the "Taste of Downtown."
"I have heard nothing but this event since I got to Willmar, so we wanted to bring it back," Swedburg said. "We thought this was a perfect way to bring the event back, get downtown businesses involved with the Willmar Fests Block Party and kind of give people the opportunity to test out the waters [with food] that maybe they haven't tried."
2021 Willmar Fests Junior Royalty Coronation The incoming Willmar Fests Junior Prince and Princess were crowned Thursday, June 24, 2021 at the Willmar Fests Block Party in downtown Willmar.
The board set up the two-hour tasty tour during the Willmar Fests Block Party and featured nine of downtown Willmar's small businesses and restaurants; Rosita's Grill, Bihi's Restaurant, Freida's Cafe, Estrella Bakery, Somali Star Restaurant, Star Grille, Azteca Mexican Restaurant, The Goodness Coffee House — someone had to bring the coffee — and Spur's Bar & Grill.
Tickets were $20 each with only 100 available.
For Steph Dearing, along with her two boys, Carson, 8, and Logan, 4, the "tasty ticket" was a good way to try something new and —as most mothers understand — "It was mainly to exhaust my kids but it ended up being [that we] able to get familiar with what's around the area, try different foods and expand our taste in cuisine."
Keeping their business, let alone opening their doors again after almost 18 months of pandemic precautions, was not easy for small businesses as many did not have the capital to sustain a long-term closure.
In a 2020 Proceedings of the National Academy of Sciences of the United States of America research article on the impacts of COVID-19 on small businesses found that the pandemic highlighted "the financial fragility of many businesses." With the average small business having "monthly expenses over $10,000, had only enough cash on hand to last roughly two weeks."
Whether you have been open for 27 years, Freida's Cafe, or less than a year, Star Grille, getting those customers back in their doors is the next challenge being fought by businesses around the country.
For Swedburg, helping small businesses to succeed in Willmar leads to a vibrant and sustainable future for the city as a whole.
"If they did it again, we would do it again in a heartbeat," said Dearing.
Tickets for the sold-out event went faster than Freida's pancakes and Swedburg said we can expect a "Taste of Downtown '' at next year's Willmar Fests with all the positive feedback she received from the community and business owners.
1
/
17:
Current and incoming Willmar Fests Junior Royalty walk in the Kiddie Parade during the Willmar Fests Black Party Thursday, June 24, 2021 in downtown Willmar. Erica Dischino / West Central Tribune
2
/
17:
Jakub Nurmi, 8, left, and Hazel Cisneros Ocampo, 8, wave to the crowd after being crowned as the incoming Willmar Fests Junior Royalty at the Willmar Fests Block Party Thursday, June 24, 2021 in downtown Willmar. Erica Dischino / West Central Tribune
3
/
17:
Community members gather at the Willmar Fests Block Party Thursday, June 24, 2021 in downtown Willmar. Erica Dischino / West Central Tribune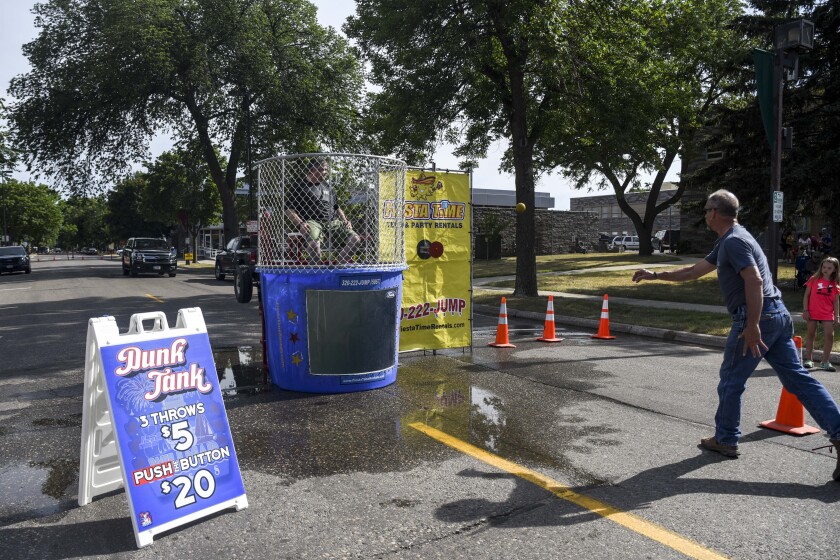 4
/
17:
A dunk tank that soaked local leaders to benefit Hope for Our City was available during the Willmar Fests Block Party Thursday, June 24, 2021 in downtown Willmar. Erica Dischino / West Central Tribune
5
/
17:
Taste of Downtown allowed ticket-buyers to sample food from nine different restaurants in downtown Willmar during the Willmar Fests Block Party held Thursday, June 24, 2021. Erica Dischino / West Central Tribune
6
/
17:
Alex Ravens, left, gives Sam Schindele, 10, a slice of cheesecake at Spur's Bar and Grill served for Taste of Downtown a part of the Willmar Fests Block Party Thursday, June 24, 2021 in downtown Willmar. Taste of Downtown allowed ticket-buyers to sample food from nine different restaurants in downtown Willmar. Erica Dischino / West Central Tribune
7
/
17:
Community members gather at the Willmar Fests Block Party Thursday, June 24, 2021 in downtown Willmar. Erica Dischino / West Central Tribune
8
/
17:
Junior royalty candidates anxiously wait before they were asked to come on stage for the crowning of the Willmar Fests Junior Royalty at the Willmar Fests Block Party Thursday, June 24, 2021 in downtown Willmar. Erica Dischino / West Central Tribune
9
/
17:
Hazel Cisneros Ocampo, 8, left, is crowned as the incoming Willmar Fests Junior Princess by current princess Jaydan Lara, 10, at the Willmar Fests Block Party Thursday, June 24, 2021 in downtown Willmar. Erica Dischino / West Central Tribune
10
/
17:
Junior Princess candidates line up on stage for the crowning of the Willmar Fests Junior Royalty at the Willmar Fests Block Party Thursday, June 24, 2021 in downtown Willmar. Erica Dischino / West Central Tribune
11
/
17:
Jocelyn Ocampo, 14, hugs her sister Hazel Cisneros Ocampo, 8, after she was crowned as the incoming Willmar Fests Junior Princess at the Willmar Fests Block Party Thursday, June 24, 2021 in downtown Willmar. Erica Dischino / West Central Tribune
12
/
17:
Junior Prince candidates line up on stage for the crowning of the Willmar Fests Junior Royalty at the Willmar Fests Block Party Thursday, June 24, 2021 in downtown Willmar. Erica Dischino / West Central Tribune
13
/
17:
Morgan Stoberl, left, of Willmar Fests helps current Junior Princess Jaydan Lara, 10, pick from a cup of names the incoming junior royalty with International Princess Maddie Stoeberl at the Willmar Fests Block Party Thursday, June 24, 2021 in downtown Willmar. Erica Dischino / West Central Tribune
14
/
17:
The Kiddie Parade was held during the Willmar Fests Block Party Thursday, June 24, 2021 in downtown Willmar. Erica Dischino / West Central Tribune
15
/
17:
Children walk in the Kiddie Parade during the Willmar Fests Block Party Thursday, June 24, 2021 in downtown Willmar. Erica Dischino / West Central Tribune
16
/
17:
Children wave to the emergency response vehicles at the Kiddie Parade during the Willmar Fests Block Party Thursday, June 24, 2021 in downtown Willmar. Erica Dischino / West Central Tribune
17
/
17:
Various local organizations participated in the Kiddie Parade during the Willmar Fests Block Party Thursday, June 24, 2021 in downtown Willmar. Erica Dischino / West Central Tribune