Halloween Haunt with a Fright Forest theme of haunted house experience at New London Little Theatre
Fright Forest is the theme of the haunted house experience at the New London Little Theatre, which includes different style shows for different ages ranging from a "lights on" show and crafts for young kids and a full-blown scare with alcoholic beverages for adults.
NEW LONDON — To say that Jessie Holmstrom loves Halloween — and a good Halloween scare — would be an understatement.
"Growing up, I had fun parents — who still dress up for Halloween. So I guess it was always a family affair and we always visit family on Halloween," said Holmstrom. "It's always fun and candy and all that. It's always been a positive experience for me."
Holmstrom — who in the past turned the front porch and yard of her New London home into a haunted Halloween experience — is well-known by community kids who came to her house from all over town every Oct. 31.
But for the second year in a row, Holmstrom's special style of story-telling scares and artistic Halloween props are being featured at the New London Little Theatre for six nights of shows that are catered to different age groups.
The haunts will be held Oct 25, 26, 27, 31 and Nov. 1 and 2 at the Little Theatre, 24 Central Avenue Northeast in New London.
Except for the 2 to 5 p.m. matinee on Oct. 27, all shows are from 7 to 8:30 p.m.
The theme of this year's Holmstrom Haunt is Fright Forest.
Combining her love of Halloween and a knack for "being a creator of sorts," Holmstrom has turned the historic Little Theatre into a frightening walk through the woods.
The promotional flier says the trek includes being led by "root cellar ghouls" that guide visitors to the "down deep under."
The "down deep under" means going down a short set of steps to the small lower level of the Little Theatre where there are different rooms chock full of props and surprises waiting for visitors.
The multi-media haunt includes a scary movies shown in the main part of the theater. There will be a different movie shown each day.
People can watch the movie while waiting their turn to be escorted through the woods and then resume watching after screaming their way through the woods.
When planning what the scenes in her haunts look like, Holmstrom said she relies on her gut instincts.
"Well, I know what scares me. So it's easy in that regard," she said. "Most people are scared of bugs. Most people are scared of death. It's easy to work with those things, especially around Halloween."
Holmstrom said she hopes people aren't so scared they rush through the haunted forest without noticing the details of the props, including many she has made.
"Think of it as an art feature," she said. "Because I am working on some of this stuff as a creator and as an artist and a lot of times people go through so fast that I worry they don't get to see the cool detail I've put into some of this stuff."
She said people might have to come all six nights in order to see everything.
There are different levels of scare for the haunts that are tailored for different audiences, said Maria Novak, who wrote the script and is directing the haunt.
"It is going to be a really fantastic experience," said Novak, who is also on the board of directors at the Little Theatre.
"We're really hoping people come and enjoy something new here in town. Even though it is our second year, and (we) had a very good first year, we're hoping to see it grow," she said. "We're making the haunt bigger, so we're hoping the crowd is bigger too."
There are three "full scare" shows that are rated PG-13 with G or PG-13 rated horror flicks featured.
The 12 Halloween-themed movies shown during the haunt were selected by Deb Mortenson, who shows movies regularly as part of the New London Roaming Cinema project.
The movies include the 1960s-era classic "Horror Hotel" on Oct. 25, "Little Red Riding Hood vs The Monsters" on Oct. 26, which Mortenson describes as a Mexican-made movie that's dubbed into English. "It's just kind of hilarious," she said.
A "low scare haunt" matinee that's rated G is Oct. 27. The lights will be on for this show and there will be several classic public domain films shown, including one where Mickey Mouse is a "mad doctor," said Mortenson.
"The lights are up and the costuming is a little less gruesome," Novak said. There will also be a craft project for kids that day.
On Oct. 31 the feature film is "Troll 2," which Mortenson said is the "worst of the best kind of movies. It's on that list of 'it's so bad it's good'."
There are two adult "full scare" shows Nov. 1 and 2 where the fright level will be "amped up," Novak said. People must be 18 years or older to participate in that haunt.
The movies are R-rated films, include "Satan's Playground" and "Memorial Valley Massacre."
Alcoholic cocktails with a special Halloween theme will be available for individuals 21 and over during the two adult shows.
Novak said the theater will be transformed into a "social hall and a social haunt" where people can have a beverage, watch a freaky flick and get properly scared during the trek through Fright Forest.
Ticket prices are $5 for kids 12 years and younger and $10 for those over the age of 13. Tickets are sold the night of the show. The event is a fundraiser for the Little Theatre.
Location: New London Little Theatre, 24 Central Avenue Northeast.
Haunt dates: Oct 25, 26, 27, 31 and Nov. 1 and 2
Times: Except for the 2-5 p.m. matinee on Oct. 27, all shows are 7-8:30 p.m.
Cost: $5 for kids 12 and under and $10 per person for those 13 and older
It's recommended that children 12 and under be accompanied by an adult.
Adults must bring an ID to be served drinks during the two adult shows Nov. 1-2
1
/
6:
Jessie Holmstrom, creator and designer of the Holmstrom Haunt, smiles while talking about the creation process of the event running Oct. 25 through Nov. 2 at the Little Theatre in New London. Erica Dischino / West Central Tribune
2
/
6:
Spooky decorations are displayed in the window of the Little Theatre in New London a part of the Holmstrom Haunt running Oct. 25 through Nov. 2. Erica Dischino / West Central Tribune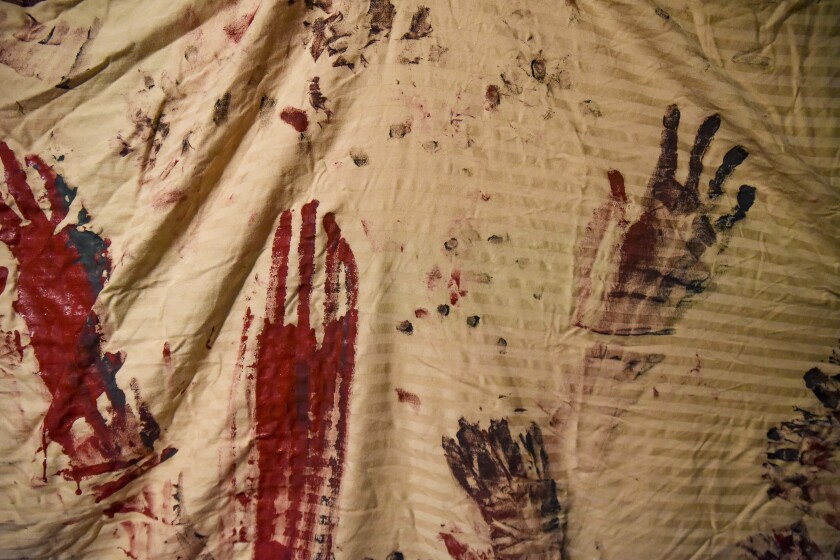 3
/
6:
Bloody handprints are displayed on the wall in the Holmstrom Haunt that runs Oct. 25 through Nov. 2 at the Little Theatre in New London. Erica Dischino / West Central Tribune
4
/
6:
Jessie Holmstrom, creator and designer of the Holmstrom Haunt, talks about the props and decorations with the theme of "Fright Forest" Oct. 9 at the Little Theatre in New London. The haunt runs Oct. 25 through Nov. 2. Erica Dischino / West Central Tribune
5
/
6:
Spooky decorations line the Holmstrom Haunt that runs Oct. 25 through Nov. 2 at the Little Theatre in New London. Erica Dischino / West Central Tribune
6
/
6:
Spooky props in a bucket will be later placed in the Holmstrom Haunt that runs Oct. 25 through Nov. 2 at the Little Theatre in New London. Erica Dischino / West Central Tribune