Montevideo teenager builds on last year's success at Sam's Pumpkin Patch
Sam Ripley is hoping to grow on last year's success by bringing in even more activities for families to enjoy Sam's Pumpkin Patch in Montevideo. In its second year, the pumpkin patch offers
We are part of The Trust Project.
MONTEVIDEO — It is probably safe to say that Sam Ripley, 17, of Montevideo, is an entrepreneur. It is not every day a teenager decides to start a small pumpkin patch in a cow pasture of his family's farm — and then grow it into an autumn wonderland that brings in thousands of people.
"We were hoping for 300 to 500 people," last year, Ripley said. "We ended up having 5,000. It was a huge success."
The pumpkin patch opened for the 2022 season on Sept. 10, and will run each weekend through Oct. 30.
Ripley is hoping visitors enjoy all the activities at Sam's Pumpkin Patch — including pumpkin picking, petting a menagerie of farm animals, gemstone mining, hay and barrel train rides and a farm field full of children's games and activities. There are also tasty concessions and a gift shop full of potential treasures both old and new.
Though Ripley is only a senior at Montevideo High School, he has dreamed of owning his own business since he was a child visiting area pumpkin patches.
"I have always wanted to do something with business," Ripley said, adding he plans to go to college for business management and finance. "I've always liked managing and owning a business."
In 2016, Ripley opened the first iteration of Sam's Pumpkin Patch. He took a small corner of the cow pasture and prepared the soil to grow pumpkins, gourds and Indian corn. He sold his produce at a roadside stand at the local Cenex station. He operated his stand through 2020, while also allowing private visits to the patch itself. He added some simple decorations and food to sell, both which sold quickly.
In 2021, he started planning for a much larger enterprise.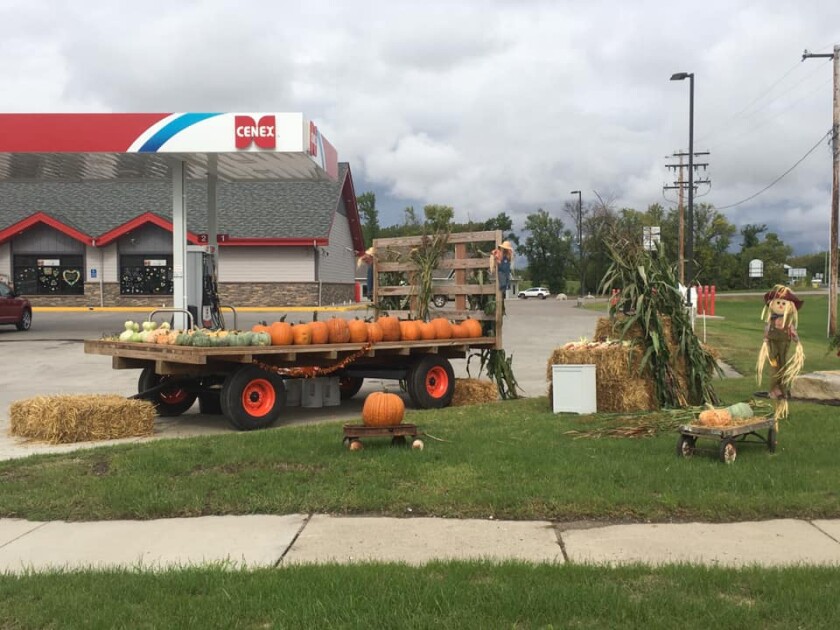 "Last year I figured, I have a couple years left in Montevideo, I'm going to make something actually happen," Ripley said.
He fenced off a larger portion of the cow pasture and brought in a few local farmers to till up a much larger pumpkin patch. Even with the big equipment, Ripley had to put in a lot of hard work himself to plant the crop.
"I had to walk behind (and) till the entire thing," Ripley said. "Then me and my dad planted that in the spring."
During the summer Ripley started pulling together all the insurance and licenses he would need to run Sam's Pumpkin Patch as a public business with food and activities. He also began purchasing and bringing together a variety of games and activities for young kids to enjoy while at the patch.
He opened to the public Sept. 11, 2021, and helped thousands of people enjoy some fall fun.
"The first day, I thought it was just a novelty, but they kept coming day after day after day," Ripley said.
This year, Ripley has added even more fun things to do in the old pasture — like a huge Foosball game, basketball and a 35-foot-by-15-foot billiards/pool table ball. He has improved the layout of the site to make it easier for people to walk around and enjoy themselves.
"I think we can sustain that kind of crowd again," Ripley said. "We have more than most places have; I pride myself on that."
Ripley is also proud that he has not increased the admission cost this year. It remains at $5 per person. Admission buys as many hay rides, barrel train rides, petting zoo visits and field games as a person wants. Concessions, pumpkins, gemstone mining and laser tag is an additional cost. Ripley said it was important his pumpkin patch remain a low-cost, family-friendly activity.
"We are sticking with $5," Ripley said. "We are doing the best deal, most affordable place in the area."
Only two days before he opened for the season last Saturday, Ripley — along with members of his family and friends — was hard at work getting everything together. While it is Ripley's first name on the business, it wouldn't be possible without all the help he gets, especially from his parents, Scott and Jana Ripley.
"My dad did all the hay rides," Ripley said. "He did 241 hay rides last fall. He kept a tally."
What the future of Sam's Pumpkin Patch will be after this fall remains to be seen. Ripley plans to go to college, perhaps at a school in North Dakota. Whether the pumpkin patch continues is unknown.
"There will have to be a deep family talk," Ripley said and it will depend on how far away he is.
Despite that big unanswered question, Ripley is looking forward to a very fun fall season at Sam's Pumpkin Patch. He hopes visitors enjoy it this year as much as they enjoyed it last fall. He said seeing the kids running around, playing with all the games and just having a good time makes all the hard work worth it.
"It is nice to see people enjoying it," Ripley said.