Student stage production opens tonight at Ridgewater College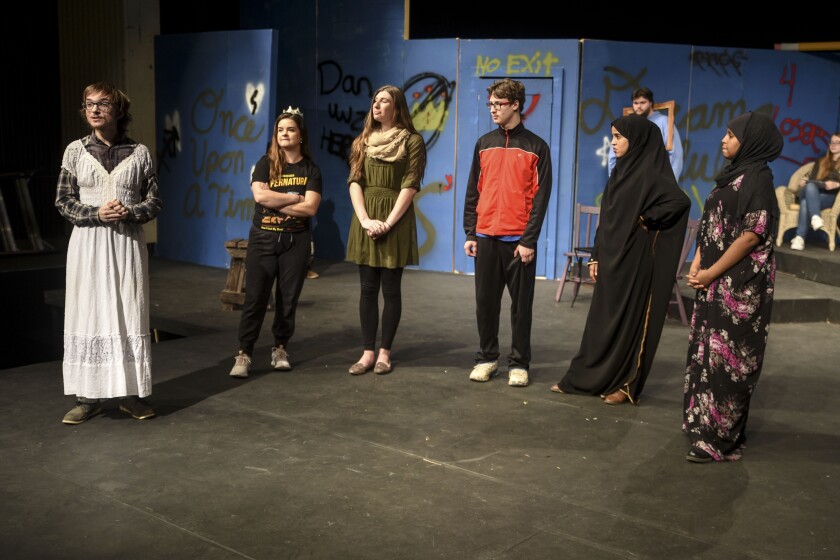 WILLMAR — Ridgewater College presents "It's in the Book" at 7:30 p.m. tonight through Saturday at the Willmar campus theater.
"It's in the Book!" is being billed as an evening of fairy tales gone wrong — a collaboration with students.
The cast of characters, who all play themselves, are Ariel Conklin, Domonique McPhail, Daniel Anfinson, Gabriel Ryland, Corin Gauer, Ethan Bos, Cayla Corteau, Yesenia Gomez, Madison Isaacson, Damontae Smith, Hafsa Gedi, Nasteha Mahamed and Anthony Cermak.
It is directed by Matt Hegdahl with Christina Mayers as the assistant director.
Isabel Froehle is the stage manager and Eric Harp is the lighting designer.
Tickets are $5, general admission, and are available at the door or by calling 320-222-7605.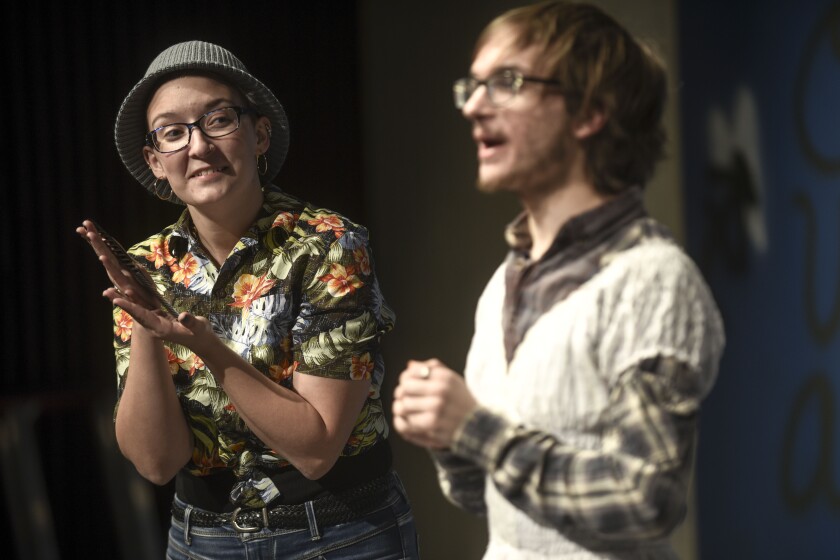 1
/
4:
Ariel Conklin performing as the Evil Queen in disguise, left, and Gabrial Ryland as Snow White conduct a play-within-a-play during a dress rehearsal of "It's in the Book" at Ridgewater College in Willmar. Erica Dischino / West Central Tribune
2
/
4:
Actors perform during a dress rehearsal of "It's in the Book" Monday at the Ridgewater College Willmar campus theatre. Performances begin at 7:30 p.m. tonight through Saturday. Erica Dischino / West Central Tribune
3
/
4:
Corin Gauer performs during a dress rehearsal of "It's in the Book" Monday at the Ridgewater College Willmar campus theatre. All actors play themselves in the show. Erica Dischino / West Central Tribune
4
/
4:
Ariel Conklin performing as the Evil Queen, left, and Ethan Bos as the Huntsman conduct a play within the play during a dress rehearsal of "It's in the Book" Monday at the Ridgewater College Willmar campus theatre. Erica Dischino / West Central Tribune