Farmers markets bring sense of community, showcase local products
A silver lining of COVID-19 was that more people began gardening and selling their produce and homemade baked goods and jams at farmers markets. That buzz is still going on this year with an abundance of farmers markets in the region, bringing good food and a sense of community to rural Minnesota towns.
The late killing frost, early summer heat and lack of rain have created challenges for west central Minnesota gardeners, including those who raise produce to sell at farmers markets.
But locally grown produce, as well as home-canned pickles and jam from last year's harvest and fresh, home-baked bread and treats, are already showing up at area farmers markets this year.
The variety and quantity of produce will only increase as the season progresses, with seasoned gardeners coaxing fresh zucchini, peppers, onions, potatoes, eggplants, tomatoes and sweet corn from the soil to make a landing on the backyard summertime grill.
Some regional markets did not start until this month, but those that hit the ground in mid-June found an eager crowd of customers.
Dale Highlander and Heather Flynn took their 5-year-old daughter, Abegayle Highlander, to the Benson Farmers Market and bought a nice-sized box of pickled vegetables — cucumbers, beets and asparagus — and homemade jams during their June 24 visit.
They have been regular customers at the market for the last three years, buying a wide variety of vegetables.
"We're here every week," said Flynn. "We're very loyal."
Most of the vegetables they buy end up on the grill.
With three young kids at home, Flynn said it's important to bring kids to the farmers market so they can pick out their own vegetables and fruit.
"They all love their vegetables," said Flynn. "It definitely helps to have a farmers market in the summertime."
"The veggies taste better from the farmers market than the grocery store," said Dale Highlander.
Silver lining
Rosy Petersen, of DeGraff , has been selling her produce and canned goods at the Benson Farmers Market for 20 years. She had been the coordinator until this year.
Petersen said there had been a "lull" in the popularity of farmers markets but they have come back "big time" now.
Kathy Zeman, executive director of the Minnesota Farmers' Market Association , said there's been a "dramatic increase" in the number of farmers markets and vendors in Minnesota in the last year.
She called it a "silver lining" to COVID-19.
People "learned how to garden again" and learned what it took to be a cottage food producer and began legally making and selling homemade goods, she said.
"I'm happy people can connect with Mother Earth."
This year's frost damaged the fruit of many producers and the drought is making irrigation necessary for produce farmers, said Zeman. Unlike crop insurance programs that help corn and soybean producers, there's nothing to protect produce farmers, she said.
Amendments to the state's cottage food industry laws going into effect Aug. 1 include raising the gross annual allowable sales cap from $18,000 to $78,000 and a requirement that all homemade items have a label that states: "These products are homemade and not subject to state inspection."
New legislation will also allow for pet treats to be made in the home and sold under the cottage foods and pet treats bill. In the past, a commercial license was needed to make and sell pet treats.
You only need three producers to be called a farmers market in Minnesota, Zeman said, so some of the new farmers markets are small, but they are getting together and selling food to the public.
"What's more empowering than feeding your community," she said.
Sense of community
Petersen said farmers markets create a "sense of community" that links people who grow the food directly with those who eat it.
"You get to know people you might not know otherwise," she said.
Carmen Maus, who makes goat soap and lotion, also likes connecting with customers she meets at the farmers markets in Benson and Willmar, where she sells regularly.
"It's how to reach out and actually see your customers and talk to them. They get to know you," said Maus, who milks 45 dairy goats twice a day at her farm, C-R Farm, in rural Murdock.
She said she likes it when people recognize her booth at the markets and shout out a greeting of, "Oh, it's the goat lady, we're out of soap."
Carla Overlander, of rural Sunburg, sells her signature truffle candies, along with baked goods and original greeting cards, at farmers markets in Benson and Kerkhoven.
"I just love seeing the people and interacting with the community," she said. "We see familiar faces all the time."
Overlander said farmers markets not only provide an outlet for people to sell things they make and grow, but they also make big-city-type items available in small towns.
"It's a good boost to the community for many reasons, for us and for them," said Overlander. "The interaction is really key."
Cherie Stielow, of Benson, said "getting homegrown goodness and getting better health" is a key value to farmers markets.
Stielow, who is the current coordinator of the Benson Farmers Market, sells a unique blend of items: homemade fermented foods — like sauerkraut made from beets and ginger — and stone-ground mustards and jams.
She has taught classes on how to freeze-dry foods and has a colorful display at her booth for sale including freeze-dried real fruit — like apples — and freeze-dried fruit-flavored candy, like Skittles and Jolly Ranchers.
"My fruit is 97% of the nutritional value and I'm sure with the candy the calories have all been sucked out of that," she said with a laugh.
Amanda Lindquist, who began selling produce at the end of her parents' driveway as part of an FFA project, is the coordinator for the Kerkhoven Farmers Market, where her family sells vegetables and homemade goodies.
"I just enjoy being able to provide that fresh produce for people in the community where I grew up," she said. "It's just so important to have fresh produce and to provide that for people."
Willmar: 6:30 a.m. to noon Saturday, American Door Works parking lot on U.S. Highway 12 East
Willmar: 7 a.m. to noon Saturday, Uptown Willmar parking lot, next to Aldi's
New London: 8 a.m. to noon Saturday, Holm Park
Montevideo: 8 a.m. to noon Saturday, Smith Park, across from City Hall
Glenwood: 8:30 to 11:30 a.m. Saturday, parking lot south of Pope County Museum on state Highway 104
Kerkhoven: 3 to 5:30 p.m. Tuesday, Pillsbury Park shelter
Glenwood: 4 to 6 p.m. Tuesday, parking lot south of Pope County Museum on state Highway 104
Willmar: 11 to 5 p.m. Wednesday, Uptown Willmar parking lot, next to Aldi's
Litchfield: 10 a.m. to 2 p.m. Thursday, Community Market on Fourth Street on the north side of Central Park
Benson: 3 to 5:30 p.m. Thursday, Railroad Park on Main Street
Montevideo: 3:30 to 6:30 p.m. Thursday, Smith Park, across from City Hall
1
/
13:
Dale Highlander, left, Heather Flynn, and five-year-old Abegayle Highlander select jars of pickles June 24 at the Benson Farmers Market. Carolyn Lange / West Central Tribune
2
/
13:
Larry Larson, left, hands customer Shirley Friehl cucumbers she purchased June 13, 2018, at the Larson Farm stand at a farmers market in Willmar. Erica Dischino / West Central Tribune file photo
3
/
13:
Erica Dischino / West Central Tribune file photo
4
/
13:
Farmers markets are popular venues for home-grown and home-canned fruits and vegetables in west central Minnesota. Carolyn Lange / West Central Tribune
5
/
13:
Rosy Petersen of DeGraff packs up a box of her home-grown and home-canned pickles June 24 at the Benson Farmers Market for her customers Dale Highlander, Heather Flynn and five-year-old Abegayle Highlander. Carolyn Lange / West Central Tribune
6
/
13:
Dale Highlander, left, Heather Flynn, and five-year-old Abegayle Highlander select jars of pickles and jam June 24 at the Benson Farmers Market. Carolyn Lange / West Central Tribune
7
/
13:
A farmers market is shown Sept. 4, 2019, in Willmar at the Kandi Mall, now known as Uptown Willmar. Erica Dischino / West Central Tribune file photo
8
/
13:
Cherie Strelow, of Benson, sells unique items, like freeze-dried bananas and skittles and homemade sauerkraut and fermented items June 24 at the Benson Farmers Market. Carolyn Lange / West Central Tribune
9
/
13:
Farmers markets are popular venues for home-grown and home-canned fruits and vegetables in west central Minnesota. Carolyn Lange / West Central Tribune
10
/
13:
Carla Overlander of rural Sunburg, sells her signature truffle candies, along with baked goods and cards featuring her photographer and daughter's artwork, during the June 24 Farmers Market in Benson. Carolyn Lange / West Central Tribune
11
/
13:
You can find more than fresh vegetables at farmers markets. At the June 24 farmers market in Benson, Carmen Maus, from C-R Farm in rural Murdock was selling her homemade soaps and lotions made from goat milk. She milks 45 goats twice a day and uses some of that milk for her hand-crafted products. Carolyn Lange / West Central Tribune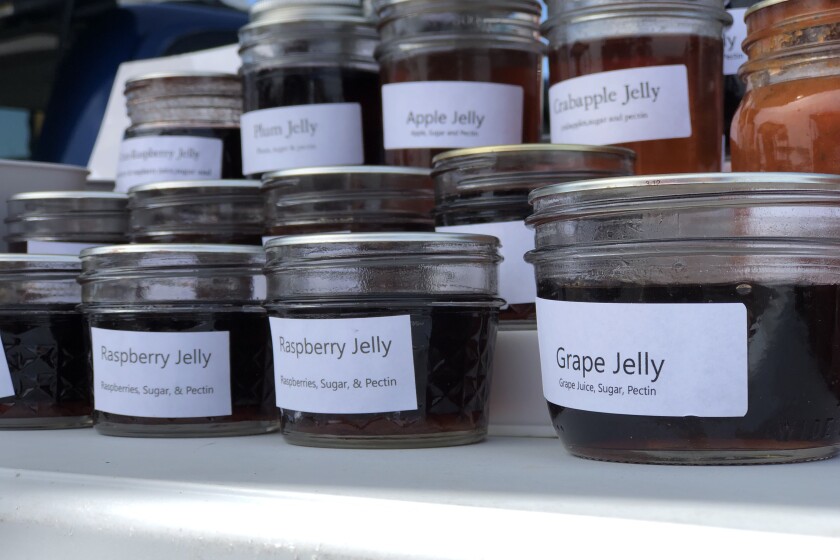 12
/
13:
Farmers markets are popular venues for home-grown and home-canned fruits and vegetables in west central Minnesota. Carolyn Lange / West Central Tribune
13
/
13:
Dale Highlander, left, Heather Flynn, and five-year-old Abegayle Highlander select jars of pickles June 24 at the Benson Farmers Market. Carolyn Lange / West Central Tribune