New leadership at West Central Minnesota Youth for Christ
Bob Poe, of Willmar, retires as director of youth ministry group after 33 years.
WILLMAR — During the 33 years that Bob Poe worked as executive director of West Central Minnesota Youth for Christ in Willmar, he's learned there are two key components for operating a successful youth ministry program: free food and free transportation.
And along with that comes a variety of programs and experiences that help connect positive adult role models with youth to fulfill Youth for Christ's mission to "call young people to be life-long followers of Jesus," said Poe.
"Everything we do … is all designed to introduce young people to God and what he expects of our lives and help them get on that road," he said.
Poe, 67, recently retired from his post at Youth for Christ but is working to make a smooth transition for the new director, Sean Levesque, who began Oct. 1.
Poe began working in youth ministry after graduating in 1975 from North Central Bible College in Minneapolis, now called North Central University. His work career included time at churches in Florida, Minneapolis and Willmar before he took on the lead post at West Central Minnesota Youth for Christ in Willmar in 1987.
"Youth for Christ was a good vehicle for me to get into, and do what I think God's calling on my life was," said Poe, during an interview at the Youth for Christ building in Willmar.
That calling put Poe in the middle of a changing environment of youth, families and church.
In the past, he said, kids learned about God from their families and regular church attendance. But with fewer families attending church, Poe said there is a growing gap between kids and God.
"The whole dynamic of a family unit of everybody attending church has changed," Poe said. " ... We do events, programs, spend time one-on-one with kids, to deliver that gospel of Jesus to the next generation just because culture changes."
YFC growth
Youth for Christ was launched in the United States in the mid-1940s. Billy Graham, who became a well-known evangelist, was its first full-time employee.
The West Central Youth for Christ has offices, staff and programs in Willmar, Alexandria, Brainerd, Redwood Falls, Glenwood and Hutchinson.
Over the years the organization has launched, operated and ended dozens of programs in order to meet the different needs of youth in ways that are fresh and attractive.
It initially started the young adult musical ministry group called Carpenters Tools International, which later became a separate nonprofit organization before it ended in 2018. Youth for Christ still sponsors a high school youth music program called On Call.
Although the Sonshine Christian music festival was not directly linked with Youth for Christ, Poe was intimately involved with creating and operating the annual event in Willmar, which at its peak drew so many people it doubled the population of Willmar. Sonshine started in 1982, was sold in 2014 and moved to Wisconsin. It ended in 2017.
Even great programs run their course and need to be replaced or refreshed, he said, but the goal is always to help kids.
Poe said the programs target the "most dangerous" 20 hours in kids' lives — the time after school before parents return home from work and Friday and Saturday nights.
"We try to pack everything we do in those time periods," Poe said, indicating YFC operates nearly 40 different programs every week in the six communities.
For example, the organization has a drop-in center in Willmar with a lounge and a "warehouse" space painted black and equipped with a large gaming system and stage for live music on weekends.
A new program launched earlier this month brought out 40 middle school boys to Burger King where they ate free food and had time to interact with staff and volunteers.
Perhaps the free food had something to do with the large turnout. But that's OK as far as Poe is concerned, reiterating that free food and transportation are vital ingredients for youth ministry programs. YFC operates five buses to pick up kids and bring them back home.
There is also a non-religious program for fifth-graders in Willmar. The mentoring program is made up of about 50 percent Somali youth.
Staff members provide religious programs and one-on-one meetings at the boys group home and Prairie Lakes Youth Programs — the juvenile detention center in Willmar.
Poe said a new Youth for Christ staff member was exposed to the program when he was locked up at Prairie Lakes 10 years ago and decided "it was time for him to change his life." He's now running a Youth for Christ program called "city life" geared toward kids who, for example, may play basketball with friends in neighborhood parks rather than in the gym with the school team.
"He was one of those kids, so he understands how to link up with them," Poe said.
Time for change
At 67, and with six grandchildren that he and his wife of 47 years want to spend time with, Poe said it was time to retire.
"I didn't want to be the old guy in the room saying, 'here's how we used to do things,'" he said. "I just felt like it was time for someone new with maybe a different set of eyes, some different skills to come in and do with Youth for Christ what I was offered the opportunity to do years ago."
The job is now filled by Levesque, who spent the last two years living in a 350-square-foot camper with his wife and three kids while traveling to 25 states to provide education about human trafficking. They're trading the camper for a house in Willmar.
"I'm looking forward to working with the teens in west central Minnesota," said Levesque, who had been a public school teacher and physical fitness instructor.
He said YFC currently has contact with about 800 kids every week. "I'm eager to see how much more we can do," he said.
Levesque said he knows he has big shoes to fill.
"Hopefully the community is ready for a new set of shoes," he said, so he can "continue what Bob has done so, so well."
1
/
6:
West Central Minnesota Youth for Christ Director Sean Levesque began his leadership earlier this month. Submitted photo by Sean Levesque
2
/
6:
Bob Poe, former long-time director of West Central Minnesota Youth for Christ, reflects on his leadership with the organization Thursday at the Youth for Christ building in Willmar. Erica Dischino / West Central Tribune
3
/
6:
Bob Poe, former long-time director of West Central Minnesota Youth for Christ, stands in the warehouse where live performances happen for area youth Thursday at the Youth for Christ building in Willmar. Erica Dischino / West Central Tribune
4
/
6:
A Youth for Christ art piece hangs on the wall at the Youth for Christ building in Willmar. Erica Dischino / West Central Tribune
5
/
6:
Bob Poe, former long-time director of West Central Minnesota Youth for Christ, reflects on his leadership with the organization Thursday at the Youth for Christ building in Willmar. Poe helped transition current director Sean Levesque into the position this month. Erica Dischino / West Central Tribune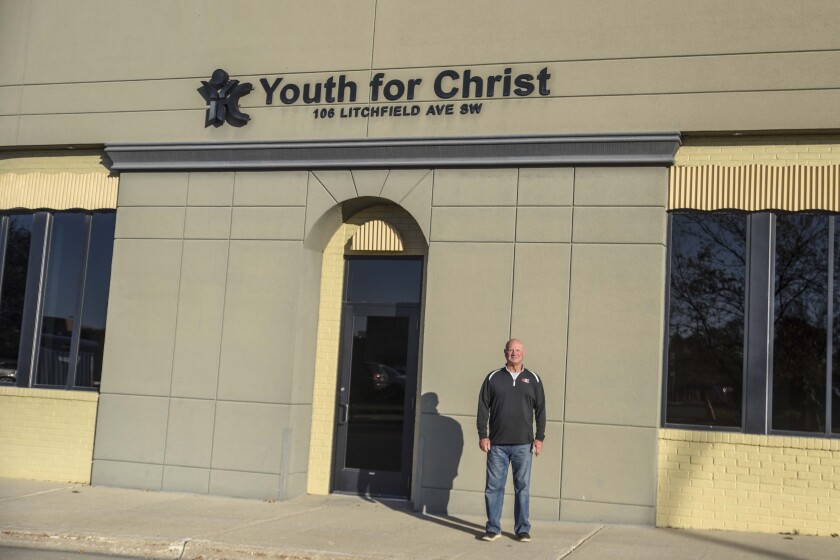 6
/
6:
Bob Poe, former long-time director of West Central Minnesota Youth for Christ, poses for a portrait Thursday at the Youth for Christ building in Willmar. Erica Dischino / West Central Tribune