Moorhead falls to top-seeded Edina in Class AA state hockey quarterfinals
ST. PAUL -- The final players off the Xcel Energy Center Ice, after top-seeded Edina beat Moorhead 4-2 in the Minnesota Class 2A boys hockey quarterfinals Thursday, March 7, were Moorhead senior captains Kyler Kleven and Isaac Henkemeyer-Howe.
They waited for goalie Hudson Hodges to leave the crease and come to the bench. Hodges made 32 saves, but it was as if he was searching for a few more after everyone left the ice.
"Coming off there was tough. That's all you can really say about it," Henkemeyer-Howe said. "You want to play three games, but you only get one."
Moorhead coach Jon Ammerman admitted he couldn't remember what he said in a timeout with 3 minutes, 21 seconds remaining and the Spuds down two. He joked that he wished he had said it earlier. Everything erased from his mind, as Nolan Westra cut the Edina lead to 3-2 on a blast from the top of the right circle 14 seconds after the timeout.
"With a minute left in the game we had a chance," Ammerman said. "I think that's a credit to these players. We weren't drawing up any trick plays. They continued to compete. We had a lot of people cheering for us at the end. It's just we didn't have enough plays."
Right after Westra's goal, Henkemeyer-Howe sent a perfect backdoor pass to Kleven, who was behind everyone. He fired a wrister from the left circle, but Edina goalie Louden Hogg stopped it with his right shoulder.
Moorhead junior Cullen Gess had a good look from the top of the slot in the closing minutes, but Hogg made a glove save and Kevin Delaney added the empty-netter with 28.7 seconds remaining to seal it.
"This was a tough matchup, there's no question about that," Edina coach Curt Giles said. "We saw them earlier this season and we knew they were good. They got some guys that can finish, they're physical, their goaltender plays extremely well, so we knew it was going to be a heck of a hockey game."
Edina didn't waste any time, scoring 57 seconds into the game and on its second shot. Minnesota commit Jett Jungels beat a defender and pushed a backhander by Hodges to open the scoring.
The Spuds had three penalties in the final 7:26 of the first period. Just 15 seconds after killing one penalty, Moorhead (21-7-1) went back on the penalty kill. Edina (25-2-1) made it hurt, as another Minnesota commit, this time Mason Nevers, fired into the back of the net from the top of slot to make it 2-0. There was nine seconds remaining on the power play.
The Spuds committed another penalty two minutes later, but were able to kill it in the opening seconds of the second.
"They're extremely dynamic and sometimes a penalty is a good play," Ammerman said. "I didn't care for a few of the calls, but every coach is going to tell you that. I look at the game biased just like any other coach, but what led to the penalties is their guys are really fast."
Gess had a knuckler bounce of a defender's stick and by Hogg 1:29 into the second to cut the lead to one. Liam Malmquist blasted a rebound into a wide-open net less than four minutes later to push the lead back to two for Edina.
"I think we were doing a good job of getting pucks on net from all over the ice," Gess said. "We maybe could've had a few more shots, we may have passed up a couple of opportunities, but for the most part I thought we did a good job."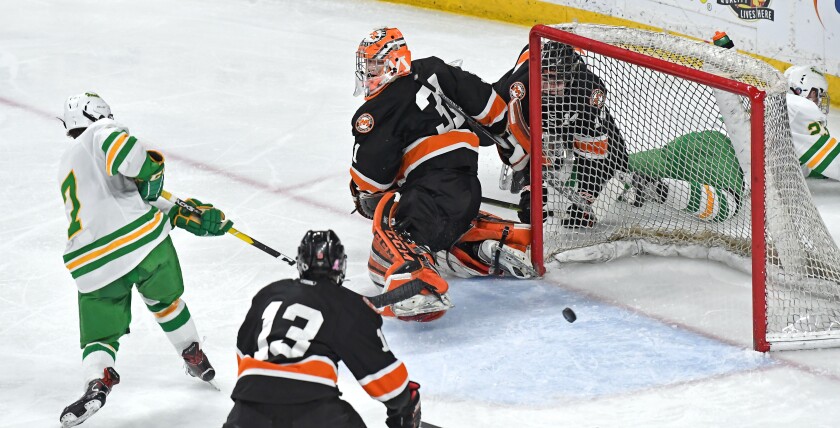 Westra cut the lead to one late in the third to bring Xcel Energy Center to its feet, but mighty Edina sat everyone back down.
"Every single day we competed super hard in practice and we kept getting better each and every day," Kleven said. "I'm just super proud of the boys and the way they competed all year. Beginning of the year, no one even thought we were going to make it here."
FIRST PERIOD: 1, E, Jungels (Boltmann), 0:57. 2, E, Nevers (Vorlicky, Jungels), 13:41, pp.
SECOND PERIOD: 3, M, Gess (Johnson, Horan), 1:39. 4, E, Malmquist (Chorske, Delaney), 5:29.
THIRD PERIOD: 5, M, Westra (Kleven, Gramer), 13:53. 6, E, Delaney (Malmquist), 16:31, en.
SAVES: M, Hodges 15-10-7—32. E, Hogg 10-4-5—19.
1
/
10:
Moorhead's Carter Johnson is knocked off the puck by Edina's Mike Vorlicky during the Minnesota Class 2A state boys hockey tournament at the Xcel Energy Center in St. Paul on Thursday, March 7. David Samson / The Forum
2
/
10:
Moorhead's Max Dronen is ridden into the boards by Edina's Jake Boltmann during the Minnesota Class 2A state boys hockey tournament at the Xcel Energy Center in St. Paul on Thursday, March 7. David Samson / The Forum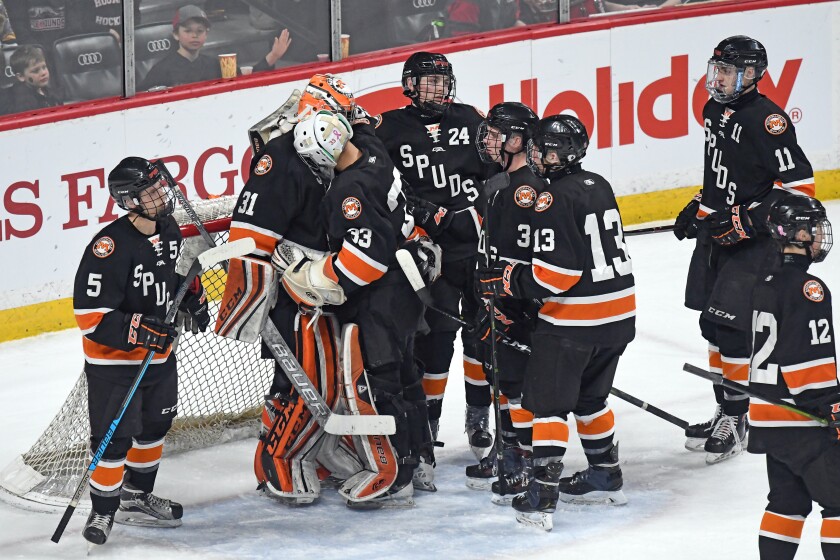 3
/
10:
Moorhead goalie Hudson Hodges is consoled by his teammates after the 4-2 loss to Edina during the Minnesota Class 2A state boys hockey tournament at the Xcel Energy Center in St. Paul on Thursday, March 7. David Samson / The Forum
4
/
10:
Moorhead goalie Hudson Hodges saves a point-blank shot from Edina's Mason Nevers during the Minnesota Class 2A state boys hockey tournament at the Xcel Energy Center in St. Paul on Thursday, March 7. David Samson / The Forum
5
/
10:
Moorhead's Cullen Gess celebrates his second period goal against Edina during the Minnesota Class 2A state boys hockey tournament at the Xcel Energy Center in St. Paul on Thursday, March 7. David Samson / The Forum
6
/
10:
Edina's Liam Malmquist fires a shot into the net past Moorhead goalie Hudson Hodges as Maccoy Gregoire can only watch during the Minnesota Class 2A state boys hockey tournament at the Xcel Energy Center in St. Paul on Thursday, March 7. David Samson / The Forum
7
/
10:
Edina's Jett Jungles celebrates his first period goal as he skates past the Moorhead bench during the Minnesota Class 2A state boys hockey tournament at the Xcel Energy Center in St. Paul on Thursday, March 7. David Samson / The Forum
8
/
10:
Moorhead's Thomas Horan gets off a shot against Edina goalie Louden Hogg in the first period during the Minnesota Class 2A state boys hockey tournament at the Xcel Energy Center in St. Paul on Thursday, March 7. David Samson / The Forum
9
/
10:
Moorhead's Nolan Westra celebrates his third period goal with teammate Edina's Kyler Kleven during the Minnesota Class 2A state boys hockey tournament at the Xcel Energy Center in St. Paul on Thursday, March 7. David Samson / The Forum
10
/
10:
Moorhead's Isaac Hinkemeyer-Howe salutes the fans after the loss to Edina in the Minnesota Class 2A state boys hockey tournament at the Xcel Energy Center in St. Paul on Thursday, March 7. David Samson / The Forum
1
/
10:
Moorhead's Carter Johnson is knocked off the puck by Edina's Mike Vorlicky during the Minnesota Class 2A state boys hockey tournament at the Xcel Energy Center in St. Paul on Thursday, March 7. David Samson / The Forum
2
/
10:
Moorhead's Max Dronen is ridden into the boards by Edina's Jake Boltmann during the Minnesota Class 2A state boys hockey tournament at the Xcel Energy Center in St. Paul on Thursday, March 7. David Samson / The Forum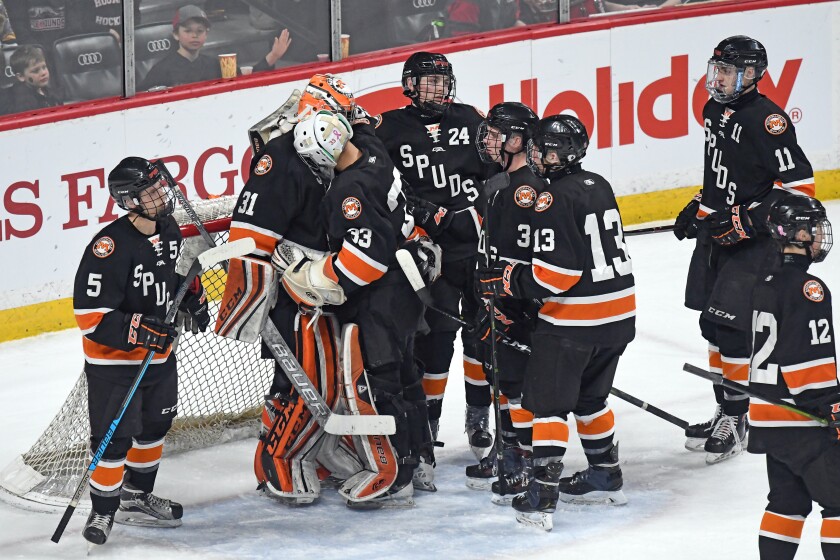 3
/
10:
Moorhead goalie Hudson Hodges is consoled by his teammates after the 4-2 loss to Edina during the Minnesota Class 2A state boys hockey tournament at the Xcel Energy Center in St. Paul on Thursday, March 7. David Samson / The Forum
4
/
10:
Moorhead goalie Hudson Hodges saves a point-blank shot from Edina's Mason Nevers during the Minnesota Class 2A state boys hockey tournament at the Xcel Energy Center in St. Paul on Thursday, March 7. David Samson / The Forum
5
/
10:
Moorhead's Cullen Gess celebrates his second period goal against Edina during the Minnesota Class 2A state boys hockey tournament at the Xcel Energy Center in St. Paul on Thursday, March 7. David Samson / The Forum
6
/
10:
Edina's Liam Malmquist fires a shot into the net past Moorhead goalie Hudson Hodges as Maccoy Gregoire can only watch during the Minnesota Class 2A state boys hockey tournament at the Xcel Energy Center in St. Paul on Thursday, March 7. David Samson / The Forum
7
/
10:
Edina's Jett Jungles celebrates his first period goal as he skates past the Moorhead bench during the Minnesota Class 2A state boys hockey tournament at the Xcel Energy Center in St. Paul on Thursday, March 7. David Samson / The Forum
8
/
10:
Moorhead's Thomas Horan gets off a shot against Edina goalie Louden Hogg in the first period during the Minnesota Class 2A state boys hockey tournament at the Xcel Energy Center in St. Paul on Thursday, March 7. David Samson / The Forum
9
/
10:
Moorhead's Nolan Westra celebrates his third period goal with teammate Edina's Kyler Kleven during the Minnesota Class 2A state boys hockey tournament at the Xcel Energy Center in St. Paul on Thursday, March 7. David Samson / The Forum
10
/
10:
Moorhead's Isaac Hinkemeyer-Howe salutes the fans after the loss to Edina in the Minnesota Class 2A state boys hockey tournament at the Xcel Energy Center in St. Paul on Thursday, March 7. David Samson / The Forum