Hunker down: Schools closed ahead of cold snap that could set new records
WILLMAR -- Many schools around the region will be closed Tuesday and Wednesday as a bitter cold snap that could break weather records is forecast to hit the state.
We are part of The Trust Project.
WILLMAR - Many schools around the region will be closed Tuesday and Wednesday as a bitter cold snap that could break weather records is forecast to hit the state.
Schools in Willmar, including Ridgewater College, and most districts in west central Minnesota made the call Monday afternoon to close.
"Weather decisions are some of the toughest decisions to make," said Paul Carlson, superintendent at New London-Spicer.
Carlson said area school superintendents had been talking with each other Monday to compare notes on the forecast and discuss potential plans.
He said it's hoped that making the decision on Monday to close school for two days would give families enough time to make plans for their children.
Oftentimes school close because of snow, but this time it's because of cold air temperatures that are expected to be around 30 degrees below zero and windchill temperatures that could sink to around 65 degrees below zero.
Wind gusts of more than 30 mph Tuesday will also blow around the 2-5 inches of new snow that fell over the weekend, causing visibility problems for motorists, prompting the National Weather Service to issue a winter weather advisory again for Tuesday.
A windchill warning will begin Tuesday and continue through Thursday morning with windchill temperatures ranging from 35 below to 65 below.
"This is a life-threatening situation for those spending any prolonged period outdoors without
proper clothing," said the National Weather Service office in Chanhassen. "The dangerously cold windchills could cause frostbite on exposed skin in as little as five minutes."
Carlson said it was too risky to have young children wait for school buses in these conditions and the predicted weather could be dangerous for high school students who drive to school.
"It becomes a judgment call, and for me, I always err on the side of safety for students," he said.
Carlson admits he was hoping Gov. Tim Walz would make the decision to close schools across the state, which would "take some heat off of us superintendents."
But he said superintendents are accustomed to making these decisions and they all "try to make the best decisions" based on the weather forecasts and advice from bus contractors.
A number of community and church organizations have also cancelled or postponed events for Tuesday and Wednesday.
According to the National Weather Service, the region received anywhere from 2 inches to 5 ½ inches of snow Sunday including:
• 2.6 inches, reported five miles north of Willmar
• 3.8 inches, two miles southwest of Paynesville
• 3.8 inches, seven miles southeast of Bird Island
• 5.5 inches, one mile northeast of Redwood Falls
• 4.2 inches, Montevideo
• 2 inches, one mile northwest of Milan
Tips to keep your home safe and warm
The Minnesota Commerce Department has these tips to ensure that people are safe and warm during the upcoming cold weather.
• Make sure your home heating system is working properly. Faulty home heating equipment is a leading cause of fires and carbon monoxide poisoning. Check that outside furnace vents aren't blocked by snow or ice.
• Use space heaters safely. Any space heater that burns with an open flame (such as natural gas, propane or wood) should be vented to the outside. Keep children and pets away from a portable heater.
• Make sure smoke alarms and carbon monoxide detectors work. These are essential safeguards to warn you of a fire or dangerous malfunction with a furnace, water heater, fireplace or stove. Batteries should be tested monthly and changed every year.
• Don't let your home fuel tank go dry. If you depend on a delivered fuel such as propane or heating oil, keep your fuel tank well supplied. Call for a refill when your tank drops to 25 or 30 percent full.
1
/
5:
Erica Dischino / Tribune Snowflakes cover the glasses of Jared Barrera, 12, as he plays outside of his home Monday in Willmar.
2
/
5:
Erica Dischino / Tribune Jared Barrera, 12, forms a snowball while his sister Vianney Barrera, 8, beats him to the punch and throws one at his back Monday in Willmar. Kids in Willmar and many other districts enjoyed a snow day Monday. Classes have been canceled again Tuesday and Wednesday in many area district due to the bitter cold.
3
/
5:
Erica Dischino / Tribune Tucker Woube walks his Siberian Husky, Blizzard, on Monday in Willmar. Woube said he usually walks Blizzard no matter the weather, "but I won't if it's dangerous like it would be on Wednesday."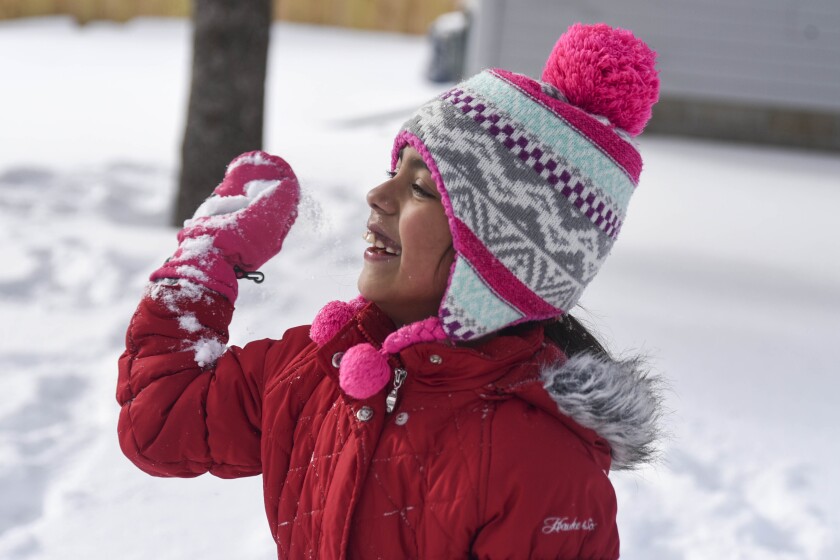 4
/
5:
Erica Dischino / Tribune Vianney Barrera, 8, throws a snowball outside of her home Monday in Willmar. Many local schools were closed due to weather conditions Monday -- cold temperatures and blowing snow -- and that means the hearty children of Minnesota came out to play.
5
/
5:
Erica Dischino / Tribune Kimberly Gonzalez, 12, shovels snow out of her driveway Monday in Willmar.