Kandiyohi County Board approve a remote work policy for eligible staff
After months of planning and revisions, Kandiyohi County now has a remote work policy in place for staff hoping to work from home. Only those employees whose jobs allow for such work will be eligible for the program.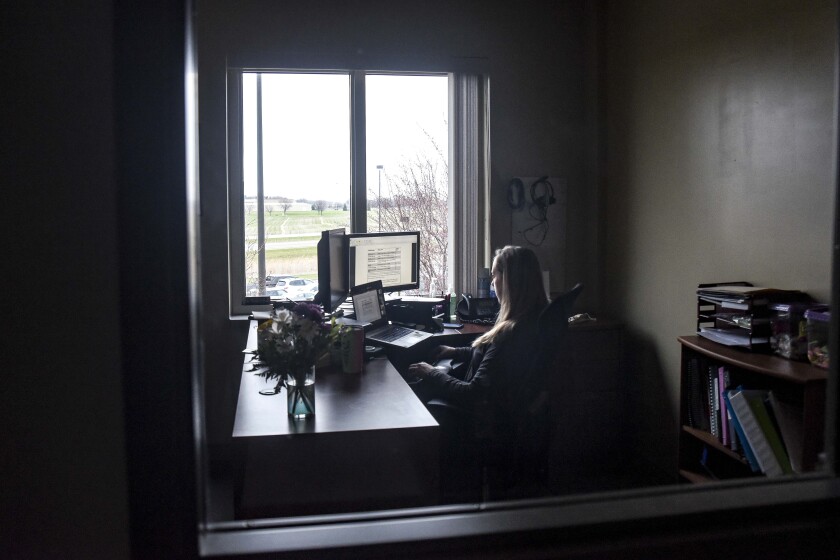 Editor's Note: This story has been updated to correct the source of the quote in the last paragraph. The quote was by Commissioner Rollie Nissen.

WILLMAR — When the coronavirus pandemic first required employers to close their offices and allow staff to work from home, Kandiyohi County found itself in an unsure position. There was no remote work policy in place when the pandemic hit, and the county had to quickly find ways to allow some staff to work from home .
Now 18 months later, with the vast majority of county employees back in the office, the Kandiyohi County Board of Commissioners has approved the county's first remote work policy.
"We've been working on the remote work policy for several months now," said County Administrator Larry Kleindl.
A committee of staff was put together to create the county's policy. It went through several revisions and input was gathered from many departments and staff.
'I don't know we have ever worked on a policy as much as we worked on this one," Kleindl said. "We wanted to get it right."
The first thing Kleindl wants employees to understand is not all county staff will have the opportunity to work from home. Some departments, such as the Sheriff's Office or Public Works, probably will not have any remote workers, while in other departments, like Public Health, it will depend on individual jobs and employees.
"Not everybody will be able to do this, because of the work we do in Kandiyohi County," Kleindl said. "It is a privilege to work remote; it is not a right."
Connie Mort, county human resources director, admitted the county's policy might be more restrictive than other workplaces, but that was by design. There are many requirements and rules employees must meet and follow to be able to work remotely, and if a supervisor decides it is not working out, the agreement can be rescinded.
"We have the expectation to maintain the level of customer service we currently have and that expectation must be met," Mort said.
Only employees who have worked for the county for at least a year will be allowed to work remotely, and then only if their job, and individual work ethic, is conducive to such a set up. They will need to have adequate internet access and continue to comply with all aspects of their jobs as they would in the office.
Due to all the criteria an employee must meet to be eligible for a remote work agreement, Kleindl expects only a small fraction of staff to actually work remote.
"30 to 50 out of 400 employees," Kleindl estimated.
The County Board approved the policy unanimously, understanding the need for it.
"Unfortunately I think it is a necessity that we address a policy like this. We need a policy, we found with with COVID, we have to go down this road," said Commissioner Corky Berg.
Having such a policy could also show job applicants that the county is an employee-friendly place to work, with opportunities such as remote work.
"Let's face it, we are competing for people every day. We are already having difficulty getting people to apply for our jobs, let alone accept them," said Commissioner Steve Gardner.
While the new remote work policy is offering county staff a new way to do their job, in the end, the customer remains the top priority.
"Customer service has to be the foremost thing," said Commissioner Rollie Nissen. "Certain folks are going to have to come to work because that is their job. We have to take care of our customers."