Kandiyohi County License Bureau director describes a much smoother ride with MNDRIVE
Deputy registrar offices across the state of Minnesota have been learning the ins and outs of the latest software system, launched Nov. 16, and so far, at least in Kandiyohi County, MNDRIVE is an improvement over the much maligned MNLARS. Deb Mickle, county license bureau director, said it is a learning process but so far has been going well.
WILLMAR — Over the last few years, Kandiyohi County License Bureau Director Deb Mickle has not been shy when asked about the Minnesota License and Registration System, better known, perhaps infamously, as MNLARS. She even testified during a Minnesota House of Representatives subcommittee hearing shortly after the bug-infested rollout of the new computer system.
"It was not ideal," Mickle said in an interview Tuesday with the West Central Tribune.
So, she is grateful that the rollout of the replacement system, MNDRIVE, has been a much easier ride.
"This seems to have been going relatively smoothly on our end," Mickle said.
MNDRIVE, at a cost of $52.6 million, was installed across the state during the second week of November, and at the start of business on Nov. 16, everyone was on the new program.
"It is basically just a different system," Mickle said. "It really hasn't changed much on how we do business, just different ways in how to enter everything."
Registrar staff still have to do a lot of data entry with customers at the counter, making for longer appointments. However, the new system seems to be working much better than MNLARS did. And any issues that do pop up are getting fixed sooner rather than later.
"They are back up relatively quickly," Mickle said.
MNDRIVE offers upgrades from the previous program, including additional online services, changes to the disability parking certificates, new temporary license plates and more accurate calculations of registration tax and fees. Another upgrade Mickle likes is the ability to easily transfer personalized plates. That used to take several different transactions, now it can be done in one.
"That is a very positive enhancement," Mickle said.
Due to COVID-19, all staff training on the new system had to be done remotely through webinars at the office. Overall it worked OK, Mickle said, though it would have been nice to have some in-person training and the ability to ask questions face-to-face.
"It will take us a little time to get used to another system," Mickle said.
Kandiyohi County did have a bit of head start on other counties, as it purchased scanners for the registrar office and staff have already been using them as part of driver's license transactions. It is now mandatory to scan documents into the system.
"It helped us be much more prepared," Mickle said.
For the most part, the average customer won't see much of a difference when they come to the registrar's office. Appointments will still take a bit longer, due to data entry requirements. But, Mickle said, the biggest changes this year all come from the pandemic.
Since March the county has been urging customers to either make an appointment before coming to the office or use the drop-off box for things such as tab renewals. To keep the number of people in the building to a bare minimum, the amount of walk-ins allowed at any one time have been limited.
"People would be wise to make an appointment on our website," Mickle said. The website is www.kcmn.us/mvr .
1
/
4:
Customers wait inside the Kandiyohi County Office Building to be helped Tuesday in Willmar. Erica Dischino / West Central Tribune
2
/
4:
Kandiyohi County encourages customers to either make an appointment before coming to the county office building or use the drop off box for things such as tab renewals to keep in-person interactions to a minimum due to COVID-19. Erica Dischino / West Central Tribune
3
/
4:
Deputy registrar offices across the state of Minnesota are now using the MNDRIVE software system. Erica Dischino / West Central Tribune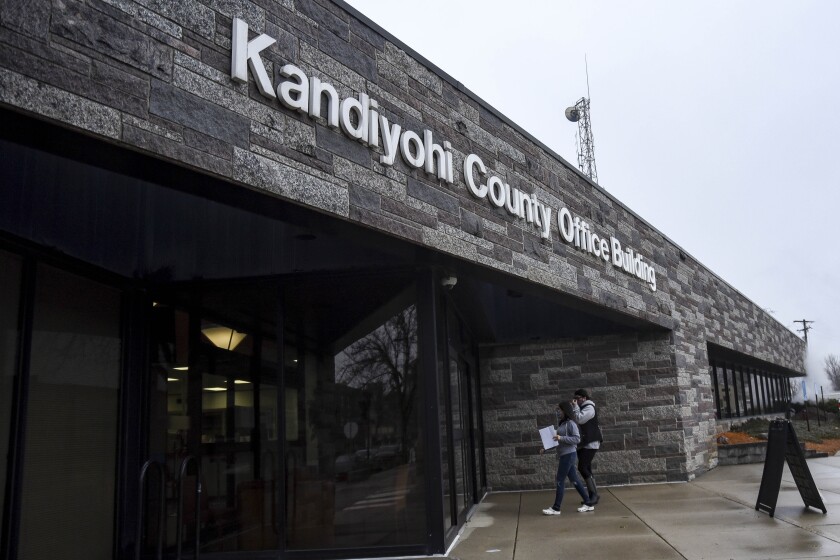 4
/
4:
Customers walk into the Kandiyohi County Office Building Tuesday in Willmar. Erica Dischino / West Central Tribune