Learning near and far starts for Willmar Public Schools students
The start of the school year looks different for each student in the Willmar Public School district due to the COVID-19 pandemic.
WILLMAR — Students across Willmar Public Schools geared up for the first day of school on Tuesday, some at home and some in-person.
Secondary students, including Willmar Middle School and Willmar Senior High School, started their first day with a hybrid model of instruction. Students spend two days a week in school and do distance learning the other three days. Classes are split into two groups, "A" group and "B" group. One group attends in-person school Monday and Tuesday and the second goes to school Thursday and Friday. Wednesdays are set aside for deep cleaning, in addition to the regular daily cleaning and sanitizing.
The elementary schools are attending in-person classes, but the first two days of the school year will be used for elementary conferences that will include some instruction for parents in using the iPads the district purchased for distance learning. Elementary school students will officially begin attending classes Thursday.
All public schools are taking standard coronavirus precautions such as wearing masks, daily temperature screenings, practicing social distancing and sanitizing.
1
/
4:
Sixth grade student Adrian Flores, 11, left, gets help from his mother Lulu Bretado putting on his mask before entering the Willmar Middle School building Tuesday morning in Willmar on the first day of school. Willmar Public Schools are taking standard coronavirus precautions such as wearing masks, daily temperature screenings, practicing social distancing, and sanitizing. Erica Dischino / West Central Tribune
2
/
4:
Entrances were separated by grade for students to enter during drop off times on Tuesday morning at Willmar Middle School to help with social distancing. Erica Dischino / West Central Tribune
3
/
4:
Students enter the Willmar Middle School building while wearing masks Tuesday morning in Willmar on the first day of school. Erica Dischino / West Central Tribune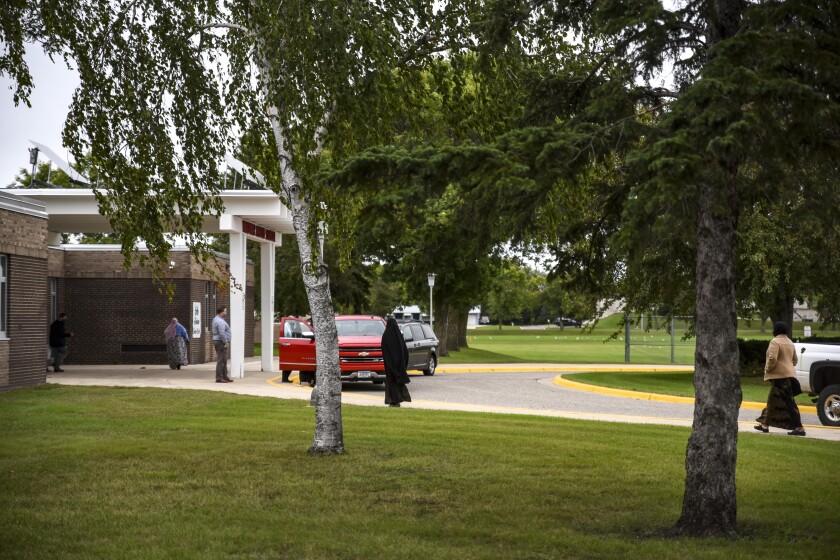 4
/
4:
Students enter the Willmar Middle School building while wearing masks Tuesday morning in Willmar on the first day of school. Erica Dischino / West Central Tribune