Leslie Valiant hired as Willmar city administrator Monday in unanimous vote
The Willmar City Council has approved a contract with Leslie Valiant, the current administrator of the city of Spicer, for the Willmar city administrator position.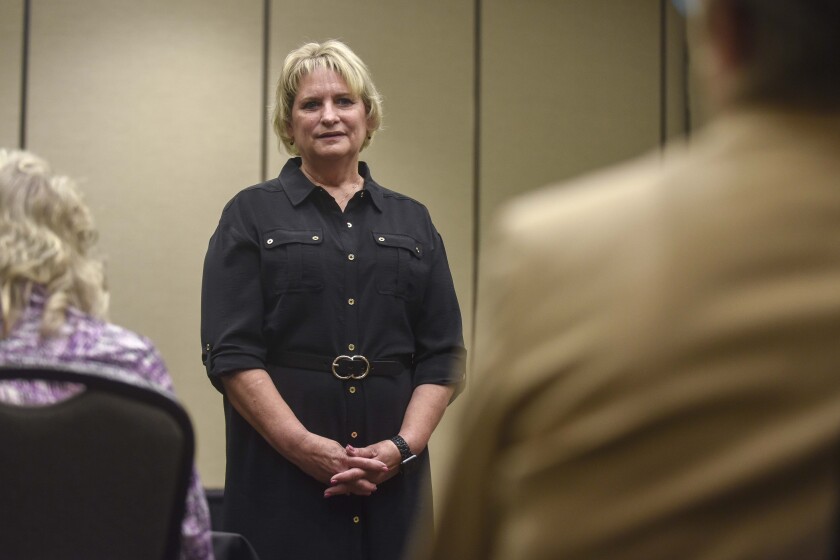 We are part of The Trust Project.
WILLMAR — The Willmar City Council in a special meeting Monday morning approved a contract with Leslie Valiant to take over as city administrator.
In a unanimous 8-0 vote, the council approved the contract with Valiant, the current city administrator of Spicer .
During her interview with the council last week, Valiant often spoke of the importance of communication between the administrator and staff and with the council.
"I really am an open door person. I want to know if there are issues," Valiant said last week. "I want to talk to you."
Starting pay for the position, according to her contract, will be $150,000 a year, moving up to $160,000 after a year of employment.
Willmar Mayor Marv Calvin said in an interview with the West Central Tribune that the citizens of Willmar wanted the council to look locally and Valiant has been around the area her entire life.
Valiant has been the Spicer city administrator since April 2009. Before that, she had worked as a finance technician for St. Joseph and a senior accounts clerk for Litchfield Public Utilities. All totaled, she has 39 years of experience working in and for Minnesota cities.
"She knows Willmar, she knows Willmar politics and she knows the players in Willmar," Calvin told the Tribune after the meeting Monday. "She's a very good hire."
Valiant will start on July 19. She has a bachelor's in business administration and in accounting, an associate degree in accounting and a human resources certification, according to her resume.
Valiant was named a finalist on June 21 and interviewed by the council during a special meeting on June 22. She also had interviews with members of the Willmar Lakes Area Chamber of Commerce and city staff on June 22.
Valiant was brought forward as a candidate after the city's first finalist in its nationwide search, Dana Schoening, turned the city's offer down.
Related story: Willmar City Council to negotiate employment contract with Spicer's Leslie Valiant for open administrator position
There were some questions during the interview process about Valiant's ability to go from a small city the size of Spicer, population under 1,200 people, to Willmar with its population nearing 20,000. Valiant said no matter the size of the city, many things are similar.
"State statutes don't change; they are the same for every community. (Tax increment financing) funding doesn't change for one city or another. Budgets don't change. It all comes down to what is the budget, what is the increase in the general tax levy, how are we going to keep it low enough for our constituents," Valiant said during the interview.
The challenges Valiant sees facing Willmar include infrastructure and the long list of projects and ideas on the council table.
"I want to sit down and understand what the council priorities are, where do you see your priorities," Valiant said last week. "And how do department staffs work though those priorities to meet those objectives."
Valiant had said she would need to give her current employer, the city of Spicer, three weeks' notice before taking over as the Willmar administrator.
'It is a great challenge, it really is, and a great opportunity," Valiant said about the job earlier this month.
1
/
4:
Willmar city administrator finalist Leslie Valiant, current city administrator for Spicer, listens to questions from members of the Willmar Lakes Area Chamber of Commerce Tuesday, June 22, 2021, during a public interview at the Willmar Conference Center in Willmar. Erica Dischino / West Central Tribune
2
/
4:
Willmar city administrator finalist Leslie Valiant, current city administrator for Spicer, listens to questions from members of the Willmar Lakes Area Chamber of Commerce Tuesday, June 22, 2021, during a public interview at the Willmar Conference Center in Willmar. Erica Dischino / West Central Tribune
3
/
4:
Members of the Willmar Lakes Area Chamber of Commerce ask questions to Willmar city administrator finalist Leslie Valiant, who is the current city administrator for Spicer, during a public interview Tuesday, June 22, 2021 at the Willmar Conference Center in Willmar. Erica Dischino / West Central Tribune
4
/
4:
President of the Willmar Lakes Area Chamber of Commerce Ken Warner, left, facilitates a public interview with Willmar city administrator finalist Leslie Valiant Tuesday, June 22, 2021, at the Willmar Conference Center in Willmar. Erica Dischino / West Central Tribune