A new era begins at MACCRAY as students next week will explore new Clara City campus
MACCRAY Schools will welcome students to a new central campus in Clara City with the start of the school year on Wednesday.
We are part of The Trust Project.
CLARA CITY — A new era begins Wednesday for the MACCRAY School District as students and staff start the school year in a new central facility in Clara City.
Safety, flexibility and innovation are the objectives behind the design of the new central campus, according to Superintendent Sherri Broderius. She and her staff are expecting to welcome 750 students to campus this fall.
School staff began the new school year with an in-service on Tuesday, and are excited by what they have found in the new facilities.
Their excitement is matched by that of some of the contractors who have built the new facility over the past year and a half. Brad Lund, site superintendent for ICS, told the West Central Tribune he is planning to be on site at the start of school just for the chance to see the expressions on the students' faces as they see their new school.
The $40.7 million project involved roughly 120,000 square feet of new construction and renovations to another 35,000 square feet. The new construction includes a prekindergarten-elementary school with a capacity for 550 students. It's configured for four sections of pre-K education and three for elementary grades 1-5.
Voters in the MACCRAY district approved bonding for the project in November 2019. It was the fourth referendum for a central campus, an issue which had divided the district.
Separate wings connect to a renovated middle school for grades 6-8 and a renovated high school. Construction is still underway on a new 505-seat auditorium, which is expected to be completed by November.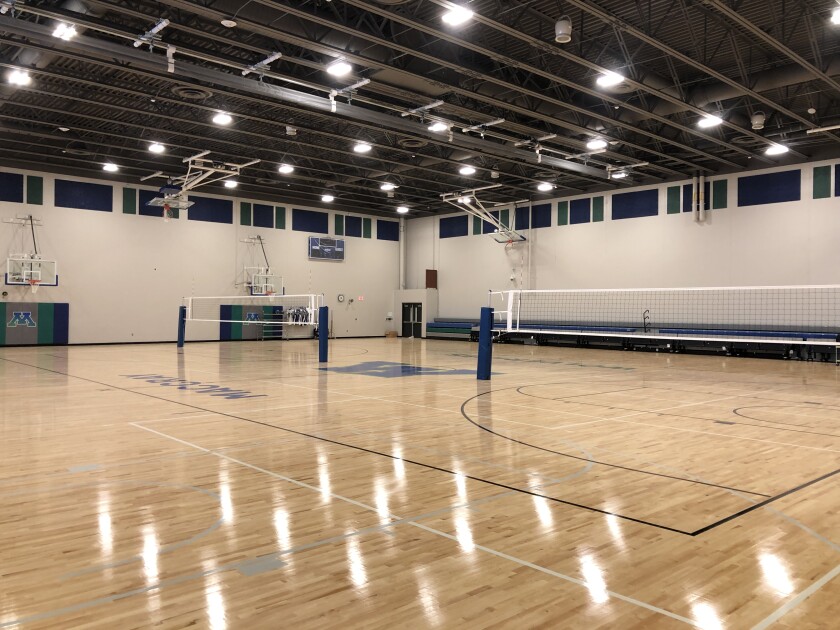 The new facilities include a two-court gymnasium and a separate, smaller gymnasium that is designed to serve as a storm shelter. It has a four-inch concrete roof and is designed to hold up to 1,666 people and withstand an F5 tornado.
But it's the soft touches that students and visitors will notice first: Interior colors are soft and calming, and there is an abundance of solar light throughout.
Julie Alsum, chair of the MACCRAY School Board, challenged school staff at their first gathering last week to use the new facilities as a learning tool. It offers innovations and opportunities that could not be offered in the district's older buildings.
The community of Raymond is preserving the gymnasium and other portions of the MACCRAY East school, but the majority of the facility will be razed. It was originally built in 1939 with additions in 1955, 1960, 1965 and 1995. Its third floor has been closed by order of the fire marshal.
The community of Maynard is preserving the entire MACCRAY West Elementary, which was originally built in 1954 with additions in 1966 and 1997. The community has raised pledges of more than $1 million for its renovation.
As for safety at the new central campus, it starts outside. There are separate entry areas for buses and students arriving by vehicle.
Inside, there is a double-entry lock system for visitors. Classroom doorways will be locked throughout the day. In the preschool area, students can move room-to-room without venturing into the hallways.
It's the educational opportunities that Superintendent Broderius championed most during a recent tour of the facility.
The high school library is joined to a Science, Technology, Engineering, Arts and Math Center. The agriculture and careers center features everything from welding booths and a hydroponics growing area to a small animal care area, all of it designed to meet industry standards.
Students will appreciate comfortable, high-density foam seats and tables for studying outside of classrooms. The elementary school's outdoor play area includes musical instruments along with the traditional playground equipment.
The facilities hold a new kitchen and cafeteria area. There will be a la carte offerings for lunch.
Along with improvements, the new facilities retain traditional learning opportunities. There are traditional classroom configurations, and the libraries for elementary students and upperclassmen are well-stocked with books and areas in which to read them.