Emporia Suits and Alterations off to great start during prom season
Willmar's new suit store offers options for men to be occasion-ready, no matter the event they will be attending.
We are part of The Trust Project.
WILLMAR — A new store in Willmar opened just in time to help local young men find the perfect suit or tuxedo to wear for one of the highlights of their high school years — prom.
Emporia Suits and Alterations, located at 1305 First St. S. in Willmar, opened March 7. The store is open from10 a.m. to 6 p.m. Monday through Friday and from 10 a.m. to 5 p.m. Saturdays.
Owners Sean and Sao Yang are ready to assist customers in finding the perfect suit for any occasion, as well as offering alteration and mending services for all types of clothing.
"Our motto is to make sure you are occasion ready," Sean said. "You can't go wrong with a suit."
Without this local option, the closest place for residents to find a suit would be traveling to St. Cloud, according to Sean. The Yangs started in business in their hometown of Walnut Grove by opening Sewn Edge in 2018, which offers alterations and mending services.
"We want to help within the region, because we notice that a lot of folks, they tend to go major cities to get alterations done," Sean said. "My wife has been trying to get her sewing skills into use, because if you don't use your sewing skills for too long, they are just gone. So she wanted to jump into it."
Sao grew up in a family that believed in repairing and re-purposing clothes, which is how she learned to sew.
"She's really creative and experienced at sewing. I grew up on the business operations side, which is the part I love," Sean said. "We realized that those two things make a great combination."
The Yangs initially started the alterations shop in Walnut Grove as just a part-time business, with both still working in the corporate world, according to Sean. However, they soon decided they could make it work as a full-time business if they could garner more traffic to their shop.
The couple decided to first open a shop strictly for alterations at Uptown Willmar mall, but soon realized there was a greater need than just alterations in Willmar.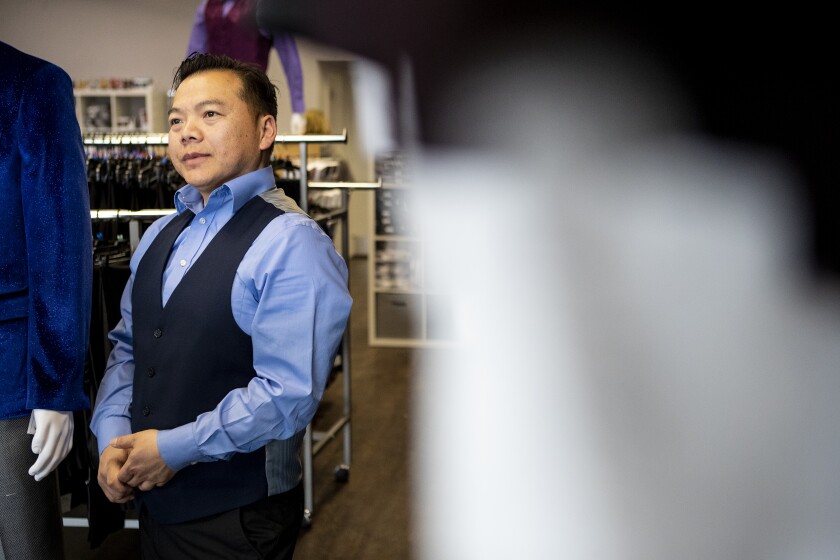 "There's no place to get suits in Willmar. We are a town of 20,000-plus, and not a place in town to get formal wear for men," Sean said of their decision to move out of the mall and expand their business. "We decided we are going to make this work, we're going to try this and see how it goes. We came to the conclusion that if we are going to try this, we are going to try to get exposure a little bit. We decided to settle in this little spot. It's a little cozy; just about the right size,"
Throughout their journey in starting and growing their businesses, the Yangs were assisted by Southwest Initiative Foundation. Sewn Edge was opened with the assistance from the foundation's Microenterprise Loan Program, and Emporia Suits and Alterations was opened with assistance from the foundation's Business Finance Loan Program.
"Sean and Sao have a unique product to offer the Willmar community by starting the only suit shop in town," said Southwest Initiative Foundation Economic Development Officer Jackie Turner. "We're happy to be able to help them in this next stage of their journey as entrepreneurs."
Sean was a council member in Walnut Grove, which is how he found out about Southwest Initiative Foundation and the programs it has to offer, he said. Being someone who talked about special programs to his constituents, when the Yangs decided to go into business, they decided to "walk the talk" and tap into the programs to see how the whole process works as an example to his constituents.
"They have been tremendous help and they walk us from point a to point b to point z," Sean said about the foundation's programs. "They literally hold your hands until you are ready to go on your own. They have been tremendous. All the tools and resources are excellent."
The Yangs spend their days working at the shop in Willmar, and the shop in Walnut Grove is open in the evenings by appointment, Sean noted.
Emporia does not offer suit or tuxedo rental. It is strictly retail.
"We don't do any rentals at all," Sean said. "We figure if we can make the price range work with buying and renting, it just makes no sense to rent a suit for a night for $300 versus buying a suit for $300 and you can keep it for life."
While tuxedos are more event- and location-specific, "a suit is a little more versatile. You can't go wrong with a suit to any occasion," Sean said, noting the store carries a wide range of colors, sizes and styles, from European models to U.S. models to Asian models.
He added that the most popular is always a black tuxedo or suit. "You can't go wrong with a black suit to any occasion, and you can slap on any color undershirt and it will work with any occasion," he said.
Emporia Suits and Alterations carries sizes from infant to plus-size.
"Our vision is to make you occasion-ready, so if a suit size doesn't fit you, we can always tailor it down to fit you," Sean said.
However, if someone is a special size, Sean recommends contacting them at least six weeks in advance of the time the suit is needed in case something has to be ordered in the right size.
Also in stock at Emporia Suits and Alterations are shirts, ties and socks.