Fallen Blomkest firefighter Ryan Erickson remembered for showing up where he was needed
Friends and colleagues attending the funeral for Blomkest firefighter Ryan Leif Erickson remembered him as a man who always "showed up" where he was needed. Erickson's funeral was Friday in Willmar.
WILLMAR — Friends and colleagues attending the funeral for Blomkest firefighter Ryan Leif Erickson remembered him as a man who always "showed up" where he was needed, whether for fundraisers and events or to help friends and family.
"I've known him my whole life. He was in my parents' wedding. He's always been a lifelong mentor," said fellow Blomkest firefighter Dan Brink. "He was always there for you if you needed him. He was certainly a pillar for us."
Erickson, 63, died in the line of duty May 12 when a large grain bin was blown over by the high winds and fell on him as he was responding to storm-spotter duty with the Blomkest Fire Department. He had served more than 40 years with the department.
A native of Willmar, Erickson was known as a business person, active volunteer and longtime supporter of the Blomkest community. His funeral was Friday at Refuge Church in Willmar.
All Minnesota firefighters were invited to attend to support his family and celebrate his life. Numerous fire departments from around the region were represented, and hundreds of people attended Erickson's funeral. Gov. Walz had ordered flags flown at half-staff at all state buildings in Minnesota, from sunrise until sunset Friday, in honor and remembrance of Erickson.
Pastor Jeff Schmitz, of Blomkest Baptist Church where Erickson was a member, shared his prepared remarks with the West Central Tribune. Media were asked not to attend the funeral service itself.
"Ryan helped. He volunteered for over four decades. He was the one who showed up to scenes. He was one of the people who was the first to arrive to help those in need. He willingly walked towards the tragedy of others in an effort to help them," Schmitz said in his remarks.
"Sometimes we don't spend a lot of time thinking about God's plans when things are clicking and going our way. When things are going right," he added.
For instance, Erickson meeting his wife, Kelly, on a trip to Mexico and having two daughters was probably not in the plan, nor was becoming the "cool grandpa" to his four grandchildren, the pastor said.
"There's not a lot to say when it comes to tragedy. It's hard. It's unexpected. It's sudden."
Erickson was also known as a great recruiter for the Blomkest Fire Department. He talked to young folks about being a firefighter, and even "voluntold" some recruits.
"It was Ryan who grabbed me," said Paul Damhof. "He was over at my place putting a furnace in and Ryan was the one who grabbed me and he said, 'You'll be coming to the meeting on Tuesday.' What for? Well, I was a first responder and Ryan said, 'You're going to be on the fire department now.' It was his way."
Marcus Peterson started serving as a volunteer firefighter at 18, the same as Erickson. He has been on the department for more than six years. He used to work at Mel's 7-71 Truck Stop and visited with Erickson frequently when he stopped for gas and scratch-offs.
"I talked to him about joining, and he always encouraged me to do it," Peterson said. " ... I got to ride with him and he kind of showed me how everything works … very good mentor, really good friend, and he's going to be missed."
Everyone who spoke about Erickson thought of him as someone who was always there to help.
"He was a good man. Friend of many. He was a go-to guy, no matter what it might be. I don't think any of us could say enough of his kindness," said Pastor Paul McCullough, chaplain with Minnesota Emergency Services.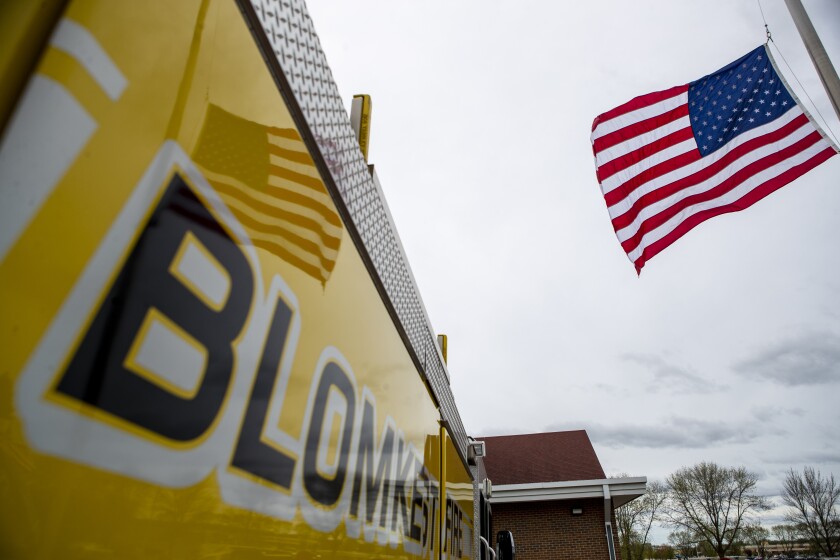 Newest volunteer firefighter Logan McGillivray said he gained a lot of good knowledge from Erickson despite having only served with him for a couple of months.
Kandiyohi firefighter Ryan Larcom, who served with Erickson for three years in Blomkest, said he was "one of the best guys you'd ever meet."
Others remembered Erickson for his love of golfing and his gift of gab.
"He was a horrible golfer," joked Josh Larson. "No, I can't say that. He loved to golf, but I don't know how good he was or not. … He loved talking to people. Very sociable. If anything, he talked too much, kind of like myself. He was just a great guy. Everybody loved him."
Damhof reflected on his regrets for not being able to help Erickson.
"I think what hit me the hardest was not being there for a brother," he said. "Losing Ryan is one thing, but not being there to help a brother out, that probably hurt the worst. And there was nothing that we could've done. There was nothing anybody could have done. And it's so hard because we are used to helping people out in the worst."