It's Meander time once more as the leaves begin to change color in western Minnesota
Artists in the Upper Minnesota River Valley are hosting the 18th annual arts crawl known as the Meander, featuring 41 artists throughout the five-county region.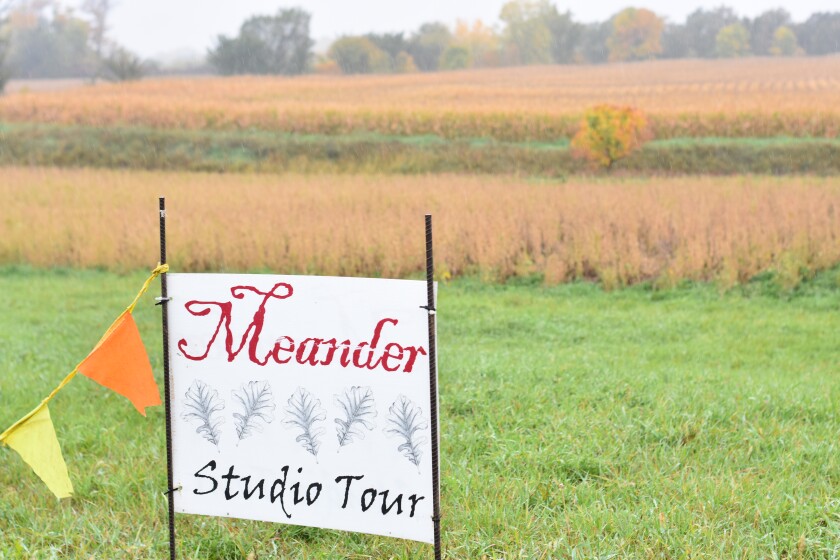 We are part of The Trust Project.
GRANITE FALLS — It's the season for a Meander through the Upper Minnesota River Valley, and the hosts for 2022 are once again welcoming visitors to artists' studios during one of the most beautiful of seasons.
The 18th annual Upper Minnesota River Valley arts crawl is being celebrated Friday, Saturday and Sunday. This year's event features 41 artists, with six new exhibitors joining the lineup.
The artists will open their studios, farms and galleries to visitors from noon to 6 p.m. Friday, 9 a.m. to 6 p.m. Saturday, and from 9 a.m. to 4 p.m. Sunday.
Granite Falls is hosting this year's kickoff event from 6 to 8 p.m. Friday under the theme "Light Up the River." It will feature live music by Kindred Spirits, Antique Richard and Logan Vansickle at three downtown locations: Lende Plaza, the Riverwalk and popcorn stand.
There will be outdoor tables and chairs on and around the pedestrian bridge spanning the Minnesota River, with beer and wine sales and free hot chocolate. A variety of downtown businesses will open their doors, and there will be bonfires around the downtown.
At 8 p.m. FRiday, the Bluenose Gopher Public House will host a Meander "Get Lit" party. Neon-NDEPTH will be bringing music featuring dark, minimal, upfront drum and bass aimed at the dance floor. Visitors are invited to "wear your favorite neons and glow as your body flows to the rhythm by the river."
The Dawson-Boyd Arts Association will host the traditional Saturday night concert with a concert by vocal ensemble Six Appeal at 7 p.m. in the Memorial Auditorium in Dawson.
Six Appeal is a six-member vocal ensemble infused with impeccable comedic timing and the energy and vitality of a rock band, according to the arts association. The performers will lead a musical journey spanning decades, including classic oldies, current chart toppers, and catchy original tunes, all sung a cappella.
The Meander, first launched in 2004, has become one of western Minnesota's best-known arts crawls and is celebrated for the quality of the artists it features.
Last year's event was the largest ever. Nearly 40% of the visitors taking part in the self-guided tour to artist locations reported it was their first time attending the Meander, according to event organizers.
This year's featured artist is Curt Soine of Granite Falls, known for his wood-carved waterfowl and fish decoys and carvings of shorebirds.
This year's new artists are Bryan and Peggy Mooney, selling barnwood frames, furniture, home décor and custom pieces at Moonstruck Creations near Granite Falls; Mary K. Boylan, with oil and acrylic paintings at the Madison Mercantile; Dani Prados, selling multimedia works and jewelry, sculpture, resin casting, painting, photography and digital art at the Granite Area Arts Council in Granite Falls; Autumn Cavender, with generative / traditional quillwork, beadwork, jewelry and herbal wellness also at the Granite Area Arts Council; and Keith Vettel, with hand-crafted stained glass out of his home studio in Montevideo alongside wife M.E. Fuller, a return exhibitor of books and paintings.