MACCRAY Schools open with some disruptions because of BNSF derailment in Raymond, Minnesota
MACCRAY Public Schools were open Thursday, but some students and staff from the Raymond area were not there. Superintendent Sherri Broderius said other staff members were pitching in where needed.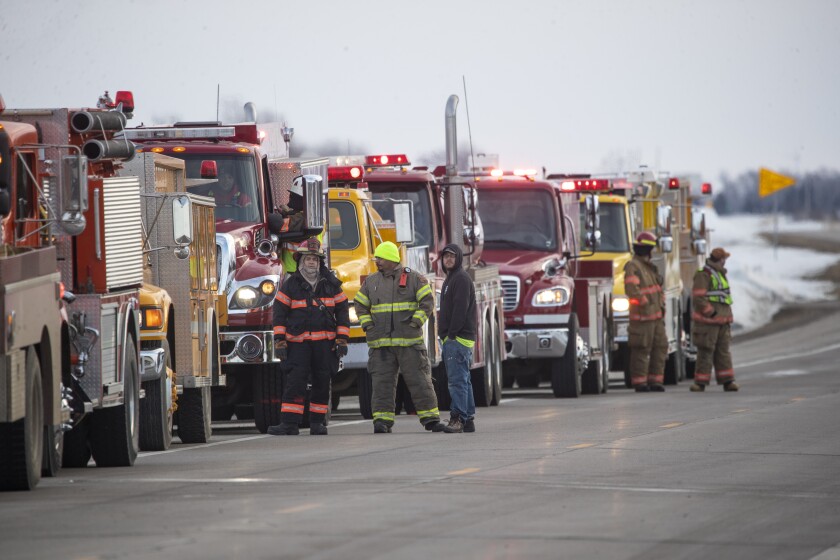 CLARA CITY — Not all the students or staff from Raymond made it to school at MACCRAY Public Schools Thursday morning.
Many students and staff were evacuated from Raymond and the surrounding area after the 1 a.m. derailment — and resulting fire — of a BNSF train on the west edge of town early Thursday.
MACCRAY's school facilities are in Clara City, but the district includes Raymond and Maynard .
"A lot of kids, lots of adults didn't get much sleep last night," Superintendent Sherri Broderius said in a phone interview Thursday morning. "We excused kids from needing to come to school today."
That was extended to staff members who were evacuated with their families.
Others from Raymond were able to get to school.
With Minnesota Highway 23 closed, buses were able to drive into Raymond from the south on county roads, she said, and they picked up students at two stops in the town.
Some who could drive came to school, and some had gotten on the bus.
Her next task late Thursday morning was to figure out how the Raymond kids would get home, she said.
Broderius learned of the derailment at 2:30 a.m. and at about 3 a.m. started planning with the Palmer Bus supervisor how to pick up kids without using Highway 23.
Evacuees were sent to Central Minnesota Christian School and later to Unity Christian Reformed Church, both in Prinsburg .
When she stopped at CMCS at 4:30 a.m., Broderius was happy to find a MACCRAY teacher there talking to families and kids, while little kids played kickball in the gym. That teacher continued to act as a liaison to the school.
With some staff members gone, those at the school were pitching in wherever they could, she said.
"People are giving up their prep time, people giving up what they would normally be doing to help their neighbor," she said. "It's like a microcosm over here of what's happening over there."
People from Clara City had been calling and stopping by with treats and offers of help, she said.
Broderius praised Kandiyohi County Emergency Management and other first responders for keeping the school district informed.
"They've been awesome, clear, transparent, with good advice," she said. "That has just been so helpful."