Minnesota State officials visit Ridgewater College, listen to ideas for 2023 budget proposal
More help for low-income students, more help to connect businesses with graduates and more career counseling were some of the needs mentioned at a budget listening session Thursday at Ridgewater College. The Minnesota State college system will use the ideas to develop a budget proposal for the 2023 legislative session.
We are part of The Trust Project.
WILLMAR — Ridgewater College and the Minnesota State college system need to build more outreach into communities across the state, according to comments voiced in a listening session Thursday in Willmar.
Minnesota State Chancellor Devinder Malhotra and Ridgewater President Craig Johnson answered questions, as did Roger Moe, chairman of the Minnesota State board of trustees and a former state senator.
About 40 people attended the session on Ridgewater's Willmar campus, part of a series of meetings that will be used to develop a budget proposal for the 2023 legislative session.
The group offered ideas about business involvement in training people in building trades and about informing students about the career possibilities they could have with a two-year degree.
There's a need to find ways to encourage first-generation, minority and low-income students to attend post-secondary education, too, the participants said.
Minnesota State is a statewide system of 33 public higher education institutions including 26 community and technical colleges and seven universities.
Minnesota State officials gave a brief presentation about the system's financial picture over its history since 1995. Over the past two decades, the percentage of the state budget dedicated to higher education has fallen from more than 12% to 6.5%.
Enrollment has fallen about 30% since a 2011 peak of 99,104 full-year equivalents. Each FYE is equal to one student enrolled full time for an academic year. The number includes full-time and part-time students.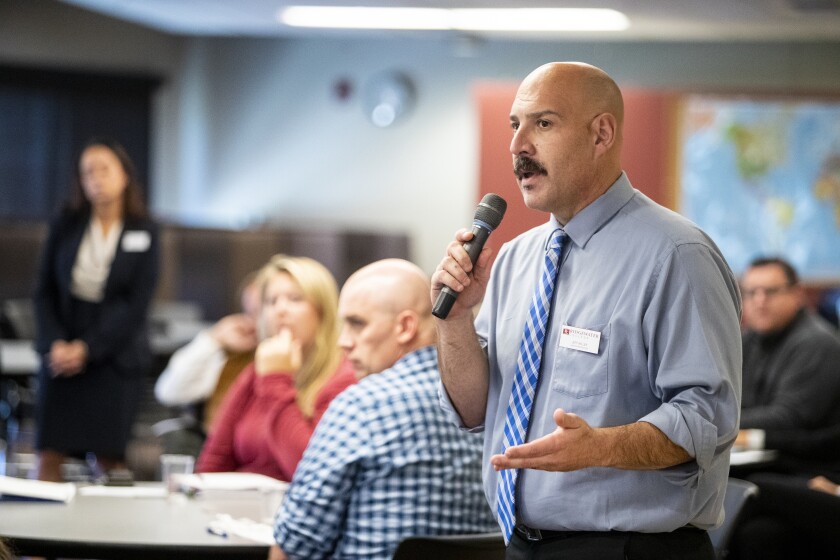 For fiscal year 2023, which started in July, the projected enrollment is 63,430 FYE.
Ridgewater's enrollment has fallen over that time, too, but it had increased slightly in each of the two semesters before the pandemic. Enrollment fell during the pandemic, but it has increased about 1.3% in the current fall semester.
Johnson said it's too early to see the increase as a trend, but he's encouraged by it. Some other schools in the system have also seen increases.
During the discussion, Miles Seppelt, economic development director for Hutchinson, suggested building better communication between the college and area businesses.
"I have hundreds of jobs available in Hutchinson I can't get filled," he said.
There should be someone he could call to bring together the graduates at Ridgewater with local jobs available, he said.
The need for paraprofessionals is prominent in area school districts, and they need teachers, coaches, drivers and substitutes of all types. It's a problem that affects school districts and many employers, particularly in Minnesota, which has four job openings for each unemployed person.
Johnson agreed that it was something the entire system needed to work on.
Other suggestions were to partner with businesses to sponsor low-income students who can't afford college otherwise and to offer counseling for students about the careers they could have with a two-year degree.
Student support and mental health was another area of concern. Sara Carlson of the Willmar Area Community Foundation suggested finding ways to help students who have insufficient housing or child care. Broadband access is another issue in rural areas, she said.
Johnson said Ridgewater has added a third counselor to its staff to help students with mental health and other needs.
"We need to look out for students and faculty," he said. As many learned during the pandemic, "everybody has struggles."
Malhotra spoke after hearing the community comments.
He thanked the group and said, "It's very clear to me that you all feel that higher education needs to expand its outreach."
The goal in state statute is that 70% of all Minnesotans and in different ethnic groups have a post-secondary education, he said.
Higher education is not able to solve all problems, but it needs to develop a "vibrant infrastructure" with businesses, local governments and nonprofits to help students find resources they need, he said.
Nearly one-third of students drop out of college between their first and second years, he said, and most of them are doing well academically.
It's because "life happened," often related to financial insecurity, he said.
Helping close inequality in the system could open doors to more first-generation students and students of color, he said.
Doing that could help increase enrollment and help employers build the diverse workforces they want, he said.
Malhotra told the group that Minnesota State needs the advocacy of people in the state, contacting their legislators and working with colleges to develop the partnerships that will be needed in the future.
Moe, who wrote the original legislation that created Minnesota State, told the group their suggestions would be very important.
An economic study in 2017 found that the system's economic impact to the state was $8 billion. "It is a very big deal," he said. "It's the best economic development strategy in the state."
The pandemic accelerated changes and highlighted inequities, he said.
"We really need your help," he said. "We need business and industry to help us, we need trade union leaders. ... If the Legislature sees that support, it will have a big impact."