Record-breaking 49 students graduate from Willmar alternative high school
Nearly 50 students graduated from Willmar's smaller high school, the Area Learning Center, Thursday afternoon. Graduation for Willmar Senior High will be June 4.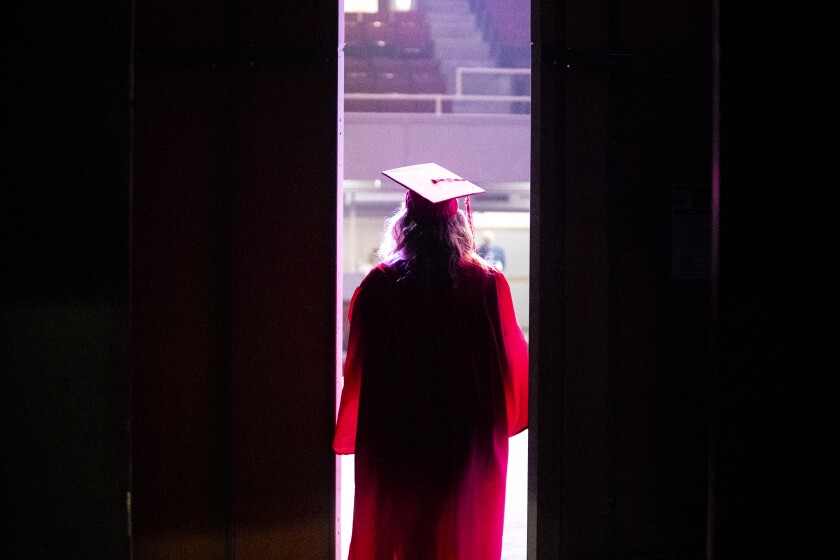 WILLMAR — Five-day-old Ezra Garcia-Avitia will never remember, but he saw his mom graduate from high school Thursday.
Mia Garcia, 20, posed for pictures after she graduated, holding a sleeping Ezra, born May 13, while a collection of relatives took turns posing with the pair.
The Area Learning Center awarded diplomas to 49 students. Nearly 40 of them, including Garcia, participated outside in the commencement at the Willmar Education and Arts Center on Thursday.
It would be difficult to find a more joyous commencement than the ALC's. Families fill the WEAC auditorium every year, many carrying bouquets for their graduates, and they cheer.
Oh, how they cheer. They don't just applaud. They hoot. They shout out names, nicknames and "I love you."
The ALC is an alternative high school, and its students are there for many reasons.
Some have fallen behind in credits, maybe because of an illness, and the ALC offers them the chance to get caught up. Others are young parents, or need to work, and the ALC has a more flexible schedule.
The ALC is a place for them to catch up and continue their high school careers and be part of a community.
Students do volunteer work around their school's neighborhood and in the community.
Fifteen of the graduates were listed as reading buddies with elementary students. Kennedy Elementary teacher Anica Birkland brought her first-grade students to WEAC, so they could watch their buddies finish high school.
Adam Gregory, principal of alternative programs for Willmar Public Schools , announced that the 2023 class was a record-breaker — with 49 graduates — and congratulated the students.
"You have overcome numerous obstacles and faced challenges that many cannot fathom," Gregory said. "Today we stand here together united in triumph and resilience."
He said the graduates have shown they have the ability to persevere, rise above circumstances and write their own stories.
The guest speaker was Adrian Salinas, a Willmar entrepreneur and master barber, owner of Universal Kutz Barber Shop in Willmar.
Salinas told the graduates he's successful now, but that wasn't always the case. "I didn't believe in myself," he said. "I found I was holding myself back."
A mentor at St. Cloud State University helped him begin working toward a plan, he said. An entrepreneur he met helped him write a business plan to work toward his goals.
He now owns several businesses. He has a master barber's license and a paralegal degree.
Along the way, "I wasn't scared to ask for help," he said.
"I want to see the next generation open up their businesses, do what they love doing, as I am," he said.
If they are ever looking for advice on starting a business, he said, "come to me."
Kelly Quade, ALC coordinator, told the group to continue to believe in their ability to overcome obstacles.
"We are all very glad you are here," she said.
Quade called each graduate's name, and they came forward to pick up their diplomas from Superintendent Jeff Holm and shake hands with Willmar School Board members Justin Bos, Mary Amon and Jay Lawton, as well as Gregory and Quade.
Bos presented graduate Jeremiah Bustos with a $1,000 scholarship from the Willmar Civic Scholarship Association.
Holm told the class he knew it hadn't been an easy path for all of them.
"So my wish for you as you leave us is the emotion you feel is pride," he said. "That pride along with the perseverance you've shown will serve you well in your future."
Many families gathered outside the building for photos.
Angela Rodriguez, 19, stood with her father, Eleovardo Rodriguez. Her father said he was proud to see his oldest child graduate. She was the first generation to graduate from high school.
She plans to have a career in health care and "make him proud," she said.
Friends Blake Lara and Christian Nino, both 18, posed with one on the other's back for photos. Getting to graduate was a long road, they said.
Graduating was "the best feeling ever," Christian said.
The two young men plan to study to be electricians, and they've talked about someday opening a business together.