Ridgewater celebrates 350 graduates at Willmar, Hutchinson ceremonies
A total of 830 people graduated from Ridgewater College last week, with about 350 people participating in commencements at Willmar and Hutchinson.
WILLMAR — Ridgewater College graduates were encouraged to maintain a sense of gratitude as they moved forward in life at commencements last week.
More than 830 people graduated from Ridgewater last week, with about 350 participating in commencements on the college's Willmar and Hutchinson campuses, according to a news release from the college.
Graduates along with families and friends packed into the Willmar Civic Center on May 12 and the McLeod County Fairgrounds on May 11.
Among 2022-23 graduates, 442 were from the Willmar campus, 271 from the Hutchinson campus and 118 were online students from all over.
At both ceremonies, the guest speaker was Erika Kellen, of Edina Realty. Kellen is a Ridgewater College Foundation board member.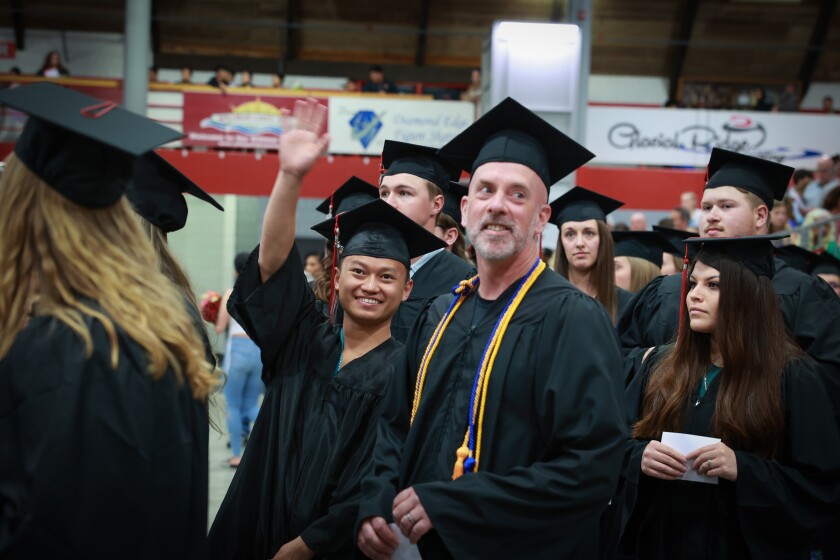 Kellen holds a bachelor's degree in mass communications and a master's degree in higher education. She spent 17 years in post-secondary education at St. Cloud State University and Ridgewater College.
In her second career, she is a licensed real estate agent in Hutchinson. She maintains her connection to helping students by serving on the Ridgewater Foundation board.
"Crown yourself with confidence that you have received an excellent education and are prepared for tomorrow's new chapter," Kellen said, according to the release. "It is OK to stumble, fall, fly and soar. ... No one but you can move yourself in the path of success."
Kellen's strongest message encouraged graduates — and all attendees — to find gratitude in life.
"If you focus on gratitude, the good will come," she said. "Wake up every morning and make sure your first thoughts focus on something that you're grateful for and meditate on that thought."
In building that habit, "you will begin your day with a positive vibe that will reverberate throughout your day," she said.
Willmar's student speaker was Ridgewater Student Ambassador Juan Santiago Espinosa Hernandez, of Mexico and Kerkhoven , graduating with a liberal arts and sciences associate degree.
"No matter if you are continuing your academic career, or if you want to start working for that company you have always dreamed of, remember that your school prepared you well," Hernandez said.
"Don't be afraid of conquering the world like you are supposed to," he said. "You never know if you might inspire someone to do something important one day."
Hernandez told the graduates he was proud of each of them for fighting for their dreams.
"No matter how small it was, it was a dream, and only fighters and hard-working people are the ones who get to accomplish them," he said.