'Rock stars' at Willmar Municipal Utilities help keep customers happy and in power
The three customer service representatives at Willmar Municipal Utilities are the first point of contact with customers, helping with everything from turning on or transferring service to avoiding disconnection. All customer service goals for 2022 were met.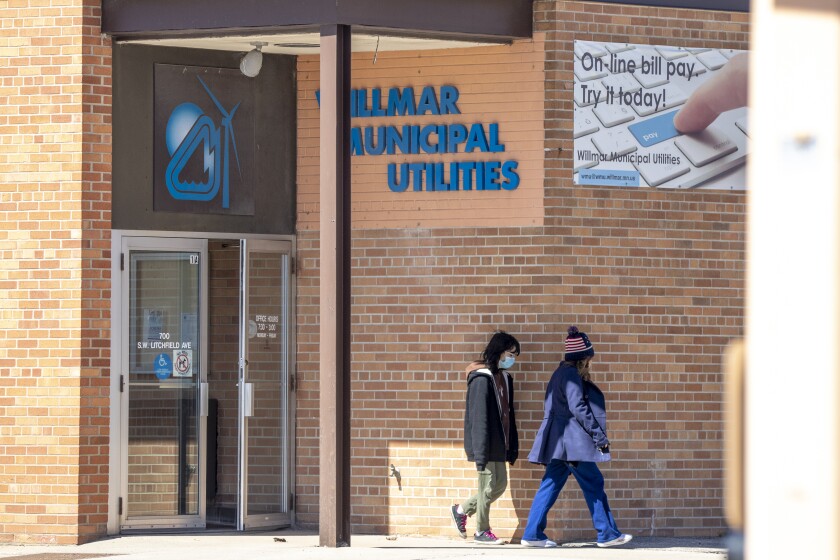 WILLMAR — The "rock stars" of Willmar Municipal Utilities are its three customer service representatives, according to Director of Administration Janell Johnson.
"I call them my rock stars. They are the first point of contact and I think they do a really fine job representing WMU," Johnson said Jan. 23 as she presented the annual customer service report to the Municipal Utilities Commission.
The three are Krista Anderson, Maritza Rodriguez Ocampo and Kim Wesbur.
She noted that all of the goals set by customer service in 2022 were met. Those goals included encouraging customers to transition to paperless billing, encouraging customers to utilize online payment options, and continuing an aggressive collections campaign to avoid disconnects.
The customer service representatives take care of 10,247 customer accounts via telephone, in person and by email. They also process all service orders and are the problem solvers for the customers, Johnson said.
Through their encouragement, 5,590 customers now have e-bill accounts, or 46% of the customer base. That is up 8% from 2021.
There are 4,308 paperless customer accounts, or 36% of the customer base, which is a 27% increase from 2021.
"It's great that we are getting our customers on a paperless system. It just relieves a lot of that paper shuffling — it's automatic, the bills are processed and emailed right out," Johnson said.
The customer service representatives processed 4,681 service orders in 2022, or about 18 per day, and there were 177 new services added and 2,361 transferred, according to Johnson.
Disconnections in 2022 were down because collections on delinquent accounts were up, due to the work of those staff members, Johnson added.
"Our CSRs did a fantastic job calling on the phone, emailing, texting and going back to the good, old-fashioned door hangers to keep collections current," she said. "It's been just phenomenal efforts they've put into this and they have been very successful."
Willmar Municipal Utilities tries to work with people to avoid being disconnected, and customers typically have to be several months behind before they are disconnected. There were only 63 disconnections for nonpayment in 2022, which is down from 73 in 2021.
"We were very happy to see that number," Johnson added. "That's a very small number of disconnects. And, if we want to get strict about things, that number would probably be 563. But our goal is to work with them."
The customer service representatives handle all the financial assistance received by customers, as well as directing customers to the financial assistance that is available. Willmar Municipal Utilities received a total of $580,658 to assist customers in 2022 — $491,463 for electric, $35,542 for water and $53,653 for sewer.
Johnson noted that water and sewer assistance is not normally available, but was added by the federal government during the COVID-19 pandemic. It is uncertain how long it will continue to be available.
Financial assistance for customers comes from the Minnesota Department of Commerce, United Community Action Partnership, Kandiyohi County Housing and Redevelopment Authority, Kandiyohi County Family Services, Minnesota Housing Finance Agency, other state of Minnesota programs, the Salvation Army, and local churches and other organizations.
Willmar Municipal Utilities has a few tools available to collect any debts that are owed, including the Minnesota Revenue Recapture Program, which brought in $26,522. The program allows the Minnesota Department of Revenue to collect for other agencies by taking individual tax refunds or other payments and applying them to the debt, according to the department's website.
Willmar Municipal Utilities also used a collection agency, which brought in $4,474. "We were a little disappointed in that, but we'll take it," Johnson said.
Another $32,163 in severely past due accounts was collected through tax liens.
"The tax lien was very successful this year," Johnson said. "That was a very large amount that we were happy to see."