Schools & Students published March 21, 2023
News about educational achievements among students from west central Minnesota.
A total of 410 students from 82 schools auditioned for the Minnesota Band Directors Association 2023 State 9-10 Honor Band.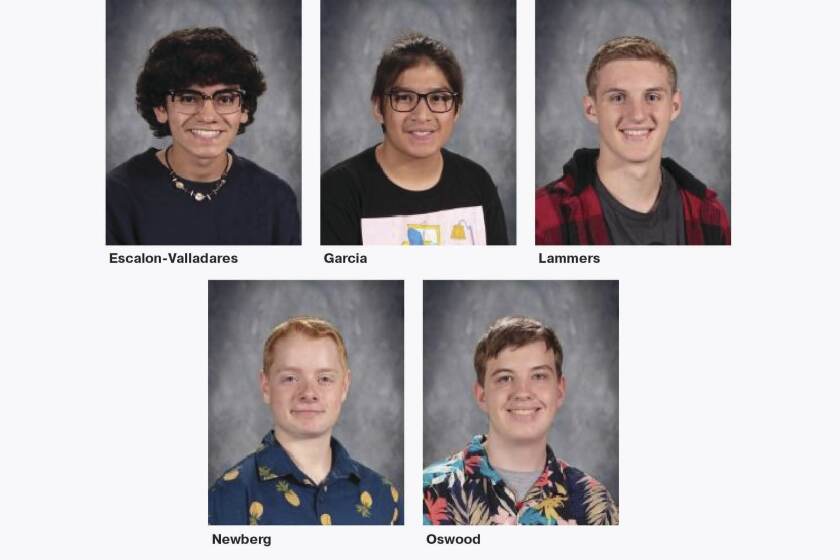 Five Willmar Senior High School sophomores were selected. They are Miguel Garcia (alto saxophone), Ryan Newberg (tenor sax), Sam Oswood (bass clarinet), Brandon Escalon-Valladares (flute), and David Lammers (clarinet). The festival will be April 15-16 at Fergus Falls High School.
Concordia College Honor Band
Willmar Senior High School sophomores David Lammers and Luke McCleary were recently selected to participate in the 2023 High School Honor Band at Concordia College in Moorhead.
The honor band, set for April 14-16, allows high school students to come together and create music at a high level in chamber groups and large ensembles. Lammers plays the clarinet and McCleary plays the trombone.
Named to the fall semester dean's list with a GPA of 3.5 or higher at Minnesota State University in Mankato were:
Atwater: Jeana Denton
Belview: McKenna Nelson
Benson: Mackenzie Kurkosky, Abigail Lundebrek
Bird Island: Madison Jacobs
Blomkest: Kadin Larsson
Buffalo Lake: Kaitlyn Kottke, Maleia Ryberg, Malli Ryberg
Cosmos: Judah Johnson
Danube: Adrianna Garza
Darwin: Carlie Fank
Glenwood: Madelyn McGinty
Grove City: Emma Eken
Kerkhoven: Hannah Gareis
Litchfield: Grace Borowicz, Ethan Johnson, Sara Kolp, Cade Marquardt, Trevor Meyer, Madison Shoultz, Avery Stilwell
Montevideo: Justin Collins, Eva Wolner
New London: Miah Larson, Lars Osmon, Ashley Templer
Olivia: Kaylee Fennern, Austin Frank, Devyn O'Halloran, Makayla Snow
Paynesville: Tori Haines, Vicki Meyer, Kianna Roeske, Max Weidner, Emily Wiener
Raymond: Kelsey Lloyd
Redwood Falls: Sean Barningham, Brooke Fischer, Mariah Frank, Courtney Garman, Haley Garman, Maxine Gerke, Caitlyn Johnson, Kate Kahnke, Bernard Kodet, Alex Lang, Cassandra Omtvedt, Julia Prouty, Sydney Sommers, Colby Wall, Jenna Whitmore
Sacred Heart: Connor Aalderks, Cora Hanson
Spicer: Abigail Dittbenner, Quinn Nelson, Mackenzie Rich, Sadie Williams
Willmar: Anisa Abdulahi, Cadence Flolo, Isaiah Flolo, Sydney Heid, Amber Kubesh, Keegan MacLennan, James McCormack
The GPA for the highest honors designation is 3.75. Graduating at the end of fall semester from the University of Wisconsin school in LaCrosse was:
Glenwood: Olivia Clouse, highest honors
Graduating at the end of fall semester with a bachelor's degree unless noted, from the St. Paul school was:
Madison: Karly Siedschlag
The GPA for the high honors designation is 3.90-4.0. Graduating at the end of fall semester with a bachelor's degree from the University of Minnesota in Crookston were:
Belgrade: Ally Eblen, high distinction
Madison: Abby Stender
Redwood Falls: Becky Jenniges