St. John's Roadrunner 4-H Club of Kandiyohi County wins Association of Minnesota Counties award
The club created kits for homeless and senior citizens, as well as improved signage at the Kandiyohi County Food Shelf.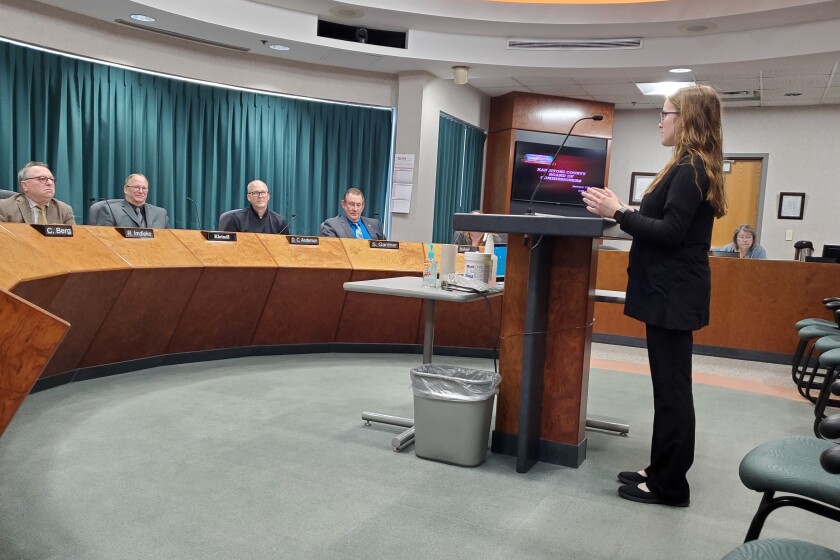 WILLMAR — The Association of Minnesota Counties was so impressed with the work done by the St. John's Roadrunner 4-H Club in Kandiyohi County that it awarded the club one of two 2023 4-H Community Youth Leadership awards.
With the award comes a $500 grant, which the club aims to use to continue its work with the Kandiyohi County Food Shelf.
The club had submitted its "Homeless and Senior Kits for the Community" project to AMC back in January. At the Jan. 17 Kandiyohi County Board meeting, club president Adriana Behl asked county commissioners for their support. The board happily supported the application .
The project included purchasing new signage for the food shelf, putting together kits for homeless people that included items such as can openers, utensils, plates and basic toiletries and providing kits for low-income seniors which included a reusable tote bag, an activity and another item such as body wash, hand lotion or grippy socks. The club created 80 kits — 20 for homeless persons and 60 for seniors.
The project was funded with a $750 grant from Compeer Financial.
The second winner of the AMC award was a youth 4-H member in Cottonwood County.
Both winners were supposed to have attended the AMC Legislative Conference in St. Paul in February, but the weather canceled the in-person event. The award plaque was instead mailed, with the hope the club might still be able to present at an upcoming AMC meeting this summer.