Survey finds customer satisfaction high for Willmar Municipal Utilities
A customer satisfaction survey recently completed by Willmar Municipal Utilities shows positive results: Customers are satisfied with the service and feel good about their interactions with the utilities.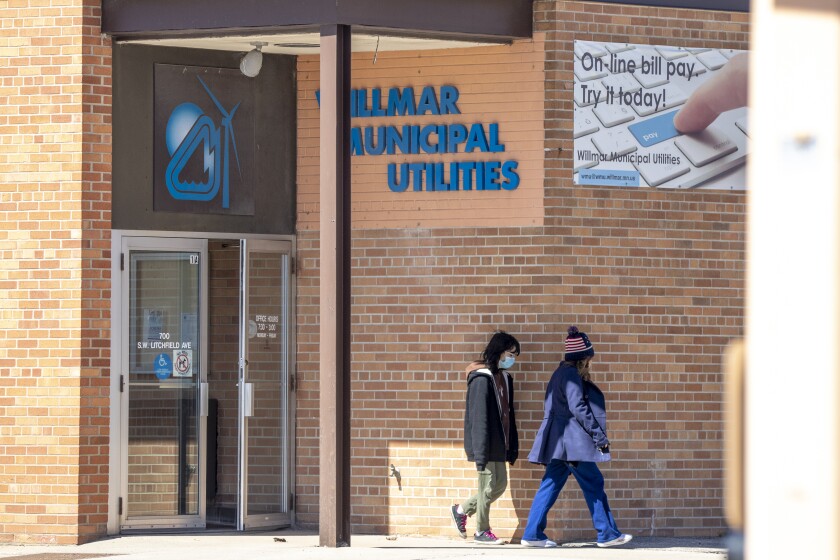 WILLMAR — Residents are highly satisfied with the service they receive from Willmar Municipal Utilities, according to a customer satisfaction survey completed in November and December 2021 by Q Market Research.
This is the first time Willmar Municipal Utilities has worked with Q Market Research for a customer satisfaction survey, according to Chris Radel, energy/safety outreach coordinator.
There were 1,000 surveys distributed, 500 via email and 500 via mail, with a 14.7% response rate, which Q Market Research said was a very high number for the first time, Radel said during a May 9 report to the Municipal Utilities Commission.
One of the key points highlighted by the representative from Q Market Research who analyzed the survey was the high positivity rates of some of the scores. Three of the top scores were for outage restoration time (90.5%), reliability of service (93.1%), and ease of paying their bill (93.1%), according to Radel.
"Those were all in the 90s percentiles, which is excellent," he said. "Some of the ones that were a little bit lower that staff is looking into moving forward and working on communication in the future (are efforts) to be involved in the community (86.9%), friendliness and knowledge of employees (87%), ease of understanding bill (87.6%), and employee ability to handle my request (87.8%)."
Although those scores were a little bit lower, they were still also very high, Radel noted, adding that Willmar Municipal Utilities is doing a great job of processing what the customers need.
Next Radel explained the net promoter score, which scores a business on a scale of negative 100 to positive 100 on whether or not a customer would recommend the service to others. Willmar Municipal Utilities scored 47.7, which is nearly in the excellent range (50-100) for how customers would recommend it.
"We are the only service available for our customers, but even so, (the Q Market Research representative) said this was a very high rating for a utilities than he has seen in the past," Radel said.
The survey results also show that customers are satisfied with the service and feel good about their interactions with the utilities, scoring a 6.15 on a scale of 1 to 7, which is in the excellent range.
Many of the 65 comments received on the surveys were also positive, including service reliability, friendly employees, efficient employees, and good response to outages, according to Radel.
"And, believe it or not, the affordability," Radel continued. "I say that because (the Q Market Research representative) mentioned he has never seen this on one of his surveys before, where affordability was in one of the positive comments that customers wrote in."
One issue upon which Willmar Municipal Utilities can improve is informing customers about energy conservation rebates, with which 47 respondents answered they were unfamiliar, Radel said. He noted the utilities sent out an informational flier about rebates, along with a rebate application, with the January billing statements, which was after the survey was conducted.
In order to understand who was answering surveys, it asked the age of respondents, as well as how long they had been a customer. Approximately 75% of the respondents were 50 years or older and had been customers for more than 10 years.
"This just gives us an idea of who is communicating to us, who is responding to us, and trying to adjust or think about the messaging that we are sending out and where we need to send it," Radel said.
"I can see the survey gives us added information that we can use throughout the year and that in some areas we can improve on and some areas where we can let people know we are doing an excellent job in various areas," said Willmar Utilities Commission President Bruce DeBlieck, noting they should continue doing surveys every year.