Willmar Municipal Utiliies employees jump in to help with power restoration efforts in Florida
A crew of six line workers and mechanics from Rochester Public Utilities left Wednesday morning, Sept. 28, 2022, along with 38 line workers, additional mechanics and support staff from 14 public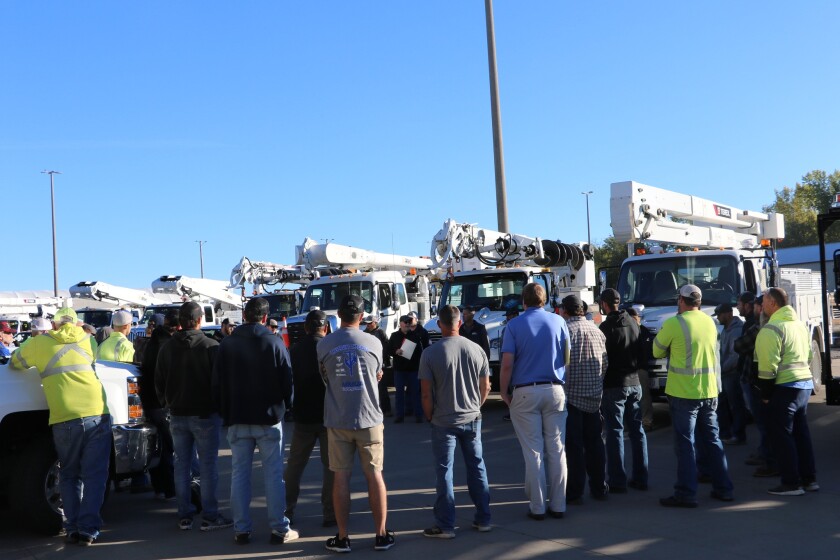 We are part of The Trust Project.
WILLMAR — Two Willmar Municipal Utilities employees are headed into the destruction of Hurricane Ian in Florida this weekend.
The pair of lineworkers, along with their digger derrick truck, left Wednesday morning, along with 38 lineworkers, additional mechanics and support staff from 14 public utilities across Minnesota to assist with power restoration efforts in Florida, according to Willmar Municipal Utilities.
The group, gathered by the Minnesota Municipal Utilities Association, will provide mutual aid with the power outages expected due to Hurricane Ian.
As of Wednesday afternoon, Hurricane Ian hit the Gulf Coast of Florida in Cayo Costa, Florida, with wind speeds of 150 mph, which the National Hurricane Center rates as a Category 4 storm. Florida power companies have reported more than 524,000 homes and businesses do not have power .
WMU employees volunteered to assist in the aid efforts.
The Florida crew were expected to arrive in Kissimmee, Florida, on Friday and work in locations where the need is the greatest, according to Tony Benson, Rochester Public Utilities communications coordinator. Their length of time in Florida also depends on the amount of power restoration required.
MMUA thanked the utilities and communities of Alexandria, Austin, Brainerd, Buffalo, Elk River, Marshall, MRES, Moorhead, New Ulm, Owatonna, Rochester, Shakopee and Willmar for answering the call to assist in Florida.
Hurricane Ian made landfall Friday afternoon in South Carolina.
Power restoration efforts are also in place in Cuba , eastern Canada and the Caribbean following Hurricane Fiona.
Rochester Post Bulletin's Rebecca Mitchell contributed to this story.
Update: Surface observations indicate that the center of #Hurricane #Ian made landfall on Sep 30 at 205 pm EDT (1805 UTC) near Georgetown, South Carolina with maximum sustained winds of 85 mph (140 km/h) and an
estimated minimum central pressure of 977 mb (28.85 inches). pic.twitter.com/TNk43VBHUG

— National Hurricane Center (@NHC_Atlantic) September 30, 2022