Willmar teachers prepping for school; elementary students start next week with conferences
Willmar teachers are using their afternoons this week to prepare their rooms for the arrival of students next week. For elementary teachers, the week will start with two days of conferences with children and their families, giving them a chance to spend one-on-one time with each student.
We are part of The Trust Project.
WILLMAR — School for Willmar elementary students will start Tuesday with individual conferences for them, their parents and their teacher.
While it's been standard for kindergarten students to have preschool conferences, it wasn't a K-5 tradition until last year in Willmar Public Schools.
The district added older students in 2021, a way to help kids adjust to attending school again after the spring 2020 pandemic shutdown.
Students in grades 6-12 begin classes Sept. 6. Elementary students will have their first full day of school Sept. 8.
Teachers preparing their classrooms Tuesday in the district's elementary schools said they were looking forward to meeting students and their families next week.
Danica Ashton, a former kindergarten teacher who's teaching first grade now, said she had advocated for the conferences.
She spoke as she tacked a strip of red cloth above the white board in her Kennedy Elementary School classroom.
She's taught 11 years, first in kindergarten, then in third grade. She's starting her third year of teaching first grade and enjoys it.
"I like the littler kids," she said.
Ashton said she had missed the early conferences when she stopped teaching kindergarten because open houses were so hectic.
With the conferences, teachers and families can get acquainted, and children have more individual time with their teachers, and "I absolutely love it," she said.
Next door, Anica Birkland prepared to tack the letters of the alphabet high on the wall of her room as she prepared for 20 first-graders to arrive.
Birkland said she has taught seven years, five of them in Willmar. She's a graduate of Willmar schools, too.
Dr. Allen Balay, an award-winning veterinarian from New London, believes a licensing process would raise quality of animal care and hopefully keep technicians in the career field.
She still had work ahead, but she wasn't worried. "It'll come together," she said.
Birkland said she looks forward to co-teaching with an English Language Learner teacher for the first time this year. "I'm up for anything as long as it's supporting students better," she said.
At Roosevelt Elementary School, teachers were placing name plates on lockers and working on their classrooms.
Third-grade teacher Trent Molacek was carefully attaching nameplates to the lockers across the hall from his classroom. Children's first names were printed in the center of stickers, which had graphics of yellow pencils above and below.
Molacek said he's taught for eight years, many of them in the room he was preparing this week. He still had posters to hang and new books to add to his classroom library.
He has an extensive collection. When his sister who taught fourth grade transferred to teaching middle school, he said, she passed her books on to him for safekeeping. He uses them in his classroom for his third-graders looking for more advanced reading.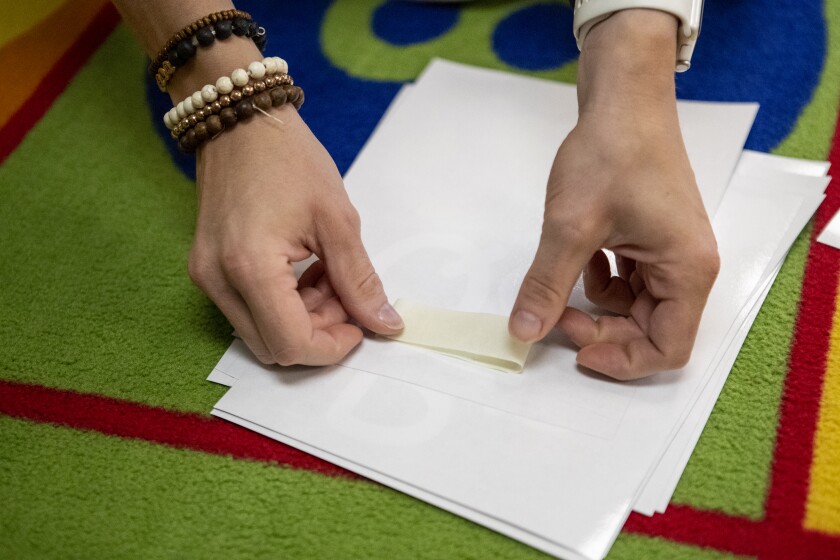 Down the hall, two of Willmar's newest third-grade teachers were also prepping for students.
Missy Flores and Shelamie Santillan arrived Aug. 21 from the Philippines after traveling 29 hours.
The women are part of a group of five teachers from other countries who will teach in Willmar elementary schools for the next three to five years.
Flores and Santillan said they're happy to be in Willmar, where everyone has been friendly and helpful. They were still adjusting to the time change and weather, they said. Compared to the Philippines, the Minnesota weather has felt cool.
Flores taught 14 years and Santillan taught 10 years in the Philippines.
Flores planned to arrange her room with corners dedicated to math and reading, as well as a corner for students who may need a calming place. She planned to write this phrase on the reading corner wall: "You can find magic wherever you go. Sit back and relax; all you need is a book."
Santillan was still deciding how she wanted to arrange her room and gladly accepted a bookshelf offered by another teacher. Both said their new colleagues have been supportive and welcoming.
Roosevelt physical education teacher Kim Rosendahl was helping the newcomers find what they needed in the school, including the right name stickers for lockers.
Rosendahl said she's had fun getting to know the new teachers and had taken them to a Willmar Cardinals volleyball game.