BNSF expects rail traffic to resume after train derailment in NW Minnesota, no hazardous material compromised
Two trains were involved in a derailment west of Frazee on Feb. 17; blocking rail traffic in both directions between Frazee and Detroit Lakes. No injuries were reported at the scene and nearby
We are part of The Trust Project.
DETROIT LAKES, Minn.-- Following a derailment in Frazee, Minn., on Thursday, Feb. 17, Burlington Northern-Santa Fe Railway expected rail traffic to resume on one of the rail lines by late Friday, according to a company news release.
In an emergency dispatch report, at 8:51 a.m. Friday, a train derailment was reported about two miles west of Frazee. The derailed freight train was eastbound and carrying consumer products and also affected a nearby train, which was carrying some materials considered hazardous, according to the Becker County Sheriff's Office. Nearby residents were evacuated as a precautionary measure, but were allowed to return to their homes Thursday evening after finding no hazardous material had spilled.
"No hazardous material was compromised in the incident," the company news release stated. "There were no injuries and the incident is under investigation."
Repair crews have been working since the derailment to safely, and quickly, clear the rail cars and make repairs to the track, according to the news release.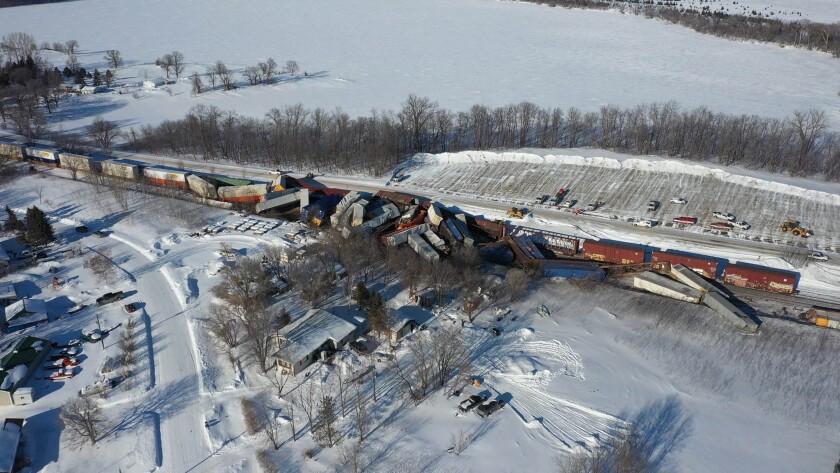 There is no timetable for the resumption of rail traffic on the second rail line.
"We appreciate the assistance of local responders and understand the impact an incident like this can have on the community," the company stated. "Our crews will continue working as safely and quickly as possible."
In total, more than 20 rail cars derailed, according to aerial photos.
On Friday morning, Becker County Sheriff Todd Glander said he was having difficulty approaching the derailment scene due to whiteout conditions, but said he expects the repair efforts to continue throughout the day.