New voters from Willmar Senior High looking forward to Election Day
Tuesday will be the first Election Day for new voters. These teens from Willmar Senior High have been researching candidates on the ballot and are excited to go cast their first ballots in person Tuesday.
WILLMAR — Not long after school is out on Election Day, some of the area's newest voters will be heading to the polls.
Willmar Senior High School seniors Tanna Christensen, who turned 18 in August, and Kyle Bosch, 18 in September, are among those who will be joining in Minnesota's always high voter turnout to cast their first ballots.
Both registered to vote some time ago, and are planning to go to their polling places to vote in person Tuesday. They are excited to vote. Christensen will vote in Willmar at the armory; Bosch in Kandiyohi.
"I like getting to have a say in my future and who's going to run our country," Christensen said.
They have been paying attention to the election. It's difficult to avoid the presidential race, in particular.
"It is hard to miss," Christensen said.
"It's like everywhere in the news, whenever I listen, on the news websites," Bosch said.
Bosch said he's been studying candidates in different races. "I like getting to know all the candidates and all your options," he said. "I like getting to know all the local stuff, too."
The presidential race is "kind of everywhere," Christensen said, but she's following others, too.
While there hasn't been too much election discussion in their classes, they do talk with their friends.
Neither of them knows too many other teens who are old enough to vote. Some of their friends are envious, one in particular.
"i've got a friend that turns 18 the day after Election Day, and she's really upset, because she doesn't get to vote," Christensen said.
The students depend on a variety of sources for information.
Bosch said he reads the West Central Tribune, watches TV news before school and hears news breaks when he's listening to music on the radio. Christensen said she talks with her family quite a bit and asks a lot of questions. They talk about who's on the ballot for different offices and about the candidates' views.
"I don't know all of the history with (President Donald) Trump or (former Vice President Joe) Biden, so I ask them about that, too," she said.
Christensen watched both presidential debates.
"They seemed kind of crazy," she said. "I had to ask if that's how all of them were" after the first debate.
'I felt the first one was more back and forth arguing," she said. "For my first debate I really paid attention to, I didn't get much information out of it."
The second debate was much calmer, in her view. "I wasn't necessarily looking for anything specific," she said. "I wanted their viewpoints on anything, really."
Bosch said he had a soccer game during the first one and was working during the second, but he watched recaps afterward.
In a more normal school year, the WHS Student Council would be more involved in the runup to an election.
Asli Abdi, senior class and Student Council president, said she had posted three non-partisan signs about registering to vote. And the student council sponsored a mock election that took place Tuesday and Thursday.
In the past, the League of Women Voters has worked with the council to set up voter registration tables and run mock elections, she said. This year, the league wasn't allowed into the school building but loaned her the signs, which include a web address to register to vote online.
1
/
4:
The Willmar High School Student Council has posted these voter registration signs outside school entrances this fall. It was done in place of voter registration tables which were not possible during hybrid learning at the school. Linda Vanderwerf / West Central Tribune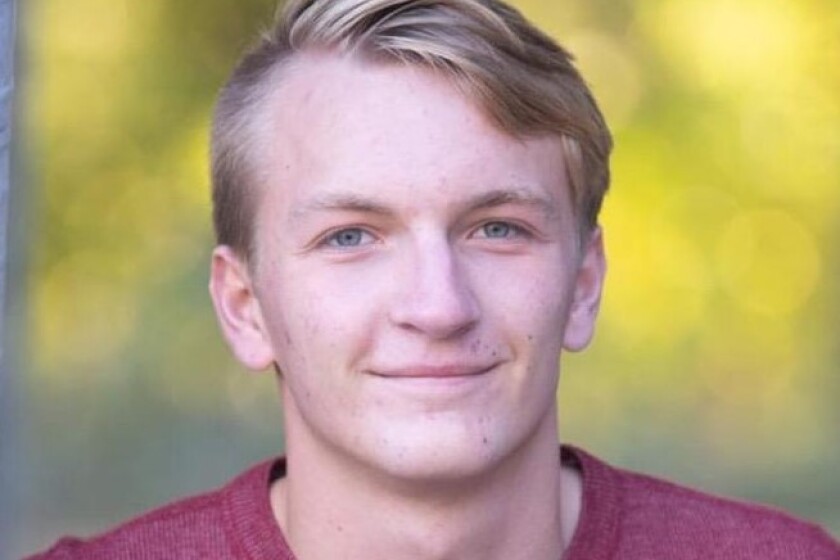 Fundraising is underway to move the giant ball of twine from the Highland, Wisconsin, home of creator James Frank Kotera, who died last month at age 75, 44 years after starting the big ball.
Mike Clemens, a farmer from Wimbledon, North Dakota, was literally (and figuratively) "blown away," when his equipment shed collapsed under a snow load.