Paynesville fire victim is identified; father in custody pending murder charge
PAYNESVILLE — Authorities have released the name of a woman who died in a mobile home fire Tuesday evening in Paynesville.
She is Jamey Marie Newport, 22, of Paynesville, the Paynesville Police Department said in a statement issued late Wednesday afternoon.
Police officers and firefighters were called Tuesday to the home in the 400 block of Minnie Street in response to reports that a man was pouring gasoline inside the home and had set it on fire.
Police arrived to find the mobile home fully engulfed. Officers and firefighters located the victim inside the bathroom and administered emergency lifesaving measures. She was taken to the Paynesville hospital where she was later pronounced dead, according to information issued by the Police Department.
Her cause of death was listed by the Midwest Medical Examiner's Office as "inhalation of products of combustion" and the manner of death as homicide, police said in their statement late Wednesday.
A suspect was arrested at the scene and is in custody at the Stearns County Jail pending formal charges. Paynesville Police Chief Paul Wegner identified him as John Sean Newport, 46, of Paynesville. John Newport is Jamey Newport's father, according to the news release from Wegner.
No other suspects are being sought and there is no ongoing danger to the public, police said.
The incident remains under investigation by the Paynesville Police Department, Stearns County Sheriff's Office, Minnesota Bureau of Criminal Apprehension, Minnesota State Fire Marshal Division and the U.S. Bureau of Alcohol, Tobacco and Firearms.
The Paynesville Fire Department, CentraCare-Paynesville Ambulance, Cold Spring/Richmond Police Department, Belgrade Police Department, Minnesota State Patrol and Lake Henry Fire Department assisted at the scene.
Anyone with information about the incident is asked to call the Stearns County Sheriff's Office at 320-251-4240.
1
/
3:
A Paynesville Police Department vehicle is parked Wednesday afternoon outside a crime scene. Authorities say the mobile home was set on fire Tuesday evening in Paynesville, causing the death of a woman. Erica Dischino / Tribune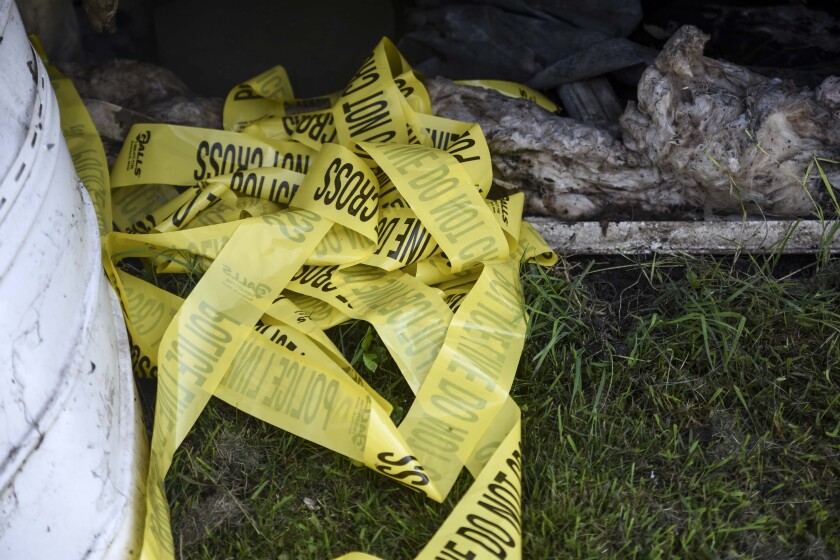 2
/
3:
Extra tape lies in a bundle among the ruins of a mobile home Wednesday afternoon in Paynesville. According to authorities, a man is in custody after the mobile home was set on fire, causing the death of a woman Tuesday evening. Erica Dischino / Tribune
3
/
3:
A crime scene is marked with tape Wednesday afternoon in Paynesville. According to authorities, a man is in custody after the mobile home was set on fire, causing the death of a woman Tuesday evening. Erica Dischino / Tribune