Schools planning out-of-the-ordinary graduations for 2020 grads across west central Minnesota
School districts in west central Minnesota are finding ways to honor their 2020 graduates while following all the no-contact, social distancing rules in place.
It won't be the graduation any of this year's high school seniors imagined when they started the school year.
So much has changed in their lives because of the coronavirus pandemic, but area school leaders are doing what they can to give the Class of 2020 a good sendoff.
Requirements of social distancing and bans on large gatherings place limits on the celebrations. School officials have lots of plans for car parades and graduates picking up their diplomas one at a time. One school plans to give each graduate a cake. Another has planned fireworks.
Some schools have been filling their Twitter feeds with photos and bios of their graduates. Others are placing photos on school websites.
Some school districts in the area had planned outdoor ceremonies on their football fields with graduates and guests spaced across the field. But a week ago, the Minnesota Department of Education announced that those would not be allowed because it would be too difficult to keep people separated.
Belgrade-Brooten-Elrosa had planned such a ceremony with all movements to be carefully choreographed.
The new plan is for a drive-in ceremony in the school parking lot, said Superintendent Patrick Walsh, but the district is still working out the details.
The state's announcement took them a little by surprise. "They hadn't said no to a field graduation," he said. "We feel in small schools it's certainly doable, but we're not going to violate the law."
Willmar Public Schools' Senior High School and Area Learning Center will have virtual graduations. The senior high will follow it with a car parade.
For Willmar Senior High, a virtual graduation ceremony will be posted to the district website at 1 p.m. May 31.
Each senior has been invited to submit a short video to be included. Student speakers and musical selections will be included.
At 3 p.m., seniors are invited to come to the high school parking lot in their caps and gowns for a send-off from teachers spaced along the sidewalk. Then they will drive in a parade around Willmar. The route has not yet been announced.
For the Area Learning Center, a pre-recorded virtual graduation will be distributed to students, families and the community May 31.
"We are all wishing we could have come up with an alternative but feel that our hands are tied," said administrator Nick Clasemann. "However, we know our decision is helping to do our part for the pandemic and the current state of our nation."
Students of DREAM Technical Academy, a charter school in Willmar, will celebrate with a car parade May 23 for them and their immediate families.
Cars will drive in front of DREAM on the MinnWest Technology Campus beginning at 11 a.m. when they will receive their diplomas and medals. Each senior will receive a cake for the family to share at home. Staff members will line up in front of the school.
Community Christian School of Willmar will have a drive-up ceremony at 1:30 p.m. May 30 at the Open Door Christian Church in Spicer. Principal Lisa Strom said the school and graduates are still working on details.
Other area schools who responded to a request from the West Central Tribune have a variety of plans. Several districts said they are still working on them.
Paynesville Public Schools plans a car parade through the city at 2 p.m. May 31. The parade will end at the high school, where each car will stop by a small stage to let the senior walk across while a photographer takes photos.
The parade will be livestreamed, and pre-recorded commencement speeches and musical selections will be incorporated.
MACCRAY has planned a drive-in graduation for graduates and families May 31 at dusk. Speeches and musical selections will be pre-recorded.
Atwater-Cosmos-Grove City will have a parking lot ceremony May 29 and a car parade through all three towns.
Renville County West has planned a drive-up graduation and a parade at 2:30 p.m. June 14.
BOLD's graduation will be May 29 with a car parade through Olivia, Bird Island and Lake Lillian. Cars will drive through the parking lot so graduates can receive their diplomas. Radio station KOLV will broadcast speeches at 5:45 p.m.
A May 29 commencement is planned for Minnewaska Area High School seniors in the high school parking lot.
The celebration will begin at 6 p.m. with a car parade through Glenwood and Starbuck. The commencement begins at 8 p.m. in the parking lot. Radio station KMGK will broadcast the ceremony live and it will be livestreamed on the school's YouTube channel.
Minnewaska will follow the ceremony with fireworks.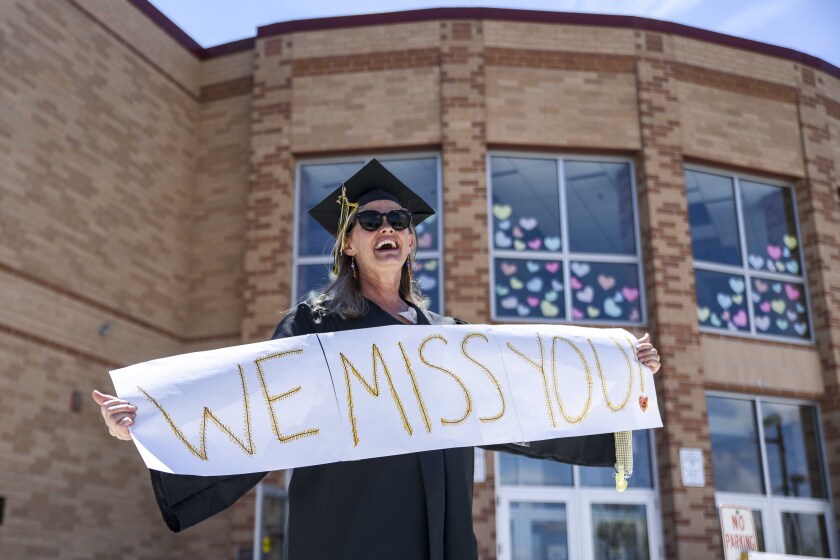 1
/
9:
Staff member Vicki Mickelson wears a cap and gown while cheering and holding a sign as New London-Spicer graduating seniors pick up their cap and gown Thursday afternoon at the high school in New London. Seniors across the region are no longer able to have a typical commencement ceremony to slow the spread of COVID-19. New London-Spicer High School wanted to finish the year on a high note by providing some encouragement as the students enter the next phase in their life post-high school. Erica Dischino / West Central Tribune
2
/
9:
Staff member Michaelene Frederickson, left, hands graduating senior Tyra Johnson her cap and gown Thursday during the curbside pickup held at New London-Spicer High School in New London. Erica Dischino / West Central Tribune
3
/
9:
Graduating senior Megan Warner tries on her cap and gown in preparation to take a photo outside of the New London-Spicer High School sign Thursday in New London during the curbside pickup for cap and gowns. Seniors across the region are no longer able to have a typical commencement ceremony to slow the spread of COVID-19. Erica Dischino / West Central Tribune
4
/
9:
New London-Spicer High School teachers and staff cheer for graduating seniors while they pick up their cap and gowns Thursday morning at the high school in New London. Erica Dischino / West Central Tribune
5
/
9:
Graduating senior Dolyn DeSchepper picks up his cap and gown Thursday during the curbside pickup held at New London-Spicer High School in New London. Erica Dischino / West Central Tribune
6
/
9:
New London-Spicer High School teachers and staff cheer for graduating seniors while they pick up their cap and gowns Thursday morning at the high school in New London. Erica Dischino / West Central Tribune
7
/
9:
School board chair member Lucinda Dahlberg waves a pom pom as New London-Spicer graduating seniors pick up their cap and gown Thursday afternoon at the high school in New London. Erica Dischino / West Central Tribune
8
/
9:
Graduating seniors are greeted with cheers by teachers and staff as they pick up their cap and gowns on Thursday at New London-Spicer High School in New London. Erica Dischino / West Central Tribune
9
/
9:
Graduating senior Blake Vagle waves to teachers and staff as they cheer for him as he passes through in his car Thursday during the curbside pickup held at New London-Spicer High School in New London. Erica Dischino / West Central Tribune