Woman dies in Paynesville fire; suspect arrested
PAYNESVILLE — A woman died after a mobile home was set on fire Tuesday evening in Paynesville.
The Paynesville Police Department said Wednesday that officers were called Tuesday to the home in the 400 block of Minnie Street in response to reports that a man was pouring gasoline inside the home and had set it on fire.
Police arrived to find the mobile home fully engulfed. Officers and firefighters located an adult female inside the bathroom and administered emergency lifesaving measures. The woman was taken to the Paynesville hospital where she was later pronounced dead, according to information issued by the Police Department.
Her name has not yet been released. An autopsy is planned, according to Paynesville police.
A male suspect was arrested at the scene. He was transported to the St. Cloud Hospital for treatment of potential injuries and then placed in custody in the Stearns County Jail, police said.
The suspect, who has not yet been identified, is being held on pending charges of second-degree murder, according to information released Wednesday noon by the Paynesville Police Department. He is awaiting his first court appearance.
The incident remains under investigation by the Paynesville Police Department, Stearns County Sheriff's Office, Minnesota Bureau of Criminal Apprehension, Minnesota State Fire Marshal Division and the U.S. Bureau of Alcohol, Tobacco and Firearms.
The Paynesville Fire Department, CentraCare-Paynesville Ambulance, Cold Spring/Richmond Police Department, Belgrade Police Department, Minnesota State Patrol and Lake Henry Fire Department assisted at the scene.
Anyone with information about the incident is asked to call the Stearns County Sheriff's Office at 320-251-4240.
1
/
3:
A Paynesville Police car guards the crime scene Wednesday afternoon after the mobile home was set on fire causing the death of a woman Tuesday evening in Paynesville. Erica Dischino / Tribune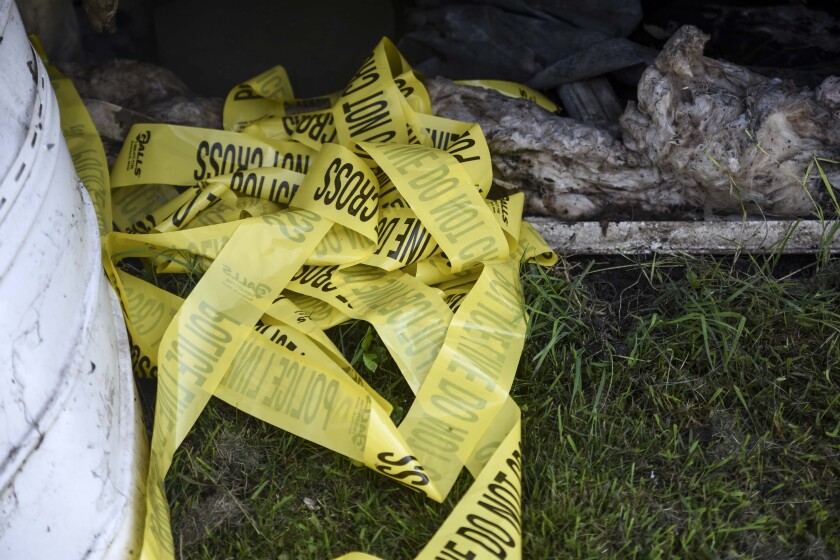 2
/
3:
Extra tape lies in a bundle among the ruins of a mobile home Wednesday afternoon after the mobile home was set on fire causing the death of a woman Tuesday evening in Paynesville. Erica Dischino / Tribune
3
/
3:
A crime scene is marked with tape Wednesday afternoon after the mobile home was set on fire causing the death of a woman Tuesday evening in Paynesville. Erica Dischino / Tribune