Tribune Opinion: Our recommendations for Kandiyohi County Board seats
Kandiyohi County has three county board seats on the Nov. 8 ballot: District 1, District 3 and District 5.
We are part of The Trust Project.
Commissioner Geroge "Corky" Berg is seeking re-election to the District 1 seat and is running unopposed. He has done an admirable job as county commissioner and serving as county chair. He certainly deserves another term.
The incumbents have the best experience to assist in the major decisions facing the Willmar School Board over the next several years.
For Willmar City Council, voters will elect Carl Shuldes to Ward 1 seat, Vicki David to Ward 2 seat, Rick Fagerlie to Ward 3 seat and Audrey Nelson to Ward 4 seat.
Dean Urdahl, Dave Baker and Andrew Lang are our recommendations to represent District 16.
It is a competitive race in District 3 between two lifelong Kandiyohi County residents — northern Kandiyohi farmer Dale Anderson and Dovre Township farmer Kim Larson. Both finished with about 31% of the vote in the August primary, with Anderson holding a narrow lead of 537 to 524 for Larson.
District 3 includes the northwest quarter of Kandiyohi County, plus a portion of Willmar. The district has been served for two terms by Commissioner Rollie Nissen, who chose not to seek a third term.
Both candidates have served in various organizations. Anderson has served on the Kandiyohi Power Cooperative for 31 years. He is also a current board member of Great River Energy and the Kandiyohi County Fair. Larson is a Dovre Township Board member. He also has been a project coordinator and a member of the Ag and Renewable Energy Committee for the Kandiyohi County and City of Willmar Economic Development Commission. He also held positions with the Minnesota Soybean Growers Association and the American Soybean Association. Larson has also worked as Kandiyohi County environmental ag administrator and taught at Ridgewater College.
Both are supportive of economic development for Kandiyohi County. Anderson wants more economic development, especially in rural Kandiyohi County. Larson has worked on economic development and wants to pursue a soybean processor for Kandiyohi County. Both are concerned about the possible environmental impact of the proposed Tepetonka Club golf development project in rural New London. Anderson states the proposed golf course location is "just in the wrong place." Larson is correctly reserving judgment until more information is available.
Both are supportive of law enforcement. Larson said at a primary forum that "We do not micromanage and we turn (law enforcement) over to those who have the experience, background and understanding on how to deal with issues." Yet he has continually called for efficiency studies of all county departments. That should be the responsibility of the county administrator.
Both are supportive of the county's efforts to build out broadband, especially in the northern sector of the county. We agree that is an important goal. Without adequate broadband, both families and businesses are at a competitive disadvantage.
Both believe they are good communicators. Larson said he has been an "outspoken leader in township government." Larson also has been known to rub others the wrong way at times. Anderson said he is told that "sometimes I am a little blunt, I am pretty black and white."
As we said earlier, this will be a close race. Both candidates are similar on many issues. Either would be a good commissioner for their district.
We give the slight edge to Anderson. He likely would be a better fit for the Kandiyohi County Board and bring a northern Kandiyohi County perspective to the board.
In the end, it will be a decision for District 3 voters.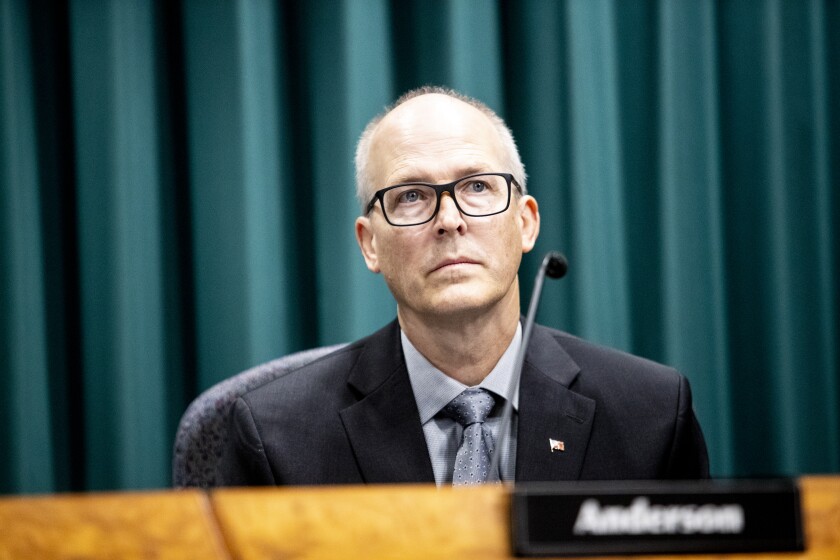 Commissioner Duane Anderson has filed for re-election in District 5 and is running unopposed. Due to redistricting, which added the city of Pennock and St. Johns Township to the district, the district seat is on the 2022 ballot. Anderson will be re-elected.
This Tribune Opinion editorial is the opinion of the West Central Tribune Editorial Board, consisting of publisher Steve Ammermann and editor Kelly Boldan.
Recent editorials published in the West Central Tribune.
From the commentary: To be clear, their questions are mainly about determining the best way to deliver care to teens — not about the value of treatment itself.