Amateur Baseball: Unrattled Raymond beats Wanamingo
A six-run 6th propels Rockets to 10-2 victory in state opener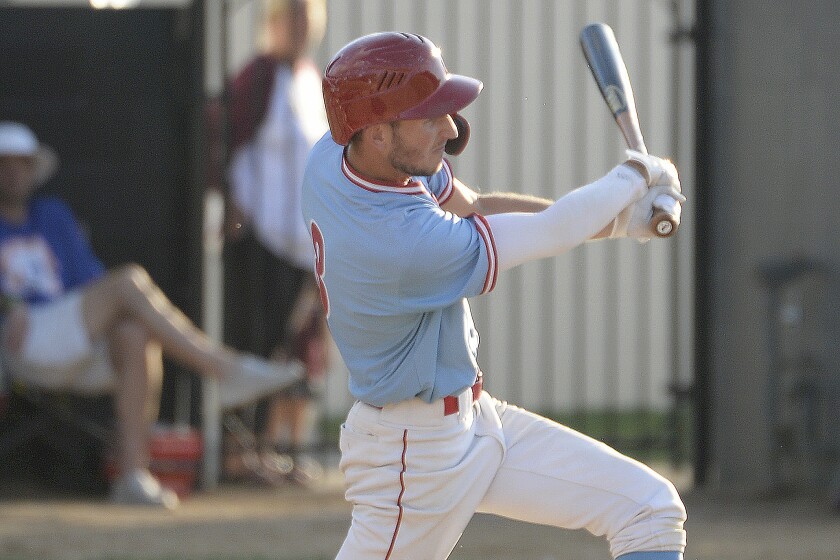 We are part of The Trust Project.
FARIBAULT — A rough start wasn't going to ruin the Raymond Rockets' day.
The Wanamingo Jacks got the early edge in Sunday's Class C state amateur baseball tournament opener. Wanamingo got three straight singles in the top of the first inning, scoring a run. Then in the bottom half, the Jacks got a double play to half any early runs for Raymond. And there were two errors in the field for the Rockets over the first three innings.
Still, the Rockets didn't waver. They eventually broke the game wide open with a six-run sixth inning en route to a 10-2 victory at Bell Field.
"Early in the game, it was anybody's game," said Raymond manager Butch Steen. "Then we put it together in the sixth."
Raymond's offense finished with 14 hits, and the runs came in bunches. They plated three in the second with an RBI single from John Sawatzky and a two-run single by Tanner Bauman.
"Once you can start to time them up, that's when things start to fall in line," said Sawatzky, the Rockets' designated hitter. "Once guys start hitting, everyone starts to loosen up.
"The biggest thing is we didn't panic early."
Wanamingo had five of its eight hits in the first three innings. The Jacks cut the deficit to 3-2 after Eric Swiggum brought home a run on a single.
"They got some good hitters there," Steen said of Wanamingo. "Boy, I kind of figured it was going to be tough there and it was for quite some time there. ... At that point, it was anybody's game."
After the third, Rockets starter Caleb Ditmarson settled in and held Wanamingo without a run or hit in the fourth, fifth and sixth innings. He tallied eight strikeouts with six hits and one walk allowed.
Hunter Magnuson, a draftee from the New London-Spicer Twins, had two scoreless innings of relief followed by another zero in the ninth by Zach Nelson.
"We knew with the guys we had available, we're going to be tough to beat in a one-game weekend," Sawatzky said. "With both (Ditmarson and Magnuson), we know teams aren't going to score too many runs."
All the while, Raymond was catching up to Wanamingo starter Alex Roosen. And the sixth was an explosion of offense as Brett Swanson, Tyler Steen and Paxton Nelson each had two-run hits in the frame.
"We started to get on him and knew what he was coming with," Paxton said. "We started to jump on pitches we could hit and when you can get guys on and do damage on pitches to hit, that's what happens."
Paxton had two of his three hits in the sixth. He finished 3-for-4 with two RBIs and a run. Sawatzky was 2-for-3 with a run and an RBI. Brady Kienitz, Tyler Steen and Tanner Bauman each had two hits in the victory.
"We had a lot of guys on the team get stuff going," Paxton said. "It feels good to be the guy to start the rally."
In the next round, the Rockets face the Nisswa Lightning at 11 a.m. on Saturday, Aug. 27 back in Faribault.
"We know it's going to be a tough game next week with Nisswa," Butch Steen said. "They're a quality team and they come out of a good league (the Victory). It'll be a dogfight."
Wanamingo 101 000 000-2 8 2
Raymond 031 006 00x-10 14 4
Hitting - Wanamingo: Sam Roosen 3-3 2b r-2 bb, Eric Swiggum 2-4 rbi, Alex Roosen 2-4 2b rbi, Jacob Glarner 1-2… Raymond: Mike Jeseritz 1-5, Brady Kienitz 2-5 r-2, Tyler Steen 2-4 2b r rbi-3, Paxton Nelson 3-4 2b r rbi-2, John Sawatzky 2-3 2b r rbi hbp, Caleb Ditmarson 1-2 r-2 bb sb-2, Tanner Bauman 2-4 r rbi-2 sb, Brett Swanson 1-3 r rbi-2, Isaac Call 0-0 r
Pitching (ip-h-r-er-bb-so) - Wanamingo: A. Roosen (L) 5.2-12-10-10-2-3, Brady Anfinson 2.1-2-0-0-0-2 … Raymond: Ditmarson (W) 6-6-2-2-1-8, Hunter Magnuson (New London-Spicer) 2-2-0-0-0-2, Zach Nelson 1-0-0-0-0-1
Recent baseball coverage from the West Central Tribune.