Bradford stands tough, but not tough enough
PHILADELPHIA--There was a minute and 24 seconds left in the fourth quarter Sunday when the Philadelphia Eagles hit Minnesota Vikings quarterback Sam Bradford for the final time, and like each of the 17 shots they delivered before it, they made it...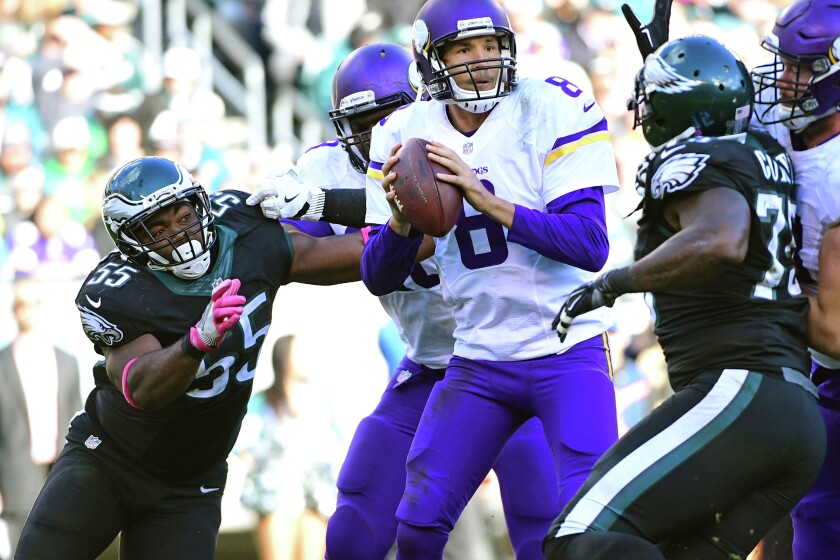 PHILADELPHIA-There was a minute and 24 seconds left in the fourth quarter Sunday when the Philadelphia Eagles hit Minnesota Vikings quarterback Sam Bradford for the final time, and like each of the 17 shots they delivered before it, they made it count.
Brandon Graham slammed into Bradford's upper body, and Connor Barwin lunged to grasp for his legs, and when Bradford rose to his feet, his body for the first time betrayed its degree of punishment. He limped around the Lincoln Financial Field turf for a few seconds, threw a meaningless touchdown pass two plays later, then trudged to the Vikings' sideline and plopped on the bench, his helmet still on, the idyllic start to his season no more than a memory.
Yes, Bradford had been living a dream through his first four games with the Vikings. He had been the comeback story of the NFL, at last healthy, at last on a contending team, at last playing like a former No. 1 pick ought to. His old teammates caused that entire tableau to crash down around him-six sacks, 12 post-pass hits, four fumbles, an interception in the end zone, a 21-10 Eagles victory-but the disappointment he felt afterward, he said, had little to do with the team that had handed him and the Vikings their first loss this season.
"It felt a little different than a normal road game," said Bradford, who went 24 for 41 for 224 yards. "Other than that, not much."
As soon as the Eagles and Vikings consummated that stunning trade on Sept. 3, the Eagles sending Bradford to Minnesota for a first-round draft pick and handing themselves over to Carson Wentz, Sunday promised to be a terrific example of the convenient narrative construction that happens in sports all the time.
Here was Bradford vs. Wentz, as if the event were a presidential debate or a monster movie or a referendum on each franchise's decision and vision, instead of what it turned out to be: a sloppy football game that reaffirmed what everyone already should have known to be true about Bradford.
He is a competent quarterback, and he can be an excellent quarterback when enough talent surrounds him, and he's a damn gutsy one, too, especially given his injury history. But he wasn't going to carry the Vikings to a win Sunday, certainly not behind an awful offensive line that was without its two starting tackles, and he wasn't going to play the role that so many in this city seem to want him to play. He wasn't going to be the bad guy, mainly because he never was the bad guy over the year-and-a-half he was here.
"I really don't have any bitter feelings toward Philly," he said. "So it's not like I was harboring any of that, trying to come out and prove them wrong. I was just trying to help the guys in this locker room go out and get a win."
The urge around here to turn Bradford into an all-time antagonist has to be one of the strangest, most incongruous movements in this town's sports history. He arrived in a trade from the Rams, played hard, and at times played quite well despite Chip Kelly's insistence on leaving him exposed with too many zone reads and too few blockers.
More, he wanted to remain here. It was only after the Eagles reversed course and pursued Wentz that Bradford recognized that, for the sake of his career and his peace of mind, he'd be better off somewhere else.
The odd part is, those who wanted him to leave have never forgiven him for . . . wanting to leave, and when he took the field with 13 minutes, 4 seconds left in the first quarter Sunday, they jeered and booed a quarterback who, if he'd had his choice months ago, would still be starting for the Eagles.
"We tend to villainize people like that," said Eagles defensive tackle Beau Allen, who was responsible for one of the game's most hellacious hits, driving his helmet into Bradford's midsection after Bradford had slung a screen pass to running back Matt Asiata. "It was funny when he came out and people booed him. He's played really well for the Vikings, and obviously, he didn't have any control over the trade situation. So it's not like there are any hard feelings for the players."
No one would have known it from the treatment he received Sunday. Graham, Barwin, Vinny Curry, Fletcher Cox, the linebackers, the safeties-defensive coordinator Jim Schwartz sent them one and all in a succession of zone blitzes that battered Bradford twice out of every five times he dropped back.
"He got right back up, which we don't know how he did," Cox said. "Sam's a tough guy."
Even when the Eagles didn't blitz, the Vikings' three-man rotation at right and left tackle-T.J. Clemmings, Jeremiah Sirles, and Jake Long-offered little resistance.
"They were soft," Vikings coach Mike Zimmer said. "They were overpowered. It was man-on-man, and we got whipped. . . . It's hard to evaluate [Bradford's] performance when you leak like a sieve. It's hard to throw when somebody's bending your arm."
Bradford tried it anyway, and on one of Sunday's key plays, it cost him. On third and goal from the Eagles' 6-yard line, the game still scoreless midway through the first quarter, Graham draped himself over Bradford's right shoulder, and Bradford's weak throw fluttered to safety Rodney McLeod for a crushing interception. It was the Vikings' best opportunity to break the game open, and it was gone. It was like that Sunday from beginning to end, another day when being tough in Philadelphia wasn't good enough for Sam Bradford, and never would be.