Brian Idalski's experiences give him confidence to lead SCSU women's hockey team
Huskies new head coach has had a winning record wherever he has gone: Wisconsin-Stevens Point, University of North Dakota, pro hockey in Russia. Idalski was introduced as the head coach at a press conference on Thursday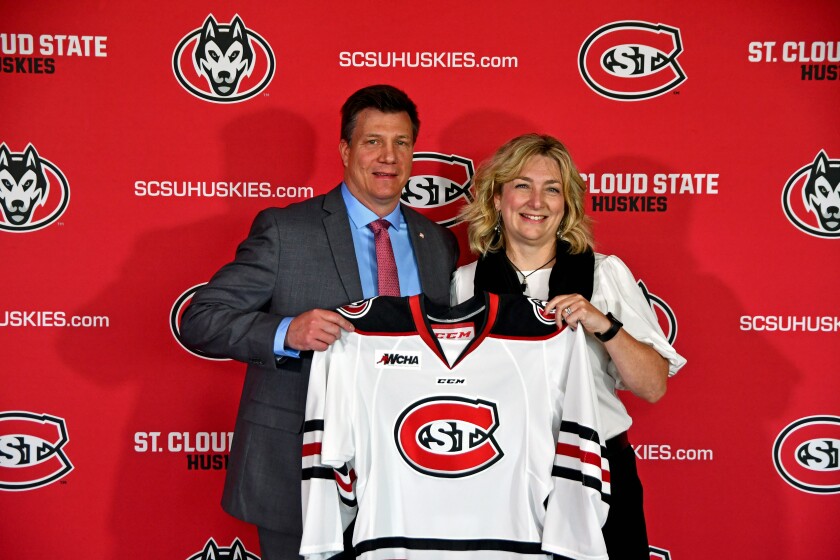 We are part of The Trust Project.
ST. CLOUD, Minn. — Brian Idalski has been a head women's hockey coach in three places. He was the head coach for the University of Wisconsin-Stevens Point from 2001-06, the University of North Dakota from 2007-17 and then for the KRS Vanke Rays in the Russian professional league.
At each stop, success has followed.
He took over a Pointers team that was 13-13-1 in 2000-01 and led them to a 26-1 record his first season. In his five seasons at UW-SP, the Pointers were 108-21-11, reached the NCAA Division III championship game in 2004, took third in the nation in 2006 and reached the national quarterfinals in 2005.
After one season as an assistant coach for the St. Cloud State women's hockey team, Idalski took over the women's team at North Dakota after the Fighting Hawks had gone 0-27-1 in the WCHA and 3-31-2 overall in 2006-07. His first season, UND was 4-26-6 overall, but pulled out of the WCHA basement. By the time the program was cut by the university, Idalski's teams had won 20 or more games in five seasons, reached the Division I tournament in 2012 and 2013 and his record with the Fighting Hawks was 169-156-39.
Then in the last three seasons, he led the Rays to a 77-17 record, a league playoff title in 2019-20 and regular season titles in 2020-21 and 2021-22. He also led the Chinese women's hockey team to its first two preliminary round Olympic wins since 1998.
On Thursday, June 2, Idalski spent his first day as the new head coach for the St. Cloud State women's hockey team. The Huskies were 4-20-3 in the WCHA and 9-23-3 overall last season and the program has not had a winning season since going 15-14-8 overall and finishing third in the WCHA in 2009-10.
The program has gone 238-510-71 under five head coaches since becoming a Division I team in 1998. Idalski, though, sees a lot of positives and potential.
"Pressure is a privilege and I'm excited about that and I've always relished a challenge," Idalski said at a press conference introducing him as the new Huskies head coach. "I definitely relish the challenge of being back in the WCHA — clearly the toughest college experience for hockey in the country.
"When you're competitive like I am, you want to beat the best and you want to challenge yourself."
Idalski said the challenge he had at North Dakota was greater than the one he faces at St. Cloud State. UND had been outscored 142-39 the season before he took over.
"Their leading scorer had 12 points when I took over," Idalski said of North Dakota. "That's not the situation that I walk into. At that time, North Dakota wasn't close. They were losing games like 7-0 and 8-0. That was kind of a total rebuild.
"I know some of the talent here and the players that are here and they have some kids who are very good and very talented. You have a couple of Olympians — that was not the case (at UND). There are pieces that we can work with immediately and the coaching staff — the two assistants (Jinelle Siergiej and Molly Engstrom) — are very engaged and passionate about what has been built here and they are ready to take another step."
Siergiej and Engstrom, who are former Olympians and University of Wisconsin All-American players, both applied to be the SCSU head coach and are under contract for next season. Siergeij has been with the Huskies since 2014. Engstrom, who was one of three finalists for the head coaching position, has been at SCSU since 2018.
Close games, some talented players
Last season, the Huskies had two Olympians on their roster in forwards Jennina Nylund (Finland) and Klara Hymlarova (Czech Republic). This season, the Huskies will add forward Laura Zimmermann, a 19-year-old who played for Switzerland in the 2022 Olympics.
Goalie Sanni Ahola, who played for Finland's Under-18 national team in 2017 and 2018, was an All-WCHA Rookie Team selection in 2020-21.
Of St. Cloud State's 23 losses last season, six were by one goal. Idalski believes that the mental outlook will be an area of focus in his first season.
"Year 1 really begins with mentality, just the belief in what we're doing, why we're doing it and that we're heading in the right direction," he said. "That belief starts working into our work ethic, how we do things. The thing that's exciting for me is that this is, by far, in a better spot than what I had taken over at North Dakota.
"I feel the players echo that sentiment, that there are some pieces here and this is not a total burn to the ground, start over. They were competitive. They had an opportunity to win a fair amount of games last year, (wins) that they feel like that they left on the table. That speaks to mentality, to some structure and it speaks to being a little more competitive. Those are easy fixes in my mind, getting them to understand the right way to play, competing as hard as they can on a regular basis and then just building some confidence from having success."
Huskies get transfers from New Hampshire, UMD
St. Cloud State has added two transfers, who will join the team in the fall.
Avery Myers, a 20-year-old forward from Fargo, spent the last two seasons playing for the University of New Hampshire. In those two seasons, Myers had five goals, 10 points, 12 penalty minutes and was a plus-1 in 40 games. She played three seasons for the Fargo North/South girls hockey team and then the 2019-20 season for the Minnesota Ice Cougars 19-and-under AAA team before playing for New Hampshire.
JoJo Chobak, a 21-year-old goalie from Chicago, spent the last two seasons playing for Minnesota Duluth. As a sophomore, Chobak was 10-4-1 with a 1.79 goals-against average, .928 save percentage and three shutouts in 20 games. Before joining the Bulldogs, Chobak played for the Chicago Young Americans 19-and-under team.
2022-23 SCSU women's hockey schedule
Sept. 25 — vs. Manitoba (exhibition)
Sept. 30-Oct. 1 — vs. RPI
Oct. 7-8 — at Ohio State
Oct. 14-15 — vs. Wisconsin
Oct. 21 — vs. Minnesota
Oct. 22 — at Minnesota
Oct. 28 — at St. Thomas
Oct. 29 — vs. St. Thomas
Nov. 4-5 — at Bemidji State
Nov. 11-12 — vs. Minnesota Duluth
Nov. 25-26 — at Lindenwood
Dec. 2 — vs. St. Thomas
Dec. 3 — at St. Thomas
Dec. 9 — at Minnesota
Dec. 10 — vs. Minnesota
Jan. 6 — vs. New Hampshire (at Minneapolis)
Jan. 7 — vs. Merrimack (at Minneapolis)
Jan. 13-14 — at Minnesota State University-Mankato
Jan. 20-21 — vs. Ohio State
Jan. 27-28 — vs. Bemidji State
Feb. 3-4 — at Wisconsin
Feb. 10-11 — at Minnesota Duluth
Feb. 17-18 — vs. Minnesota State University-Mankato
Feb. 24-26 — WCHA quarterfinals