Northwoods League: Entire coaching staff will return for Stingers in 23'
Field manager Freddy Smith, alongside assistant coaches Michael Newstrom and Mason Rapp, will all return to the Stingers clubhouse in 2023.
We are part of The Trust Project.
WILLMAR — The entire coaching staff of the Willmar Stingers will return to their dugout for the 2023 Northwoods League season, the organization announced Tuesday.
Field manager Freddy Smith, who is entering the second season of his two-year contract, also will have his two assistant coaches back in Michael Newstrom and Mason Rapp.
The trio, all in their first season at Willmar, led the Stingers to a 48-20 regular-season record in 2022. The 48 wins tied a franchise record that was set in 2018.
The Stingers also made the playoffs for the first time since 2019 and were one game short of reaching the Northwoods League championship. Willmar reached the Great Plains championship before falling against the Duluth Huskies, 5-3 on Aug. 16 .
"It feels great," Smith said of the coaching staff making their return. "We were fortunate enough to have a great first season — thanks to our supporting cast and a great group of players. ... Mason and Mike were both guys who were huge keys to our success last year."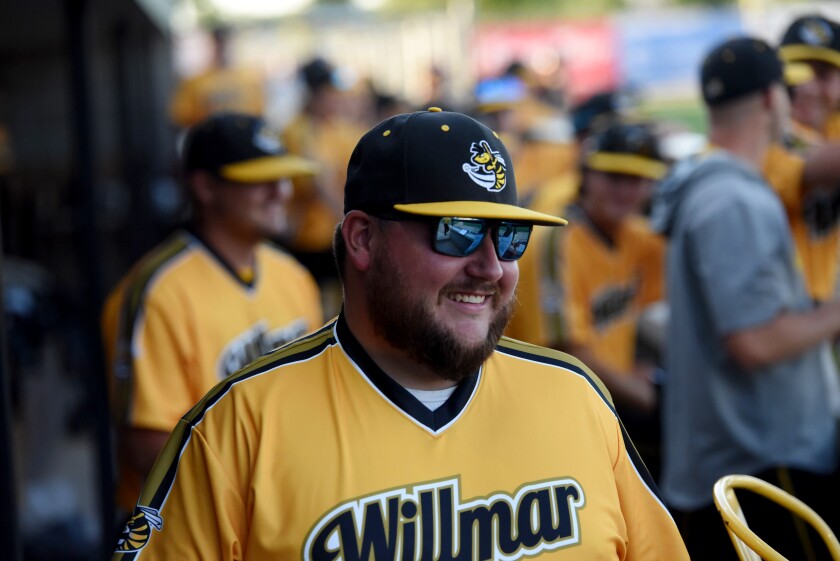 The return of Willmar's entire coaching staff comes as a rarity in the Northwoods League.
It is only the second time since the Stingers became a team in 2010 that their entire coaching staff is back in consecutive seasons.
The last time the entire Stingers coaching staff came back for consecutive years occurred in 2019 when Bo Henning, Al Leyva and Matt Caselli all returned.
"To have all three coaches back is really uncommon," Northwoods League President/Commissioner and Stingers co-owner Ryan Voz said. "I think it just proves that these guys really enjoyed their experience in Willmar."
Voz and Smith attributed Willmar's success from the 2022 season and the decisions of the entire staff to return based on how the three coaches' personalities meshed.
"I think the players truly appreciated what these guys brought to the table — their energy and their willingness to help these them get better," Voz said. "We had the right coaching staff that really cared."
Smith mentioned he is the more serious one of the three. Newstrom is more on the reserved side — serious when necessary — and Rapp's ability to connect with their players is hard to quantify, as he is a great clubhouse coach.
"Just having that mesh of personalities between Mason and Mike is so pivotal to our success moving forward," Smith said. "I'm happy to have these guys back and I'm excited to get going on year two."
As the 2023 season gets underway, Smith will continue to work with hitters, Newstrom will work with the pitching staff and Rapp will work with the catchers.
Smith led the Stingers to league-bests in batting average (.282), slugging percentage (.422), runs scored (525), RBIs (470) and doubles (135).
Outisde of the Minnesota Mud Puppies, who played 36 games, Willmar struck out a league-low 504 times.
"It comes down to the players buying in at the end of the day," Smith said. "I think that adds up to a collective result and a collective winning season."
Led by Newstrom, Willmar's pitching staff achieved the second-best team ERA at 3.67 and the best first-pitch strike percentage at 59.1.
Newstrom helped Jack Habeck, a left-handed pitcher at St. Cloud State University, to become the 2022 Northwoods League Pitcher of the Year.
Of note, right-handed pitcher John Klein also signed a minor league uniform player contract with the Minnesota Twins on Aug. 6 during the 2022 season.
"Mike especially helped me out with the pitching staff," Smith said. "He had a lot of responsibility last year. I told him, 'I want you to make this pitching staff your own.'"
Smith is looking forward to bringing back a core group of undisclosed players from the 2022 team, who he hopes will lead by example and do things the right way.
Smith is entering year two with the mindset of building on last year's success and wanting his players to be better on the small details within the game.
"We have a very talented coaching staff and we hope to have a good team on the field again," Voz said. "We have high expectations. But for what those guys did last year, if we come anywhere close to what we did, I think (this year) would be a success."