Northwoods League: Stingers catch fire late
Willmar scores 10 runs in the 8th inning to beat Waterloo, 13-2
We are part of The Trust Project.
WILLMAR — The Stingers started slow, but ended in opposite fashion en route to a 13-2 victory over the Waterloo Bucks on Sunday evening before 900 fans at Bill Taunton Stadium.
Willmar trailed the Bucks 2-1 until the seventh inning, scoring two runs before adding 10 more in the eighth inning to cement the comeback.
"Early in the game we got a little antsy, especially with runners in scoring position," said Stingers field manager Freddy Smith. "I thought our offense did a great job sticking with it and our bullpen has been absolutely nails the last few days."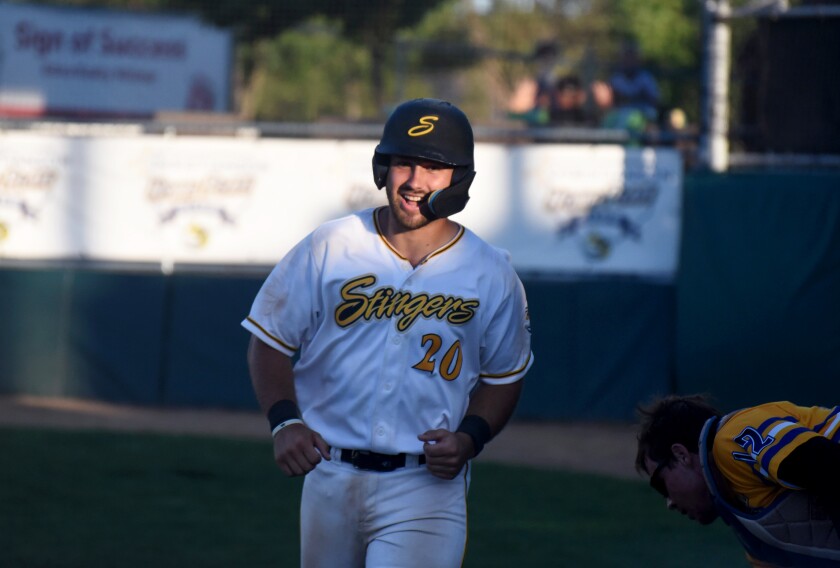 Despite leaving 14 runners on base, the Stingers battled through their early struggles. Will Busch put Willmar ahead 3-2 in the seventh inning with a two-out RBI double. Then, the rout of the Bucks — started and ended by Zac Corbin — was on.
Corbin, who is riding a 14-game hit streak, hit a two-run home run to start the 10-run eighth inning and scored his second run to end the inning. He went 2-for-5, adding a double and a walk.
"Last night he came up super clutch for us and he did it again tonight," Busch said of Corbin.
Busch led the way offensively. He went 3-for-5 with four RBIs, two runs, two doubles and a walk.
Busch, a sophomore at North Dakota State University, rounded out his strong offensive night with a three-run RBI double in the eighth inning.
"Since the second half started, especially after the All-Star break, [Busch] has been on an absolute heater," Smith said. "He's really coming on for us. … He's going to be big for us down the stretch."
Stingers starting pitcher Sam Malec threw five innings, allowing eight hits, two runs and two walks. He struck out four. Mitch Gutknecht threw four scoreless innings in relief.
Gutknecht allowed zero hits and struck out two to earn his first win this season.
"I felt like I had control over all three of my pitches and I was locating them really well," Gutknecht said. "Busch called a great game for me back there [at catcher]."
Nine Willmar batters recorded one hit. Outside of Busch and Corbin, Aidan Byrne and Will Safford tallied multi-hit performances.
Byrne went 2-for-3 with two walks, an RBI and one run. Safford went 2-for-5 with two RBIs, two runs and a double.
Waterloo's pair of runs came in the fourth inning. Liam Critchett hit a two-out RBI single to score Josh Patrick and Karl Koerper.
The series sweep of the Bucks marks the fourth time the Stingers have swept Waterloo this season, finishing the season series with an 8-0 record.
The Stingers (11-3 second half; 32-16) sit atop the Great Plains West Division in the second half of the season, two games ahead of the St. Cloud Rox. Willmar is host to the Rochester Honkers for a two-game series Monday and Tuesday. Both games will take place at 7:05 p.m. at Bill Taunton Stadium.
Willmar won 13-2 with a 10-run eighth inning.
Waterloo 000 200 000-2 8 1
Willmar 010 000 2(10)x-13 14 1
Hitting - Waterloo: Alex Crouch 2-4 bb, Clayton Gray 1-4, Josh Patrick 2-4 r, Karl Koerper 1-4 r, Shaydon Kubo 1-4, TJ McCormick V 0-3 bb, Liam Critchett 1-4 rbi-2 … Willmar: Zac Corbin 2-5 r-2 2b hr rbi-2, Joey Walls 1-5 r bb sb, Scott Anderson 0-4 bb, Josh Fitzgerald 1-1 r rbi sb, Jakob Christian 1-4 r-2 bb-2 sb, Aidan Byrne 2-3 r rbi bb-2, Christian Dicochea 1-1 rbi, Will Busch 3-5 r-2 2b-2 rbi-4 bb sb, Dalton Pearson 0-3 r bb-2, Will Safford 2-5 r-2 2b rbi-2
Pitching (ip-h-r-er-bb-so) - Waterloo: Keaton Parker 5-4-1-1-2-5, Jarrett Ramer 1-0-0-0-3-0, Austen Price (L, 0-1) 1-3-2-2-2-1, Aaron Treloar 0.1-3-3-3-1-1, Andrew Guardino 0-2-6-6-3-0, Matt Cuzco 0.2-2-1-1-2-0 … Willmar: Sam Malec 5-8-2-2-2-4, Mitch Gutknecht (W, 1-0) 4-0-0-0-0-2
Zac Corbin singled to right field to bring home the winning run with two outs in the bottom of the ninth inning before 1,112 fans at Bill Taunton Stadium.
Waterloo 200 000 000-2 5 2
Willmar 000 100 011-3 9 2
Hitting - Waterloo: Aaron Ujimori 1-3 r bb hbp, Tai Walton 1-3 r bb-2, Clayton Gray 1-5 rbi, Karl Koerper 0-4 hbp, Raphael Pelletier 0-3 hbp, Josh Patrick 0-4 rbi, Liam Critchett 1-4 2b, Caleb Corbin 1-2 bb hbp … Willmar: Christian Dicochea 1-5, Zac Corbin 2-5 r 2b rbi, Joey Walls 1-3 r bb sb-3, Will Hodo 0-3 hbp, Aidan Byrne 2-4 rbi, Scott Anderson 1-1, Dalton Pearson 0-0 r, Jake Entrekin 1-3
Pitching (ip-h-r-er-bb-so) - Waterloo: Frankie Cresta 5-3-1-1-2-7, Bblake Benson (L, 1-1) 3.1-5-10-1-5, Anthony Pron 0.1-1-1-0-0-1 … Willmar: Steven Brooks 4-4-2-2-2-5, Brian Baker 3-1-0-0-1-3, Michael Chevalier (W, 1-0) 2-0-0-0-1-1
Recent baseball coverage from the West Central Tribune.