Play 'D,' pitch well are Bird Island Bullfrogs' keys to a state victory
Read how Bird Island plays a hard-hitting Dilworth Raildogs squad Saturday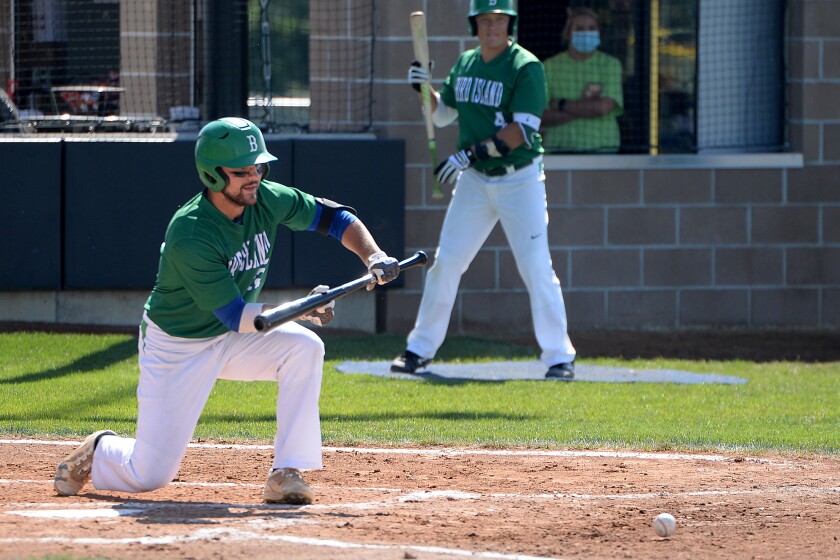 MILROY — Bird Island Bullfrogs manager Mike Nagel got to scout the Dilworth Raildogs in the first round of the state tournament.
He came away with this conclusion.
"We have to field and we have to keep it in the ballpark," Nagel said. "If we do that, we're going to be OK."
Bird Island plays Dilworth at 8 p.m. Saturday at Yankee Stadium in the 97th annual tournament, which entered its second weekend Friday night.
Thirty-two teams remain in the single-elimination, 48-team tournament. Bird Island is one of 16 teams that received a first-round bye by virtue of the Bullfrogs' Section 4C championship.
Dilworth beat St. Clair, 5-3 in the opening round.
"It was the first time for both of them in the tournament," Nagel said. "If you watched them take infield-outfield (warmups) and then the game, you'd have said that St. Clair maybe had better pitching and better athletes.
"But, Dillworth has the better bats."
Nagel marveled at an over-the-scoreboard home run by Raildogs third baseman Zach Schroeder. Originally from Moorhead, he played baseball in 2015 and '16 at Minnesota State-Fergus Falls and on the MSU-Moorhead club team.
Dilworth also got two hits apiece from left fielder Sterling Haphey, catcher Matt Flechtner and center fielder Josh Moser.
Moser is the lone player on the Raildogs' official roster whose hometown is listed as Dilworth.
"It looks like a team with a lot of guys from that area who have some connection to the programs at Concordia, Moorhead State and North Dakota State," Nagel said.
Bird Island is expected to start Logan Nissen. The hard-throwing right-hander pitches for Bethany Lutheran College in Mankato and is the Bullfrogs' ace.
Against St. Clair, Bryce Venaas threw for Dilworth. He struck out five, walked one and scattered nine hits over 7-1/3 innings. He's a 5-foot-9, 175-pound right-hander from Fargo.
Dilworth's draftees are Jonas Sanders of the Ada A's, Mason Klevgaard of the Hawley Hawks and Matt Morin of the Erskine Comets.
Bird Island's draft picks are Josh Kingery of the Atwater Chuckers, Tyler Vaughn of the Milroy Yankees and Alex Lotthammer of the Raymond Rockets.
Nagel said that Kingery and Vaughn won't be available this weekend.
"I told them we need them the last weekend," Nagel said.
If Bird Island wins, it plays the winner of Watkins and Fergus Falls at 3 p.m. Saturday, Sept. 5 at Springfield.
Also playing this weekend are the Lake Henry Lakers and the Morris Eagles.
Lake Henry plays defending state champion Jordan at 5 p.m. Sunday in Milroy. Morris plays Buffalo at 5 p.m. Sunday in Springfield.
The tournament wraps up Sept. 4-7 with the Class C championship game set for 1 p.m. Monday, Sept. 7 at Springfield.
Tickets available
The state board is limiting attendance to 250 per game because of state guidelines due to the coronavirus pandemic. However, there are a limited number of tickets available for each game at the gate. You'll be asked to leave immediately following your game.
As of 4 p.m. Friday, the number of tickets available Saturday and Sunday in Milroy are:
At 11 a.m. Saturday, there are 92 tickets available for the Randall vs. Bluffton game.

At 2 p.m. Saturday, there are 75 tickets available for the Carver vs. Delano game.

At 5 p.m. Saturday, there are 69 tickets available for the Prior Lake vs. Kimball game.

At 8 p.m. Saturday, there are 99 tickets available for the Dilworth vs. Bird Island game.

At 11 a.m. Sunday, there are 84 tickets available for the Watkins vs. Fergus Falls game.

At 2 p.m. Sunday, there were an undetermined amount of tickets available for the Foley vs. New Prague game.

At 5 p.m. Sunday, there are 43 tickets available for the Lake Henry vs. Jordan game.
Nagel said that Bird Island had sold 140 tickets as of Friday afternoon. Each team is allotted 125. If it can't sell its allotment, they are made available to the other team, then the general public.
Nagel, who is on the Minnesota Baseball Association's state board, said that attendance approached 5,000 the first weekend. He believes there's a good chance for another 5,000 this weekend and that 13,000 for the three weekends is a reasonable goal for organizers. That's about 2,000 less than most years.
State tournament
Here are the pairings for this weekend's games in the state Class C tournament, with the team's region and regional seed in parenthesis:
Games Saturday
Watertown Red Devils (7B) vs. Isanti Redbirds (1A), 8 p.m. at Springfield

Prior Lake Mudcats (3D) vs. Kimball Express (15A), 5 p.m. at Milroy

Maple Lake Lakers (12D) vs. Bemidji Blue Ox (10A), 5 p.m. at Springfield

Dilworth Raildogs (10B) vs. Bird Island Bullfrogs (4A), 8 p.m. at Milroy

Gaylord Islanders (6B) vs. Sartell Muskies (11A), 11 a.m. at Springfield

Randall Cubs (8C) vs. Bluffton Braves (14A), 11 a.m. at Milroy

St. Patrick Irish (3B) vs. Rochester Roadrunners (5A), 2 p.m. at Springfield

Carver Black Sox (7D) vs. Delano Athletics (12A), 2 p.m. at Milroy
Games Sunday
Lake Henry Lakers (15D) vs. Jordan Brewers (6A), 5 p.m. at Milroy

Foley Lumberjacks (11B) vs. New Prague Orioles (3A), 2 p.m. at Milroy

Buffalo Bulldogs (12B) vs. Morris Eagles (9A), 5 p.m. at Springfield

Cold Spring Rockies (11C) vs. Buckman Billygoats (8A), 11 a.m. at Springfield

Watkins Clippers (15B) vs. Fergus Falls Hurricanes (16A), 11 a.m. at Milroy

Luverne Redbirds (13C) vs. Young America Cardinals (7A), 2 p.m. at Springfield