Prep Football: Youth helping to pave a path for Willmar
Sophomores Matthew Strey, Hayden Venenga and Dylan Goblirsch are seeing significant time in the trenches for the 9th-ranked Cardinals
We are part of The Trust Project.
WILLMAR — It was never in the plans for a trio of sophomores to see significant playing time on the Willmar football team's offensive line.
But as the Cardinals enter the final two games of the regular season — at home Friday against Chisago Lakes and next Wednesday against Becker — sophomores Matthew Strey, Hayden Venenga and Dylan Goblirsch are helping to push ninth-ranked Willmar into some late-season success.
"It's a big jump," Cardinals head coach Jon Konold said of the trio's leap from freshmen ball last year to varsity. "We wouldn't put them in that position if we didn't think that they would be able to handle it. They're hard-working kids and they want to be good. That's all you ask of them: to work hard and care about what you're doing.
"About the last three games, they've settled into their spots. They're able to continue to grow and understand the offense and how physical it is playing at the varsity level, especially with the schedule we play. They've really learned and they've grown up fast."
Paired alongside seniors Ethan Schwab, Anthony Alonzo and Mason Swanson, Willmar's run game has averaged 222.5 rushing yards and 303.8 total yards per game over the team's four-game win streak.
"I just feel like a lot has grown," Strey said. "I've grown as a player and a person. At the start of the year, my biggest goal was to be the starting center. At the start of the year, I didn't think it would all come together; it would all fall apart.
"We've kind of proved it wrong and we're here maybe getting a bye week (in the Section 2AAAA playoffs). It's big."
For Strey and Venenga, they were unexpectedly thrust into the starting lineup.
A center on the freshman team in 2020, Strey started fall camp transitioning to guard. He was seeing some time at center leading up to the Week 1 matchup against St. Cloud Apollo. Then, a day before the opener, Strey was told he'd be the starting center.
"It was challenging, for sure," Strey said. "It was kind of a new challenge for me, especially being my first varsity game. That first quarter of the Apollo game was a lot for me. But I figured it out and have been the starter since."
Said Konold: "We made that decision after seeing that he could do it. He was comfortable with it so we made that decision the day before the game. We said, 'You can handle it. We'll put you in there.'"
Venenga was slated to play on the junior varsity until starting right tackle Daniel Lohse suffered an injury in Week 2 against Hutchinson. Venenga started the next week against Big Lake, then stayed in the starting lineup after Lohse suffered another injury.
"It was nerve-wracking at the beginning," Venenga said about getting on varsity against a state power in the Tigers. "But once you start playing, all the fear kind of just goes away and you have to keep going and push through it."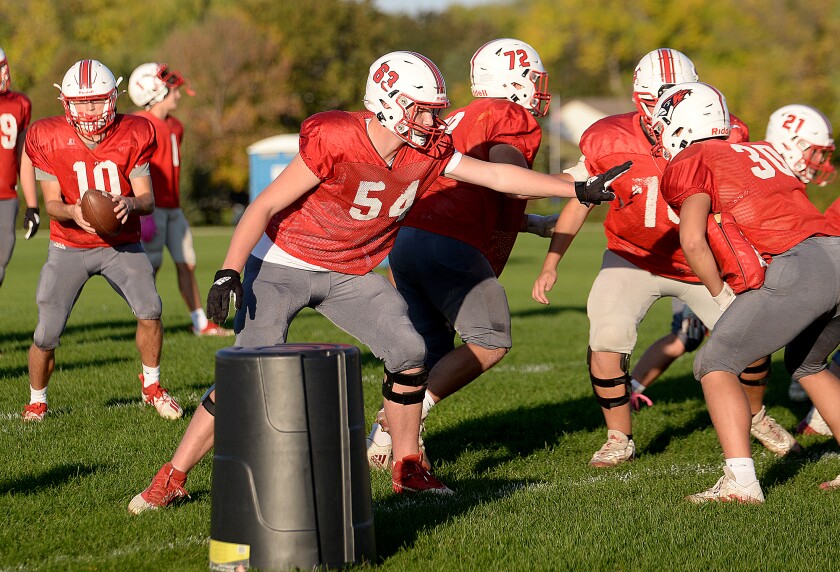 Then for Goblirsch, he rotates in at left tackle and left guard when either Schwab or Swanson are playing both offense and defense and need a breather.
"I'm just trying to get my assignments right and do as best as I can to impress the coaches," Goblirsch said.
He added, "We just developed as a team and as a line and making sure we're doing everything correctly and doing everything we can."
Going into the year, Konold was unsure of the roles Strey, Venenga and Goblirsch would play. Plus, the trio didn't have a lot of time to develop in 2020 due to COVID-19 restrictions.
"They didn't get a full season of practice and games. They didn't get a true offseason because of all the restrictions we had, getting into the weight room and things," Konold said. "It's the same for everybody, but the progress they've been able to make after not getting those opportunities last year has been great."
Having three seniors on the line has also been beneficial in getting up to speed.
"They really taught us how to play the line and start off with the basics at the beginning," Goblirsch said. "They got us really comfortable with fitting us in."
Venenga added, "(The seniors) have helped with assignments, and Schwab being my other tackle helps me with a lot of the little nitpicky stuff that helps you perform better."
Said Strey, "My two guards (Swanson and Alonzo) have been really helpful with just bearing with me. If I make a wrong call, they correct me. It's been a good time."
Where Konold has seen the biggest improvement from the sophomores is in their in-game technique.
"You're so amped up and unsure of yourself, the first thing you lose is your technique," Konold said. "You're just trying to go hard and trying not to get beat. Now the game has slowed down a little bit and their first step's a lot better, their second step's a lot better, their hand position is better. And communication's better; they're talking more because they're more comfortable with what they're doing."
With the Cardinals sitting at 5-1, the sophomores are focused on opening the way for a first-round bye. In this week's QRF ratings, Willmar is second in section (seventh overall) behind Hutchinson (fourth). Faribault (18th) and St. Peter (19th) are at the Nos. 3 and 4 spots with 4-2 records. The top two teams in the six-team section get first-round byes.
And beyond this year, the Cardinals know they have future building blocks up front.
"The biggest thing for those guys is their flexibility and they can adjust on the fly," Konold said. "They're hard workers and they'll do whatever you ask them to do. They run scout offense every day, so they're doing a lot of work.
"They're learning fast and that's nice to have those young kids be around for three years. It'll be beneficial for our future."