Baseball roundup: Late rally sparks NLS Wildcats
Baseball report for Friday, May 19, 2023, in west central Minnesota. New London-Spicer scores all its runs in 5th and 6th innings in 7-3 win over Morris
SPICER — The New London-Spicer baseball team got its bats going late en route to a comeback victory over Morris/Chokio-Alberta on Friday at the Green Lake Diamonds.
The Wildcats defeated the Tigers 7-3 after scoring four in the fifth inning and three runs in the sixth.
With the bases loaded and two outs, NLS junior first baseman Chi Schneider singled to score senior courtesy runner Reid Holmquist. Then with a 2-2 count and bases loaded once more, Wildcats junior Carson McCain cleared the bases with a three-run RBI double into center field.
The timely at-bats marked the second and third hits of the game for the Wildcats and gave them a 4-2 lead through five innings.
NLS senior Riley Lessman led off in the sixth inning and hit a lead-off double to left field.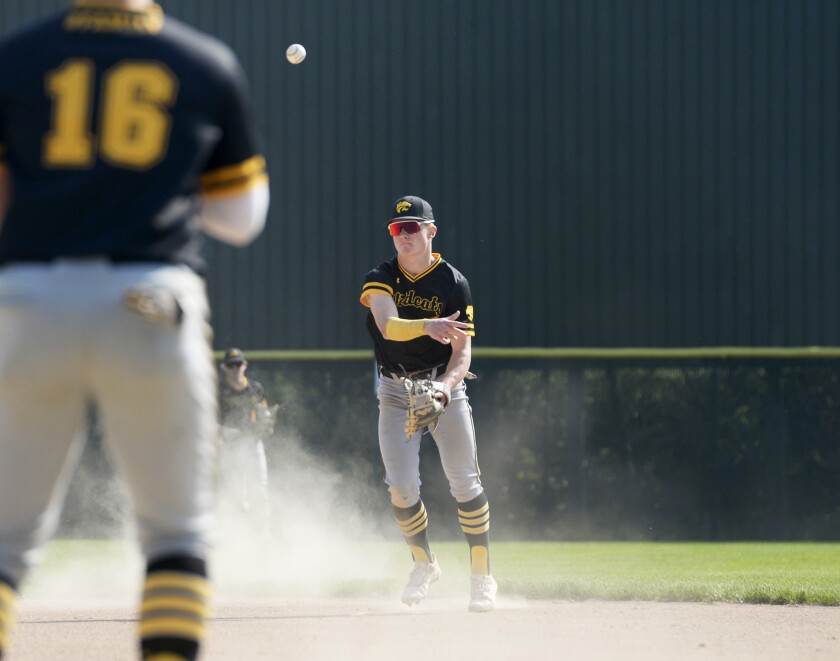 Then two consecutive walks after a pair of outs gave senior center fielder Blake Schultz a bases loaded at-bat with an opportunity for him to grow the Wildcats' lead.
During Schultz's at-bat, Lessman reached home and senior right fielder Aedan Andresen advanced to third base on a passed ball. Then, junior second baseman Luke Knudsen stole second to put two runners in scoring position.
On a 2-1 count, Schultz singled into left field to score Andresen and Knudsen to extend NLS' lead to 7-2.
Morris/Chokio-Alberta added one run in the seventh inning. Tyler Berlinger scored on a fielder's choice on a hit by Kyle Fehr.
The Wildcats (12-3) next play at 4:30 p.m. Monday at Annandale.
Recent baseball coverage from the West Central Tribune.
Morris/CA 002 000 1-3 5 1
NLS 000 043 x-7 5 2
Hitting - Morris/CA: Riley Asmus 1-4 r, Andrew Marty 2-4 rbi, Kyle Fehr 0-3 rbi bb, Ozzy Jerome 1-4 rbi, Drew Huebner 0-1 bb, Tyler Berlinger 1-2 r-2 bb … NLS: Aedan Andresen 1-2 r-2 bb-2 sb, Luke Knudsen 0-0 r-2 bb-4 sb, Bennett Schultz 1-3 rbi-2 bb, Chi Schneider 1-3 r rbi bb, Carson McCain 1-2 rbi-3 2b, Gavin Degner 0-2 bb, Riley Lessman 1-3 r 2b, Gabe Rohman 0-1 bb
Pitching (ip-h-r-er-bb-so) - Morris/CA: Huebner (L) 4.2-3-4-4-7-5, Landen Gibson 1.1-2-3-3-3-0 … NLS: Rohman (W) 5-4-2-2-3-3, Grant Paffrath 2-1-1-0-0-1
Jumping out to a 4-0 lead through two innings, Willmar got its second win in the last three games, beating Becker in a non-conference matchup at Swansson Field in Willmar.
Three Cardinals — Jaxxon Sjoberg, Dylan Staska and Elliot Klein — had two hits in the victory. Sjoberg went 2-for-4 with a double, two runs and an RBI. Klein was 2-for-3 with a run and an RBI.
Staska went 2-for-3 with an RBI. He also threw a complete-game victory, striking out two.
Willmar has a Central Lakes Conference game against Fergus Falls at 2:30 p.m. Monday at Fergus Falls.
Becker 000 010 1-2 5 3
Willmar 220 030 x-7 10 3
Hitting - Becker: Owen Kolbinger 1-4 rbi, Jase Tobako 1-3 r bb, Reid McCalla 1-3 rbi, Sawyer Anderson 1-3 bb, Jackson Olmscheid 1-2 … Willmar: Jaxxon Sjoberg 2-4 2b r-2 rbi sb, Cullen Gregory 1-3 r-2 hbp, Dylan Staska 2-3 rbi hbp, Mason Thole 1-2 sb, Mattix Swanson 0-3 rbi, Jordan Ellingson 1-3 2b r rbi-2, Elliot Klein 2-3 r rbi, Blake Reiman 1-3, Landon Ogdahl 0-0 r
Pitching (ip-h-r-er-bb-so) - Becker: Joshua Groskreutz (L) 2-4-4-2-1-2, McCalla 4-6-3-3-0-5 … Willmar: Staska (W) 7-5-2-0-5-2
Paynesville 14, Minnewaska 1
Paynesville had three home runs in a non-conference win against Minnewaska at Paynesville.
Bryce VanderBeek, Grayson Fuchs and Isaac Lieser each went deep for the Bulldogs. VanderBeek hit a solo home run in the third inning. Then in the fourth, Fuchs belted a grand slam and Lieser connected with a two-run homer in a six-run frame.
Jack Majerus had the Lakers' lone hit in the game.
Minnewaska 000 10-1 1 3
Paynesville 413 6x-14 13 1
Hitting - Minnewaska: Jack Majerus 1-2 3b … Paynesville: Grayson Fuchs 2-3 hr r-3 rbi-4, Max Athmann 1-3 r-3 bb, Isaac Lieser 3-4 hr r-2 rbi-3, Austin Pauls 1-3 rbi-2, Spencer Eisenbraun 1-3 r rbi, Josiah Utsch 1-2 r rbi bb, Bryce VanderBeek 3-3 hr r rbi, Esau Nelson 0-3 r rbi, Brayden VanderBeek 1-2 r-2 bb
Pitching (ip-h-r-er-bb-so) - Minnewaska: Alex Panitzke (L) 1-6-4-3-0-0, A Ballhagen 2.1-6-8-7-3-0, C Larson 0.2-1-2-1-0-0 … Paynesville: Fuchs (W) 5-1-1-0-1-5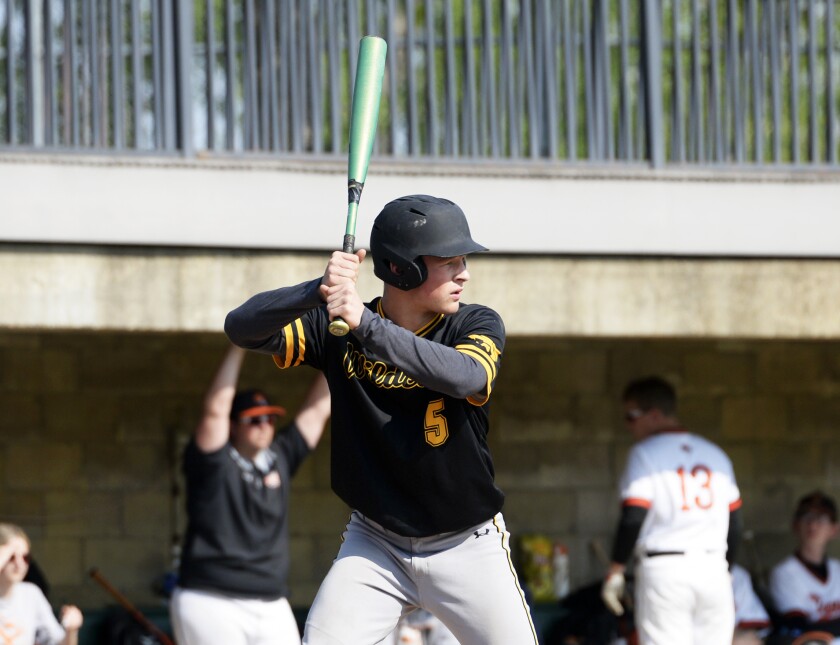 Montevideo's sixth inning, three-run rally led to a victory against MACCRAY at Raymond.
Cooper Dack, Brady Snell, Luke Kuno and Jackson Baldwin each recorded one hit for the Thunder Hawks. MACCRAY's Ethan Schommer, Xavier Noble, Angel Mendoza and Garrett Struxness each tallied a hit.
MACCRAY plays Central Minnesota Christian School at 4:30 p.m. Monday at Raymond. Montevideo plays Atwater-Cosmos-Grove City at 4:30 p.m. Tuesday at Atwater.
Montevideo 011 003 0-5 4 0
MACCRAY 000 120 x-3 4 6
Hitting - Montevideo: Cooper Dack 1-3 rbi, Ethan Moravetz 0-2 r, Brady Snell 1-3 r, Luke Kuno 1-3 rbi, Daniel Gunlogson 0-0 r sb, Gannon Reidinger 0-2 r rbi, Griffin Epema 0-2 rbi, Jackson Baldwin 1-3, Mason Jerve 0-1 r … MACCRAY: Ethan Schommer 1-3 r, Wyatt Swenson 0-1 bb-2 sb, Xavier Noble 1-3 r sb, Angel Mendoza 1-3 rbi-2, Grayson Ahrenholz 0-2 bb, Keegan Rand 0-2 bb, Garrett Struxness 1-3 2b, Tobyn Dalle 0-0 r
Pitching (ip-h-r-er-bb-so) - Montevideo: Epema 4.2-4-3-3-4-9, Reidinger (W) 1.1-0-0-0-0-3 … MACCRAY: Noble (L) 6.1-4-5-1-0-2
Game 2: Maple Lake 9, BBE 0
Maple Lake earned a pair of wins in a doubleheader against Belgrade-Brooten-Elrosa at Maple Lake.
In Game 1, Danny Reilley hit an RBI single to score Edward Neau to give the Irish the 1-0 victory in an extra inning. Tate DeKok went 2-for-3 for the Jaguars in the loss.
In Game 2, Maple Lake shut out BBE a second time. Jarrett Faue threw a complete game for the Irish. He allowed three hits and zero walks, striking out 10 batters.
Luke Dingmann, Xavier Coners and Ryan Jensen each tallied a hit for the Jaguars.
BBE (6-8) plays a doubleheader against Eden Valley-Watkins at 4:30 p.m. Monday at Elrosa.
Maple Lake 101 010 6-9 9 2
BBE 000 000 0-0 3 8
Hitting - Maple Lake: Edward Neu 1-3 r-3 rbi bb hbp sb, Joseph Gendreau 1-3 r bb hbp, Nathan Zander 2-4 r-2 rbi sb, Danny Reilley 2-4 2b-2 r rbi-4, Gavin Miller 1-4 r rbi sb, Cooper Latour 0-0 r bb, Corbin Golby 1-4, Carter Scanlon 1-3 … BBE: Luke Dingmann 1-2, Xavier Coners 1-1, Ryan Jensen 1-2 sb
Pitching (ip-h-r-er-bb-so) - Maple Lake: Jarrett Faue (W) 7-3-0-0-0-10 … BBE: Dingmann (L) 4-4-3-2-2-1, Tate DeKok 2-4-6-4-1-3, Brett DeRoo 1-1-0-0-0-1
Game 1: Maple Lake 1, BBE 0
BBE 000 000 00-0 3 2
Maple Lake 000 000 01-1 2 1
Hitting - BBE: Ethan Mueller 0-1 bb-3, Brett DeRoo 1-4, Tanner Shelton 0-3 bb sb, Tate DeKok 2-3 … Maple Lake: Edward Neu 0-3 r bb, Nathan Zander 1-3, Danny Reilley 1-4 rbi, Gavin Miller 0-2 bb sb, Samuel Marquette 0-2 bb, Wyatt Breimon 0-1 bb, Cooper Latour 0-2 bb
Pitching (ip-h-r-er-bb-so) - BBE: Shelton (L) 7-1-1-1-5-5, DeKok 0.1-1-0-0-0-0 … Maple Lake: Carter Scanlon 6.1-3-0-0-4-10, Noah Gindele (W) 1.2-0-0-0-0-1
Evan Zimmer allowed one hit, struck out nine and walked one in a complete-game effort to help Kerkhoven-Murdock-Sunburg earn a victory over Ortonville at Sunburg.
Isaac Rudningen led the Fighting Saints' offense. He went 2-for-3 with two runs and a stolen base.
Jared Cortez, Jaiden Henjum and Luke Jeseritz each recorded a hit. Cortez and Henjum each added a run.
KMS plays Central Minnesota Christian School in a Camden Conference matchup at 11 a.m. Saturday at Prinsburg.
Ortonville 000 000 0-0 1 3
KMS 202 000 x-4 5 4
Hitting - Ortonville: Connor Danielson 1-3, Cadyn Vanderwal 0-1 bb … KMS: Isaac Rudningen 2-3 r-2 sb, Jared Cortez 1-3 r, Jaiden Henjum 1-3 r rbi sb, Luke Jeseritz 1-3, Logan Rudningen 0-1 bb sb
Pitching (ip-h-r-er-bb-so) - Ortonville: Hunter Merritt (L) 5-5-4-1-1-4, C Brown 1-0-0-0-0-0 … KMS: Evan Zimmer (W) 7-1-0-0-1-9