Baseball roundup: LQPV Eagles rally late
Baseball report for Tuesday, May 9, 2023, in west central Minnesota. Eagles score five times in the eighth inning to beat Renville County West 7-3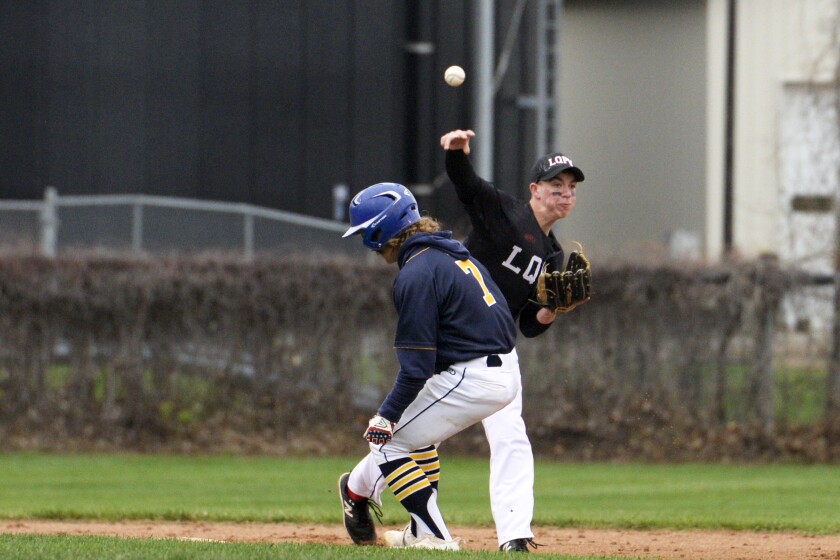 SACRED HEART — The Lac qui Parle Valley baseball team put together a five-run eighth inning to come out with a 7-3 victory over Renville County West on Tuesday.
LQPV and RCW joined forces before the contest to get Sacred Heart Field in playing condition following inclement weather that left the field saturated by rain and caused roughly a 30-minute delay to the game's start time.
"It was a slow, but exciting game," LQPV head coach Darby Bjorgan said. "That first inning we got up early. … But then the eighth inning was big."
LQPV sophomore Dylan Keimig earned a lead-off walk on a seven-pitch at-bat in the eighth inning. Then junior Dyllon Geiser hit an RBI double to bring home Keimig to help the Eagles regain their lead.
"It got the juice going for us," Bjorgan said. "The bench came alive and everyone fed off of that."
LQPV junior Kaden Molden hit next. He reached first base on an error that scored Geiser.
RCW committed three errors in the top of the eighth inning and LQPV went on to add three more runs after Keimig and Geiser scored.
The Jaguars, who trailed 7-2 entering the bottom of the eighth, added one more run. Griffin Howard reached first base on an error that scored Trevor Peterson.
Junior relief pitcher Kaden Mortenson entered the game in the eighth inning to close out the Eagles' win. He allowed three walks and one unearned run, adding two strikeouts.
Brock Bjornjeld, a sophomore pitcher for LQPV, earned the win on the mound. Over six innings, he allowed five hits, four walks and two runs, striking out seven batters.
Recent baseball coverage from the West Central Tribune.
"He battled," Bjorgan said. " He was down in counts a handful of times. … Brock kept us in the game, so it was nice for us to get him the win."
Isaac Haen went 2-for-5 with a double, a stolen base, a run and an RBI for the Jaguars, who had five hits.
Bjornjeld's effort helped LQPV improve its record to 5-3.
LQPV plays Central Minnesota Christian School at 5 p.m. Thursday at Madison. RCW plays Kerkhoven-Murdock-Sunburg at 4:30 p.m. Thursday at Sacred Heart.
LQPV 101 000 05-7 9 4
RCW 002 000 01-3 5 6
Hitting - LQPV: Dylan Keimig 1-3 r-2 bb-2 sb-1, Dyllon Geiser 1-4 r rbi 2b, Kaden Molden 2-4 r rbi-3 sb, Ethan Schommer 2-3 r sb, TJ Mitchell 1-3 r bb sb, Bradyn Danzeisen 1-4 rbi, Cael Benson 1-3 r rbi … RCW: Griffin Howard 1-5 sb, Isaac Haen 2-5 2b sb r rbi, Carter Rice 0-2 rbi bb-2, Jack Wertish 1-4 rbi, Zac Gustafson 0-3 bb, Trevor Peterson 1-3 r bb, Brenden Peterson 0-3 bb, Carson Allex 0-2 r bb-2, Austin Rice 0-0 r
Pitching (ip-h-r-er-bb-so) - LQPV: Brock Bjornjeld (W) 7-5-2-1-4-7, Kaden Mortenson 1-0-1-0-3-2 … RCW: Howard 6-4-2-2-2-7, Gustafson (L) 1.1-5-5-4-2-2, Peterson 0.2-0-0-0-0-1
Isaac Lieser and Esau Nelson combined on a two-hitter as Paynesville knocked off Atwater-Cosmos-Grove City at Kingery Field in Atwater.
Lieser struck out nine, walked one and allowed two hits over six innings. Nelson struck out one and walked one in one inning.
Brayden Vanderbeek led the Bulldogs offensively by going 3-for-4 with a run and two RBIs. Max Athmann was 2-for-4 with a double, two runs and a stolen base for Paynesville.
Jonas Morrison and Brody Straumann had hits for ACGC.
Paynesville is scheduled to play a Central Minnesota Conference doubleheader at 4 p.m. Thursday at Kimball. ACGC plays two in the CMC at 4 p.m. Thursday at Holdingford.
Paynesville 120 031 1-8 9 0
ACGC 000 000 0-0 2 5
Hitting - Paynesville: Grayson Fuchs 0-2 r bb sb, Max Athmann 2-4 r-2 2b sb, Isaac Lieser 1-3 r rbi bb, Spencer Eisenbraun 1-4 r rbi, Josiah Utsch 1-2 r-2 bb, Bryce VanderBeek 0-3 rbi, Esau Nelson 1-1 rbi 2b, Brayden VanderBeek 3-4 r rbi-2 … ACGC: Jonas Morrison 1-3, Logan Serbus 0-1 bb sb, Jaxon Drange-Leyendecker 0-2 bb, Brody Straumann 1-3
Pitching (ip-h-r-er-bb-so) - Paynesville: Lieser (W) 6-2-0-0-1-9, Nelson 1-0-0-0-1-1 … ACGC: Tucker Johnson (L) 4.2-6-6-3-3-6, Drange-Leyendecker 2.1-3-2-2-0-2
Game 2: Litchfield 8, GSL 2
Litchfield earned a Wright County Conference West Division split with Glencoe-Silver Lake at Optimist Park.
In Game 1, Litchfield surrendered four runs in the sixth inning and eight in the seventh to fall.
In Game 2, Hunter Schultz got the complete-game pitching victory for the Dragons. He struck out three, walked three and allowed five hits and two earned runs.
Anthony Estrada went 2-for-4 with a run and two RBIs and Bradley Larson was 2-for-2 with a double, two walks and two runs for the Dragons.
Litchfield is now 4-5 in the conference and 5-8 overall. The Panthers are 7-4 in the conference and 8-5 overall.
Litchfield is scheduled to play a doubleheader at 4 p.m. Thursday at Annandale.
Litchfield 000 026 0-8 9 1
GSL 000 020 0-2 5 3
Hitting - Litchfield: Jack McCann 1-4 rbi bb 2b, Calvin Jones 1-4 r rbi bb, Caden Besemer 1-4 r rbi bb, Anthony Estrada 2-4 r rbi-2, Hunter Schultz 0-3 r, Jaxon Marquardt 1-3 sac, Bradley Larson 2-2 r-2 bb-2 2b, Ashton Sullivan 1-2 r-2 rbi-2 2b sac hbp … GSL: Landon Stifter 0-3 sb, Luke Roepke 2-4 r 2b, Brady Graupmann 1-3 r rbi-2 hr, Logan Christensen 2-3, Braxton Streich 0-2 sac, Maverick Buckley 0-2 sac, Brody Ruschmeier 0-2 bb
Pitching (ip-h-r-er-bb-so) - Litchfield: Schultz (W) 7-5-2-2-3-3 … GSL: Graupman (L) 5.2-7-6-2-2-3, Maxton Hansch 0.1-1-2-0-2-0, Dylen Terlinden 0.1-1-0-0-2-0, Ethan Berge 0.2-0-0-0-1
Game 1: GSL 18, Litchfield 6
GSL 200 404 8-18 17 2
Litchfield 000 212 1-6 10 7
Hitting - GSL: Landon Stifter 1-5 r-2 rbi-2 bb 2b, Damion Schwartz 3-5 r-4 rbi-2 2b-2 sac sb, Luke Roepke 3-5 r rbi-3 2b hbp, Brady Graupmann 1-4 r-2 rbi bb 2b hbp, Maxton Hansch 1-1 r, Logan Christensen 3-3 r-3 rbi-5 bb-2 2b-2, Braxton Streich 1-4 rbi hbp, Mason Schilling 1-4 r rbi bb, Maverick Buckley 1-4 r, Dylen Terlinden 1-1, Brody Ruschmeier 1-5 r rbi sb … Litchfield: Jack McCann 1-4 bb, Calvin Jones 1-4 r 2b hbp, Caden Besemer 1-4 r rbi bb, Connor Taber 0-3 r rbi bb, Anthony Estrada 1-3 2b hbp, Hunter Schultz 2-4 rbi, Jaxon Marquardt 1-4 rbi-2 2b, Bradley Larson 1-1 2b hbp, Cam Baalson 0-0 r-2, Ashton Sullivan 1-2 r bb, Tucker Liestman 1-1
Pitching (ip-h-r-er-bb-so) - GSL: Ropeke (W) 5-7-3-3-3-3, Streich 2-3-3-2-3-1 … Litchfield: Larson (L) 5-8-6-4-2-8, Baalson 1.2-8-12-3-2-1, Liestman 0.1-1-0-0-0-0